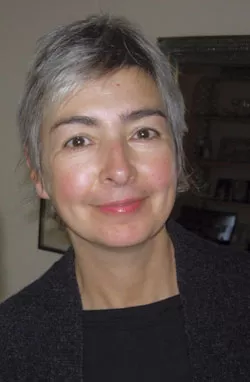 This Friday the BCA Center will open three exhibits on three floors of the downtown gallery. And an announcement that has nothing to do with any of them will be made during the reception: Curator DJ Hellerman will reveal the next recipient of the Barbara Smail Award. If you're reading this, you'll be in the know. It's Charlotte artist Sumru Tekin.
"I was surprised and really, really honored [to find out]," Tekin says in a phone interview. "I think it's great that Barbara Smail and her friends are the role models for this prize — they were fiercely devoted to both art and their families."
The annual award, intended for mid-career artists, is named for a late local painter who created dazzling, brilliantly colored canvases. Set up posthumously by her family, the award comes with $1000 and free access to BCA's print, clay and photography studios for a year. A residency on BCA's fourth floor was formerly part of the mix, but that space was converted to the Vermont Metro Gallery last fall.
"There's talk of different spaces to utilize around town," Tekin says.
Does she have a project in mind? "For the year, I've been thinking about a multimedia project, with old Super 8 film that I've digitized and old and new photographs, and ephemera," she says. "I'm thinking about a self-portrait as an aggregate."
As it happens, Tekin also won a MacDowell fellowship this year and will spend a month-long residency at the New Hampshire artists' colony in the spring. In this respect she echoes previous Smail recipient Kate Donnelly, who in the past year also received an artist development grant from the Flynn Center for the Performing Arts. Donnelly recently showed a video that resulted from her time "in process" at both BCA and the Flynn. Her culminating exhibit is one of the shows opening this Friday.
About Donnelly's months of exploration, Tekin observes, "Kate really highlighted what the art process is, very nakedly. She showed us the moments of quiet."
Tekin embraces the opportunity to let her own process unfold. "Time is one of the greatest gifts, and the validation [of the Smail award] is very powerful," she concludes. "I'm really impressed that they're keeping it going."
Barbara Smail Award Presentation, Friday, January 24, during exhibit receptions, 5 to 8 p.m., at BCA Center in Burlington. Info, 865-7166. burlingtoncityarts.org
The original print version of this article was headlined "A New Smail Year"