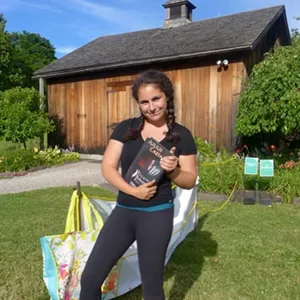 Andie Pinga
Vera Escaja-Heiss
After starring in multiple school plays, 14-year-old Vera Escaja-Heiss found a summer internship that alined with her acting aspirations. At the
Vermont Shakespeare Company
, Vera worked backstage during their summer production of
Julius Caesar
. Her responsibilities as part of the running crew included handling props, moving the entire set to from location to location and helping to create props and costumes. Vera and her fellow interns also attended free classes on acting and rehearsed and performed their own play, a modern take on
Macbeth
. In that production, Vera had three roles: Fleance, the first witch and the doctor. Her shining moment? Performing an original rap foreshadowing future events, while in character as the witch. We spoke to the South Burlington teen about her job last month.
Kids VT
: How many interns does the Vermont Shakespeare Company take on?
Vera Escaja-Heiss
: I believe there are 12 interns. The ages range from 14 to 22, me being the youngest. I'm the only one in high school. But it's fun because everyone's really great and I'm friends with people who are eight years older than me.
KVT
: What was the application process like?
VEH
: [I needed] to write something about why I wanted to learn about Shakespeare and then I handed in my resume. Eventually, you will go through a phone interview where one of the producers and managers will ask you more questions about yourself, and an audition where you had to make a costume and prepare a monologue. I performed a Disney-like monologue in a "kid" costume, which was just a t-shirt and Converse.
KVT
: Are you getting paid?
VEH
: I'm not getting paid actual money, but the great thing is that we have these experienced teachers who are give us all these wonderful classes as a form of payment. We learn about stuff like movement, stage combat and voice. We have a class called "Preparing for the Profession," where they tell you about what life [as an actor] is like and how to actually get into the business. These classes are mostly made for older people as they're transitioning into actually becoming actors, but it's awesome.
KVT
: How many hours did you work?
VEH
: During show weeks, we work 10 to 12 hours. We arrive before the actors and leave after the actors.
KVT
: Do you hope to become an actress?
VEH
: I really love acting, but I also want to go on a safe path because it's such a risky business. The thing is, during the classes, they've talked about how rent is so expensive. So I'm planning on probably double majoring. [But at South Burlington High School], I'm going to try out for
Sister Act
, the musical this year.
KVT
: What is your advice for other teens looking for jobs?
VEH
: I think that a lot of people at this age have so many opportunities, but they're not really aware of them. Some jobs may be asking for more adult-aged workers. If you put yourself in the mindset of being hardworking, and if you're driven, then it doesn't really matter that you're working at a young age. I'm a 14-year-old working with 22-year-olds. Just strive for it.