First, the bad news: Summer has crested and is now waning. The good? Farms and gardens are fruiting in full color, so it's a great time to gather and share the bounty. As the evenings begin to cool and darkness comes earlier and earlier, late-summer potlucks can take place outside around a fire — and you can still get home before midnight. So if you haven't enjoyed a friendly, crowd-sourced meal yet this year, it's high time to get on it.
With that in mind, Seven Days checked in with seven local chefs to see what ingredients have been inspiring them — and gracing their tables — in this time of farm-fresh abundance.
Together, their recipes add up to a celebration-worthy feast, from cocktails to kebabs, carpaccio to sweet-corn cookies. Hungry yet?
Bourbon Berry Lemonade Smash
Ian Huizenga, Bar Antidote, Vergennes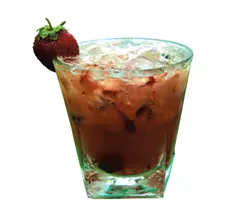 Courtesy of Bar Antidote
Bourbon Berry Lemonade Smash
Ingredients:
5 blueberries
2 strawberries
1½ ounces Bulleit bourbon
2 dashes grapefruit bitters
2 ounces fresh-squeezed lemonade
Preparation:
Muddle berries in a cocktail glass.
Fill glass with ice.
Add the liquid ingredients.
Give a quick shake, garnish with lemon or a strawberry and serve.
Tempura-Fried, Boursin-Stuffed Squash Blossoms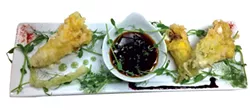 courtesy of Le Belvedere
Tempura-fried, Boursin Stuffed Squash Blossoms
Ingredients:
1 pound cream cheese, room temperature
3 tablespoons freshly grated Parmesan
8 ounces (2 sticks) butter, room temperature
2 cloves garlic, crushed and minced fine
1 teaspoon dried dill, crumbled
½ teaspoon dried marjoram
½ teaspoon dried basil
½ teaspoon black pepper
¼ teaspoon dried thyme, crumbled
½ teaspoon fresh chives, minced
2 tablespoons fresh parsley, minced
12-15 fresh squash blossoms
Tempura batter*
Seasoned flour
Canola oil for frying
Peparation:
Make the Boursin: mix the cheeses, butter and garlic until well blended. Add the herbs and mix well.
prepare the blossoms: Wash the blossoms, then gently tear them open lengthwise. Remove stamen, and stuff with Boursin. Close each blossom firmly so the stuffing does not come out. Refrigerate for an hour.
Dredge blossoms in seasoned flour, coat in tempura batter and fry in oil at 375 F for one minute.
Serve with your favorite Thai dipping sauce.
*For tempura batter, I use a recipe from Tadashi Ono and Harris Salat, writing for Saveur: Place 2 egg yolks in a bowl. Add 2 cups ice-cold water, then 2 cups cake flour. Using chopsticks, push the flour into the liquid, mixing it into a loose, lumpy mixture. Do not overmix! While the liquid should be the consistency of heavy cream, it should still have powdery lumps of flour.
Heirloom Tomatoes with Shiitake-White Bean Purée
Matt Sargent, Phantom, Waitsfield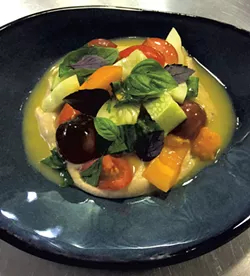 courtesy of Phantom
Heirloom Tomatoes With Shiitake-White Bean Purée
Chef's note: This workhorse of a dressing will make salads or grilled chicken taste great, and it'll brighten the shit out of anything you put it on.
Ingredients:
Dressing:
2/3 cup extra-virgin olive oil
1/3 cup white balsamic vinegar
1 tablespoon Dijon mustard
1 tablespoon honey
Purée:
¼ pound (or so) shiitakes
1/3 cup extra-virgin olive oil
Salt and pepper
Garlic powder (optional)
1 can good-quality white beans, drained
1-2 tablespoons rice-wine vinegar

Salad:

Fresh cucumbers (heirloom variety, if available)
3-4 varieties of heirloom tomatoes, various sizes
Flat-leaf parsley
Salt and pepper
Fresh basil, coarsely chopped
Preparation:
Make the dressing: Combine 2/3 cup extra-virgin olive oil with balsamic, Dijon and honey in a lidded container. Cover tightly and shake until well emulsified.
Make the purée: Preheat oven to 450 F. Place the shiitakes in a large bowl with a bit of olive oil, salt and pepper (and garlic powder, if you like). Stir well, then roast the mushrooms for 15-17 minutes until browned around the edges.
Reserve a few roasted mushrooms for the salad; throw the rest in a blender with the beans, vinegar and rest of the olive oil. Blend until smooth — you may have to add more oil or a touch of water to get the right consistency.
Make the salad: Cut the cukes and tomatoes into varied bite-size pieces; do the same with the reserved shiitakes. Roughly chop the parsley and throw everything into a bowl. Splash with dressing, salt and pepper, and toss — with your hands, don't be a wuss — to coat.
Assemble: Spoon a few dollops of purée onto a plate. Using your hands, place some tomato mixture on top of it. Pour a bit more dressing over the whole thing. Sprinkle with basil, and serve immediately.

Pork Anticuchos With Yellow Chile Sauce

Courtesy Of Hotel Vermont
Pork Anticuchos With Yellow Chile Sauce

Ingredients/tools:
6 metal skewers
2 pounds pork shoulder, cut into 1 ½-inch cubes
1 pound pork heart, sliced thin
Marinade:
½ cup sherry vinegar
2 teaspoons salt
3 cloves garlic, chopped
3 tablespoons dried ground chiles (ají panca, ancho or chipotle)
1 tablespoon smoked paprika
½ pound (to taste, depending on how spicy you want it) fresh, fruity chile peppers (ají dulce, ají amarillo, habanero, etc.), sliced thin
2 limes, zested and juiced
2 tablespoons cilantro, chopped
2 tablespoons chopped Peruvian black mint or marigold leaves (lemon gem or tangerine varieties work well)
1 teaspoon ground toasted cumin
Sauce:
½ cup ají amarillo purée (roasted yellow chile peppers blended until smooth)
2 cups Greek yogurt
1 teaspoon salt
Preparation:
Combine all ingredients for the marinade in a large bowl. Add the pork (shoulder and heart) and toss until well coated. Pour the mixture into a large Ziploc freezer bag, squeeze out all the air and marinate overnight.
Put the meat on the skewers, alternating shoulder and heart.
Grill over direct fire (wood fire works best), for approximately four minutes per side, rotating four times, until medium.
Mix the ingredients for the sauce, and drizzle over the cooked skewers.
Roasted-Red-Pepper Carpaccio
Crystal Maderia, Kismet, Montpelier
Chef's note: Carpaccio technically means "paper thin" and traditionally refers to slices of beef served with lemon, capers and arugula, but I've [made it with] heirloom tomatoes, grilled peaches, puffball mushrooms, marinated eggplant, octopus, scallops and even sardines. Right now I am most excited about the peppers that are blushing in my garden. A few minutes on a super-hot fire blisters the outer skin and invokes both smoke and sugar throughout the pepper.
Ingredients:
6 red bell peppers
1 medium bulb fennel, thinly sliced
1 small red onion, thinly sliced
1 cup basil chiffonade
1 bunch dill fronds (optional)
¼ cup grated horseradish
½ cup capers
1/8 cup hot peppers, sliced paper-thin
1 cup cooked black lentils (optional)
½ cup goat feta, crumbled chèvre or shaved pecorino (optional)
¼ cup super bright and olive-y olive oil
1/8 cup fresh lemon juice
Salt and pepper to taste
Balsamic vinegar (optional)
Preparation:
Peppers: Heat peppers over high flame or hot fire, rotating until all sides are blistered.
Promptly place in a paper bag. Fold to seal shut. (This distributes flavor and gently steams peppers.)
Peel peppers: rinse outer skin away under cold, running water.
Remove seeds and stems, and set peppers aside to rest.
Halve each pepper with a sharp knife, then gently fillet them into very thin segments. Arrange these on a platter or serving tray.
Assembly:
Sprinkle peppers with layers of fennel, red onion, basil, dill, horseradish, capers, hot peppers, lentils and cheese.
Drizzle with olive oil, lemon juice, salt, pepper and balsamic vinegar.
Serve with flatbread or crusty baguette.
Summer Squash: Calabacitas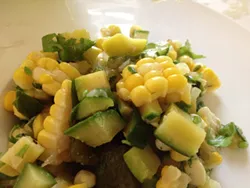 courtesy of Ariel's Restaurant
Summer Squash:Calabacitas
Ingredients:
1 large poblano chile
1 tablespoon canola or vegetable oil
½ white or yellow onion, diced small
1 clove garlic, chopped fine
2 pounds zucchini, any type or color, diced to ¼ inch
3 ears sweet corn, kernels cut from cob
½ cup chopped cilantro
Salt and pepper to taste
Preparation:
Grill the poblano chile over coals or an open flame, or under a broiler, turning frequently until skin is browned, even blackened, in spots. Place in a Ziploc bag. When cool, peel off skin, remove seeds, dice and reserve.
Heat oil over medium-high flame in large sauté pan. Add onions and stir until lightly browned. Add garlic and stir for one minute. Add zucchini and corn, and cook, stirring until both are just tender.
Remove from heat, add diced poblano, cilantro, salt and pepper. Serve hot or at room temperature.
Corn and Poppy Cookies
Shiel Worcester, Jam Bakery, Richmond
Chef's note: Everyone loves a dang good cookie. I just finalized [this recipe] for ArtsRiot, and it's a good dose of summer.
Ingredients:
2 sticks unsalted butter, room temperature
1 ½ cups sugar
Zest from one lemon
2 eggs
2 ½ cups unbleached all-purpose flour
1 teaspoon baking soda
¼ teaspoon salt
2 teaspoons cream of tartar
1 tablespoon poppy seeds
2 ears of sweet corn, kernels removed from cob
½ cup sugar, for coating
Preparation:
Using a stand or hand mixer, cream together butter, sugar and zest on medium speed for about five minutes, stopping to scrape batter from the sides and bottom of the bowl, until mixture is light and fluffy. Add eggs one at a time and mix until thoroughly combined.
In a separate bowl, sift together flour, baking soda, salt and cream of tartar. Add poppy seeds to the sifted flour mixture.
With the mixer on the lowest speed, slowly add the flour mixture into the butter-sugar mixture until just barely combined. Don't overmix. Add corn kernels, and mix until evenly incorporated. Again, don't overmix.
Let dough rest in refrigerator overnight.
When it's time to bake, preheat oven to 350 F.
Place 1/2 cup sugar in a bowl. Drop dough by rounded tablespoons into sugar and roll to coat. Place coated dough balls on baking sheet three inches apart. Flatten slightly.
Bake 15 minutes, rotating baking sheet halfway through, until cookies are lightly brown on the edges. Allow to cool before diving in.
Stored in an airtight container, the cookies will last up to three days.