Summer in Vermont can be as fleeting and mystifying as a sighting of our elusive lake monster, Champ. One minute, the sun's out in full force; the next, we're running for cover from torrential downpours — or maybe a tornado. To make sure you don't waste a second of sunshiny goodness, we've compiled a handy guide to Vermont's big summer events, the state's "greatest hits," if you will. If the weather doesn't cooperate, well, there's plenty of good stuff happening indoors, too.
Want more? Take our quiz and we'll help you "Pick a Summer Adventure." Or check out our growing online Summer Vacation Picks, as well as our weekly calendar section all season long. Off you go!
— Carolyn Fox
JUNE
The Opera Company of Middlebury
ocmvermont.org, 388-7432
May 27-June 10, Middlebury
A popular "Meet the Singers" gala paves the way for a fully staged production of Giacomo Puccini's La Rondine.
Ben & Jerry's Concerts on the Midway Lawn
highergroundmusic.com, 652-0777
May 27-July 29, Essex Junction
The folks from Higher Ground Presents bring big-name acts — Ray LaMontagne (May 27), Willie Nelson's Country Throwdown (May 29), the Avett Brothers (June 3) and Dropkick Murphys (July 29) — to the Champlain Valley Exposition.
Green Mountain Opera Festival
greenmountainoperafestival.com, 496-7722
May 29-June 19, various locations in the Mad River Valley
Professional opera singers let arias fly in the Mad River Valley. Festival highlights include an opening concert preview, open rehearsals, an opera brunch, a Broadway picnic, an Emerging Artist Production of Cosí fan tutte and a MainStage Production of Carmen.
Tour de Kingdom
tourdekingdom.org, 334-8511
June 1-5, Derby
Recreational and competitive cyclists cover miles of scenic paths by the lake and in the hills of the Northeast Kingdom.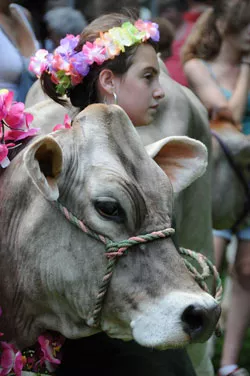 Strolling of the Heifers. Photo courtesy of Jason Henske.
Strolling of the Heifers
strollingoftheheifers.com, 258-9177
June 3-5, Brattleboro
Cute young cows bedecked in flowers take Main Street by storm at this quintessentially Vermont take on Pamplona's Running of the Bulls. The parade and surrounding events strive to connect people with farmers and food producers.
Special Olympics Vermont Summer Games
vtso.org, 863-5222
June 3-5, Burlington
Athletes from all parts of the state hit the fields in three days of competition, with a grand opening ceremony and awards to boot.
White River Indie Film Festival
June 3-5, White River Junction
Contemporary social and political issues take the screen in a three-day visual arts bash featuring documentaries, features, shorts, workshops, panels and discussions.
Burlington Discover Jazz Festival
discoverjazz.com, 863-7992
June 3-12, Burlington
Queen City residents get jazzed about a grand-slam lineup of live music, which takes place everywhere from concert halls to tents by the waterfront.
Green Mountain Bonsai Society Annual Members Show
356-1838
June 5, Jericho
Pruners show off tiny tree specimens before a provided lunch and a demonstration by guest speaker Min Hsuan Lo from Chung Hua, Taiwan.
Snow Farm Vineyard Concert Series
snowfarm.com, 372-9463
June 9-September 1, South Hero
Picnickers take in live classical, jazz, swing, bluegrass and classic rock by the grape vines every Thursday evening.
Roots on the River
rootsontheriver.com, 863-7992
June 9-12, Bellows Falls
Bellows Falls is overtaken by a rollicking four-day melody bash, which takes place around town and in a big festival tent.
Vermont Days
vermontdays.com, 800-837-6668
June 11-12, various locations statewide
Vermont State Park day areas, state-owned historic sites and the Vermont History Museum in Montpelier kick off summer with two days of free admission and on-site activities. Saturday is a free fishing day for residents and nonresidents to fish without a license in Vermont lakes, streams and rivers.
Winooski River Sojourn
winooskiriver.org/sojourn, 882-8276
June 21-26, various locations along the Winooski River
Paddlers take to their canoes or kayaks on a multiday adventure down the river basin, guided by a
floating naturalist."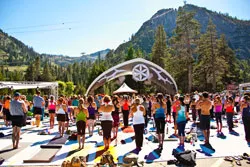 Wanderlust
Wanderlust Vermont
stratton.wanderlustfestival.com, 253-0399
June 23-26, Stratton
This "epic four-day yoga throwdown" also includes an impressive lineup of musical acts.
Stowe Wine & Food Classic
stowewine.com, 253-0399
June 24-26, Stowe
Connoisseurs of all things edible compare and contrast fine wines, pair them with oysters, enjoy gastronomic collaborations between chefs and vintners, and feast at the Grand Tasting & Silent Auction.
Vermont Quilt Festival
vqf.com, 872-0034
June 24-26, Essex Junction
This annual parade of patchwork is the largest quilt show in New England. It features displays, appraisals, gallery talks, and vendors offering colorful bed coverings and the means to make them.
Burlington Wine & Food Festival
burlingtonwineandfoodfestival.com, 864-6674
June 25, Burlington
An eat-and-drink extravaganza features sipping sessions with a selection of more than 250 fine wines; seminars with noted vintners, chefs and sommeliers; and an array of area gourmet food.
The Spartan Death Race
youmaydie.com, 989-3982
June 25, Pittsfield
An insane endurance race challenges even the most adventuresome with 48 hours of mud runs and physical obstacles.
Cedar Circle Farmstead & Education Center Strawberry Festival
cedarcirclefarm.org, 785-4737
June 26, East Thetford
Horse-drawn wagon rides, strawberry picking, kids' crafts, live folk-rock and other festivities honor the arrival of the favored summer fruit.
Green Mountain Chamber Music Festival
www.uvm.org/gmcmf/, 336-784-5128
June 26-July 23, Burlington
The artist faculty of an annual summer conservatory offer a compelling classical repertoire.
JULY
Circus Smirkus Big Top Tour. Photo courtesy of Robert Sanson.
Circus Smirkus Big Top Tour
smirkus.com, 533-7443
July 3-August 21, various locations in Vermont and the Northeast
Acrobatics, tumbling feats, high-wire high jinks and general clowning around come together in "Frontpage Follies: Big Top Big News!"
Kingdom Aquafest
kingdomaquafest.com, 323-8424 or 334-6345
July 4-9, Newport
Folks gear up for fun in the sun along the shores of Lake Memphremagog. Activities include the Kingdom Swim, bed racing, an antique boat parade, a sailboat regatta, the Pet and Swimmers' Parade and a log-rolling competition.
Kingdom Aquafest
Vermont Summer Festival Horse Shows
July 6-August 14, East Dorset
New England's top equestrian competition, running for six weeks, draws spectators to its five all-weather rings.
Battery Park Free Concert Series
burlingtoncityarts.org/Battery_Park_Concerts, 865-7166
July 7-28, Burlington
Burlington City Arts hosts an open-air concert series on Thursday nights in July. This year's lineup includes Joshua Panda (July 7), Barika (July 14), Scars on 45 (July 21) and Saints of Valory (July 28).
Stoweflake Hot Air Balloon Festival
stoweflake.com/activities_balloon_festival.aspx, 253-7355, ext. 5548
July 8-10, Stowe
Floating orbs transport people through the sky at a balloon-launch fest with plenty of entertainment and eats.
Antiques and Uniques
townofcraftsbury.com, 586-7596
July 9, Craftsbury
More than 100 antiques and collectibles vendors, jewelry makers, quilters, woodworkers, and potters share their goodies.
Kingdom Swim
kingdomswim.org, 334-8511
July 9, Newport
Make a splash at this celebration of open-water swimming. Six courses range in length from a quick 100 yards to an admirable 10 miles.
Flynn Garden Tour. Photo courtesy of Flynn Center staff.
Flynn Garden Tour
flynncenter.org, 863-5966
July 10, St. Albans
Take a self-guided tour of the city's stunning private gardens, and end the day with afternoon tea.
Craftsbury Chamber Players Summer Concert Series
craftsburychamberplayers.org, 800-639-3443
July 13-August 18, Burlington and Hardwick
World-class musicians explore classical compositions from the baroque to the contemporary era in this six-week festival, also including free mini-concerts for children and their families.
Vermont Brewers Festival
vtbrewfest.com, 760-8535
July 15-16, Burlington
Bottoms up! Live music, suds-centered workshops and scores of regionally crafted beers make for a smooth-tasting celebration.
Stowe Street Arts Festival
stowestreetartsfest.com, 496-6466
July 15-16, Waterbury
Live music, physical comedy, artist demonstrations and good eats enliven an outdoor arts-and-crafts exhibition.
SolarFest
solarfest.org, 235-1513
July 15-17, Tinmouth
New England's renewable-energy celebration features games, workshops, information, activism and live music — all powered by the sun.
French Heritage Day
addisoncountry.com, 388-7951
July 16, Vergennes
Celebrate our region's cultural history with an array of family activities, including colorful reenactments, old-time games, horse-and-carriage rides and local entertainment.
Moosalamoo Goshen Gallop
blueberryhillinn.com, 247-6735
July 16, Goshen
Runners pound the ground over dirt, gravel and soil on a rugged 10K trail.
Summer Music From Greensboro
summermusicfromgreensboro.org, 257-4765
July 17-August 16, Greensboro
Chamber musicians prove their chops in a concert series taking place on five consecutive Tuesday evenings.
Vermont Cheesemakers Festival
vtcheesefest.com, 884-6287
July 24, Shelburne
Got cheese? Dairy lovers, chefs and artisan cheesemakers from around the state sample more than 100 varieties, partake in tasting seminars and catch a cooking show.
Ben & Jerry's Concerts on the Green
highergroundmusic.com, 652-0777
July 29, Shelburne
The folks from Higher Ground Presents bring Bright Eyes and the Mountain Goats to Shelburne Museum's lush setting.
Bookstock Vermont
bookstockvt.org, 457-9149
July 29-31, Woodstock
This page-turning festival of words includes speeches and readings by authors of local and national renown, interactive programs, secondhand book sales, and art and music.
Champlain Valley Folk Festival
cvfest.org, 877-850-0206
July 29-31, Burlington
Musicians bring Celtic, French Canadian, English and old-time traditions to this nonstop, three-day fest. Workshops and dancing round out the weekend.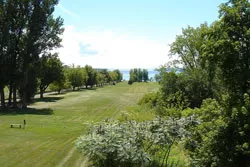 Festival of the Islands
Festival of the Islands
999-5862
July 29-31, Champlain Islands
Island getaway, anyone? This three-day bash in the five island towns offers craft fairs, wine tastings, farm tours and more.
Deerfield Valley Blueberry Festival
vermontblueberry.com, 464-8092
July 29-August 7, various locations in the Mount Snow area
Feeling blue? Wilmington, Whitingham and Dover make the best of the hue over 10 days with a Big Blue Parade, a Blue Street Fair, blues music, pick-your-own blueberries ... even blue beer.
Onion River Century Ride
Onion River Century Ride
onionriver.com, 229-9409
July 30, Montpelier
Pledge-propelled bikers benefit the Kellogg-Hubbard Library by pedaling either 111, 68 or 24 miles.
Green Mountain Draft Horse Field Day
shelburnefarms.org, 985-8686
July 30, Shelburne
Farmers demonstrate the true meaning of "horsepower" through traditional sowing methods as steeds bred for strength pull plowing and reaping machines.
AUGUST
Vermont Festival of the Arts
vermontartfest.com, 496-6682
August 1-September 5, Mad River Valley
A whoppin' five-week festival boasts exhibits, performances and workshops celebrating painting, poetry, crafts, culinary arts and everything in between.
Island Arts Craft Show
islandarts.org, 318-6229
August 4-6, North Hero
Local artisans specializing in jewelry, quilts, baskets and more peddle their wares in a rustic lakeside barn.
RhinoFest
rhinofestvt.com, 318-6229
August 5-7, Plainfield
Local acts and major headliners bring tunes to a large field.
Vermont Summer Book & Ephemera Fair
vermontisbookcountry.com, 464-8438
August 7, Brattleboro
Bookworms delight in an ice-skating rink full of quirky and collectible tomes, as well as antique maps, prints and postcards.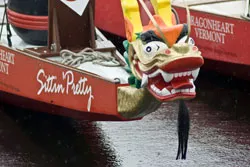 Lake Champlain Dragon Boat Festival
Lake Champlain Dragon Boat Festival
ridethedragon.org, 999-5478
August 7, Burlington
Water-bound teams of businesses, neighborhoods and breast-cancer survivors paddle their way to victory on 41-foot boats.
Vermont Fresh Network Annual Forum
vermontfresh.net, 434-2000
August 7, Shelburne
Chefs, consumers and farmers break bread at a grazing dinner to support the state's farm-to-table food routes.
Lake Champlain Maritime Festival
lcmfestival.com, 482-3313
August 11-14, Burlington
Boat displays, tasting tables, hands-on educational exhibits, daytime music and evening concerts — including this year's Grand Point North, a lineup of music handpicked by Grace Potter and the Nocturnals — sail into the Burlington waterfront.
Lake Champlain ACBS Anniversary Boat Show
lcacbs.com, 355-1781
August 12-13, Burlington
The Lake Champlain Chapter Antique and Classic Boat Society presents historic watercrafts and a boat parade during the Lake Champlain Maritime Festival.
Tweed River Music Festival
August 12-14, Stockbridge
A huge lineup of rock, folk and Americana tunes meets idyllic scenery and a swimming hole.
Valley Stage Music Festival
August 13, Huntington Valley
Music lovers enjoy food and green-themed displays between a variety of folk acts.
Liberate Music & Yoga Festival
August 18-21, Sheldon
Stretch it out between sets of music by participating in this eco-friendly fest's yoga workshops.
Quechee Scottish Festival
quecheescottishfestival.com, 295-5351
August 27, Quechee
Bagpipe bands, sheepdog trials, plaid skirts and, of course, haggis all figure prominently in this annual celebration of Scottish heritage.
Champlain Valley Fair
cvexpo.org, 878-5545 or 863-5966
August 27-September 5, Essex Junction
Parades, a giant sand sculpture, circus acts and talent showcases join top musical acts and a wealth of fried food at Vermont's largest fair.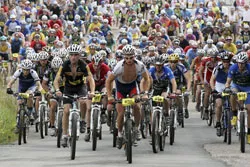 FJG Race to the Top of Vermont
FJG Race to the Top of Vermont
catamounttrail.org, 864-5794
August 28, Stowe
Hundreds of runners, hikers and mountain bikers ascend Mount Mansfield's famous Toll Road for a stunning view of the state.
Southern Vermont Garlic & Herb Festival
lovegarlic.com, 447-3311
September 3-4, Bennington
Vampires are sure to shun this annual extravaganza featuring crafts and food from more than 50 vendors and growers, children's games, live music and entertainment, a beer and wine garden and more.