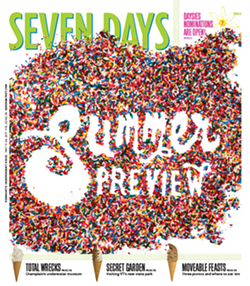 After a chilly, just-kidding spring, we're ready for sunny days. And we've got ideas on how to spend them. It's a short season, after all, so let's get a move on.
If you like to move quickly, the research is in: Do it in packs. Social running is not only trendy but also enhances performance.
Prefer to sit and eat? Then get out the tablecloth and try our themed picnics.
We also introduce Vermont's newest state park, preview summer music festivals, survey updated farm stands and dive into history at the Lake Champlain Maritime Museum.
Wannabe boaters, take note: A nifty new home for Burlington's Community Sailing Center is under construction; we learn all about it from 88-year-old architect and CSC founder Marcel Beaudin. Ahoy, mates!