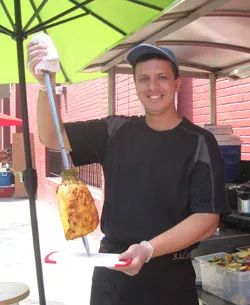 The smell wafts down Bank Street. Grilling meat and something less immediately recognizable — that would be pineapple. The scents originate in a new cart situated beside the Bank Street parking garage entrance, just east of the Chinese cart that opened two summers ago.
Felipe Ribeiro began serving his native specialties at Small Place, Big Taste Brazilian Food Cart on May 5. Ribeiro is a veteran of the kitchen at Souza's Brazilian Steakhouse, which closed last year. His skewered churrasco, or grilled meat, will make fans of the defunct restaurant salivate. Juicy sweet and hot sausages go for $3; toothsome beef rests all morning in rock salt, then is wrapped in bacon before grilling. For a balanced meal, diners can get sticks of mixed veggies for $1.50, or order fluffy rice and tender beans with or without an entrée.
Everything comes with a slice of pineapple rubbed with cinnamon and sugar, roasted in foil, then skewered and grilled. Ribeiro says it helps with the digestion of his fatty, meaty fare.
Small Place, Big Taste is open from noon until dusk every day but Sunday, which the chef takes off to spend with his wife and young child. Pending approval from City Hall, Ribeiro hopes to begin serving until 1 a.m. to feed the bar crowd.
— A.L.
*****
Chalk up another culinary asset for the Upper Valley, this time in the form of a funky food trailer. Two weeks ago, White River Junction gained StrEats Mobile Canteen, a food truck with an impressive pedigree.
The trailer is a dream become reality for Carpenter & Main kitchen alums Jason Northup and Chris Brewer. "We've been wanting to do this for a long time," says Northup, who once ran a hot dog cart called Dino's Dog House. He says the pair takes extra care with their food and uses ingredients from local farms whenever possible.
The menu includes tacos with local meat and fresh pico de gallo; grass-fed burgers topped with such accoutrements as bacon and a fried farm egg, or caramelized onions and blue cheese; spiced shrimp skewers with cabbage slaw; and four different kinds of gnocchi, including one made with bacon, apples and pecorino cheese in sage brown butter.
StreEats is open at 34 Prospect Street from 11 a.m. to 8 p.m., Monday through Friday.
— C.H.