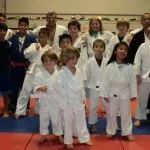 Vermont Brazilian Jiu-Jitsu
Don't have your kids' summer schedules mapped out yet? Don't sweat it! There's still time to register for all kinds of interesting classes that will add some excitement to the sun-kissed days of school vacation.
Want to strengthen your son or daughter's strokes? Swim lessons through Burlington Parks & Recreation at Leddy Beach run from July 7 to August 7. If your neighborhood or condo association has its own pool, an instructor from the Burlington YMCA will come to you!
From basketball or banjos, crafting to Jiu-Jitsu, there's something for every type of kid this summer.
Click here for a list of summer camps and classes.