Feeling disappointed about the things you can't do this summer? Here are a few ways you can turn that frown upside down — and learn about your community, your state and your country in the process.
Somerset Pierce in front of the historical marker commemorating the birthplace of abolitionist Thaddeus Stevens
For the last two years, Kids VT has been helping Vermont youth learn about civics and news literacy through the Good Citizen Challenge. This summer, we've adapted the Challenge to reflect our current reality.
Each month, we'll give you activities you can do while staying physically distant and following public health guidelines. We'll focus on free and low-cost things you can do at home or in your own communities.
You don't have to register on a website or keep track of points. When you do an activity, please submit the evidence to us using the form at goodcitizenvt.com, or simply email it to goodcitizen@kidsvt.com. For each activity you complete, you'll be entered into a monthly drawing for a gift card to a locally owned business and other prizes.
Read on for a list of 10 activities, including comments from students who completed some of them during previous Challenges.
---

1. Read an issue of your local newspaper.
What catches your eye, and why? Can you find the page that lists who works for the paper and how to contact them? Can you find out what communities it serves and who owns it? Tell us!
From a previous Challenge:

"I read the Bridge which is based in Montpelier. I saw ads and I recognized a few businesses like Clar Construction. I would like to learn about new stores, and I want more sports in newspapers. There was a star chart. There was a whole section about our schools!"
— Lachlan, Montpelier
"I read the Times Argus. I learned that high-school cross-country runner Ava Thurston has a ritual of eating a peanut butter sandwich an hour before she runs. In the New England Championships she was 5th place. The most interesting part was the articles about Veterans Day. I would like more Sudoku, because I really like Sudoku! What catches my eye is how organized the paper is."
— Phoebe, Montpelier
"The things that caught my eye were comics, with the most interesting part being the placement of them — why are they not the first thing? And I would like to see many more kinds of funnies. I wish I could read stories about the people who write the comics."
— Elliot, Fairfax
---

2. Visit a monument or memorial in your town.
Tell us who it memorializes, and why. While you're there, if you see garbage on the ground, pick it up.
Alan Moody in front of a monument honoring soldiers from Cabot who died in the Civil War
From a previous Challenge:
"Our team visited a memorial that honored our town soldiers. It was put there to show all the people that served our country and fought for our freedom. Some of the people that were on the memorial are my friend's dad, my neighbor's son and my grandfather."
— Ayden, Bakersfield
"We visited the Civil War and the World War I and II memorials in Cambridge and Jeffersonville. We noticed that the memorials were in the middle of each village center. We recognized lots of last names that are also names of local roads or businesses. We noted it is important to recognize the sacrifices that these soldiers made for their country."
— Sebastian, Jeffersonville
---

3. Start the Venture Vermont Outdoor Challenge.
This creative list of projects, compiled by Vermont State Parks, inspired the Good Citizen Challenge. It will keep you busy all summer long doing things like walking your dog (5 points), building a fire using only one match (10 points), sleeping under the stars without a tent (10 points), and growing veggies and donating them to your local food shelf (15 points). Keep track of your activities and submit evidence that you completed them to the Vermont State Parks to win a free day-entry pass to all parks for the remainder of 2020 and all of 2021.
Get started here
and tell us about your first activity!
---

4. Watch Ethan 2018, a short film about Ethan Sonneborn, the youngest person to run for governor of Vermont.
Ethan was interested in politics, but running for office isn't the only way to get involved and make a difference in your community. Tell us about how you're involved in your community.
From a previous Challenge:
"I helped run the microphones at Town Meeting for many years. I've participated in a variety of homeschool groups throughout the community and am a member of the Fairbanks Museum STEM Lab team. I go to some Select Board and School Board meetings and volunteer at the Craftsbury Outdoor Center for trail building and races."
— Amelia, Greensboro
---

5. Watch a two-minute video about how to find better information online by practicing "click restraint."
When searching for information online, it's important to remember that search engines like Google don't always deliver the most accurate and helpful information first. This video, from the Civic Online Reasoning curriculum developed by the Stanford History Education Group, explains how to find trusted and reliable information. After you've watched the video, try searching for a topic using Google. Describe in your own words what you've learned from this exercise.
From a previous Challenge:
"I searched for books about Earth Day. The first websites that popped up were large bookstores like Barnes and Noble and Amazon. Then, I saw YouTube video pages and ads. I had to click to the second page to actually find some blogs about Earth Day books with descriptions and pictures." — Taylor, Reading
---

6. Read the The Hate U Give by Angie Thomas, the Vermont Humanities' Vermont Reads book for 2020.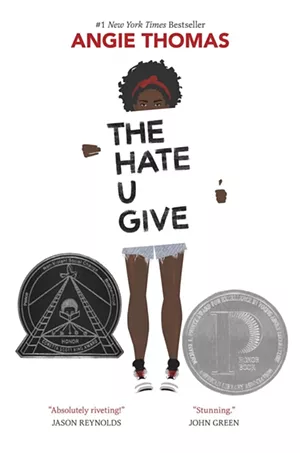 This young adult novel centers on a teen girl who witnesses police violence, and how she reacts. In a statement on the
Vermont Humanities website
, executive director Christopher Kaufman Ilstrup writes: "We know that
The Hate U Give
is likely to provoke passionate conversations in Vermont. In some cases those conversations will be difficult or challenging. We hope that readers will learn, grow, speak up, speak out, make mistakes, and learn some more. And we hope that they will feel empathy and compassion for the many different characters they will encounter in Angie Thomas' book." Write a paragraph describing what you think of Starr's decision to speak out.
From a previous Challenge:
"I'm happy Starr spoke out against police brutality. As an activist against racism, I believe more people should be like Starr and speak out."
— Martha, Whitingham
---

7. Listen to the "A(nother) Brief History of Vermont Road Names" episode of VPR's podcast "Brave Little State."
It aired on September 6, 2019
. Tell us which road name you liked best, and why.
From the last challenge:
"My favorite road name was Hi-Lo Biddy Road. I liked this one best partly because no one really knows how it got named. It's also in my town!"
— Jude, Putney
---

8. Explore Vermont history by visiting some of the sites listed on the Vermont Historical Society website.
This page
lists dozens of outdoor sites you can visit to learn more about our state, including art strolls, history hikes, roadside markers and drives along scenic byways. Thanks to Vermont Historical Society museum educator and manager Victoria Hughes for compiling it!
---

9. Listen to a podcast.
Learn more about history, government, news literacy and current events by listening to podcasts. This is a perfect activity for a rainy day. You may also be able to listen to them in your car. Some Good Citizen-related recommendations, all of which are accessible for free online or via iTunes or Google Play:
---

10. Paint a rock.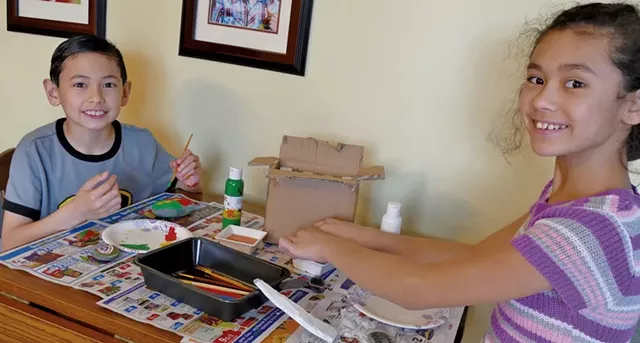 Ethan and Sophia painting rocks at their home in St. Albans
Paint colorful designs or positive messages on your rock. Send a message of hope to your neighbors and others in your community by leaving it for others to find. Looking for some inspiration? See pictures of rocks others have painted in the
Vermont Rocks Facebook group
. Don't forget to send us a photo!