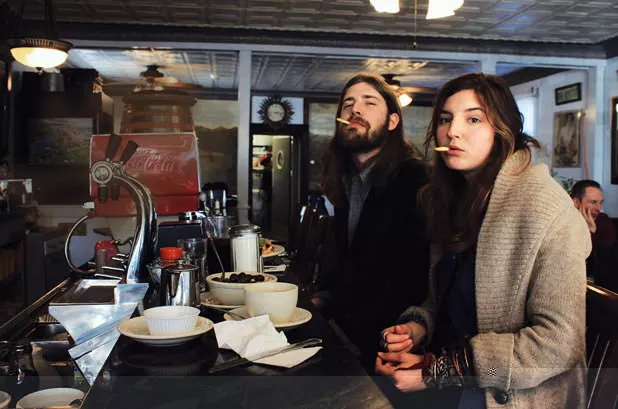 Caroline Rose and Jer Coons
Man, there's an awful lot going on this week. That, combined with the heat and seemingly ever-present threat of cataclysmic thunderstorms, makes a perfect recipe for a classic, rapid-fire edition of Soundbites. So grab your sunblock. This is gonna get hot.
First up on the docket this week is the bro-tastic Burton-sponsored festival Frendly Gathering, slated for this weekend at the old Timber Ridge ski resort in Windham. The two-day fest features an array of local and national talent across three stages — and a DJ nest! — much of it of the jam-friendly (frendly?) variety. Vermont acts such as Jatoba, Gold Town, Twiddle and Cats Under the Stars will cozy up next to bigger-name acts including Beats Antique, Toubab Krewe, Rubblebucket and Conspirator. The festival runs from Friday, June 28, through Saturday, June 29. Check out frendlygathering.com for more info on tickets, camping and where the hell Windham is.
Welcome home to prodigal EDM brainiac and Mushpost founder Nick Concklin, who is back in town to help his buddies in the Youngbloodz DJ collective celebrate their first anniversary at Halflounge this Thursday, June 27. In addition to the Youngbloodz and Mushpost crews, also on the bill is a young woman who goes by DJ Unique. The Newark-based DJ, vocalist and producer is gaining renown as a leading name in Jersey Club, which is a derivation of EDM — and has nothing with Snookie or J-Woww, thank you very much. As Concklin explains, Jersey Club is an "evolution of Ghettotech … related to Philly Club and Bmore." He adds that it is "essentially house music with crazy rhythmic variations, heavily influenced by hip-hop." In other words, if you dig trap music, check it out.
I knew I really liked punkabilly outfit Thompson Gunner. I didn't know just how much until I caught them at Nectar's last Friday, opening for Waylon Speed. In concert, lead vocalist Caleb Thomas bears an even greater eerie resemblance to Social Distortion's Mike Ness than he does on record, which is saying something. In fact, I'd argue Thomas' rock-tumbler-in-the-throat delivery might be even harsher than Ness'. If you're looking for kickass local cow-punk, look no further.
Speaking of Waylon Speed, they were typically excellent. I sometimes forget they're as much a metal band as a Southern-fried rock band. Which makes the occasions when they unleash their instrumental metal fury, as they did a few times on this night, all the more entertaining. Equally so was the fan trained on epically bearded bassist and co-front man Noah Crowther. I gather the band was shooting a video. Because every so often the fan would blow Crowther's beard and hair back, as though he were some sort of biker Fabio on the cover of a Harlequin romance novel.
Congrats to local country-star-in-waiting Keeghan Nolan, who announced last week that she has signed with a new Nashville indie label, Big Whirl Records. This week, Nolan will accompany Randy Smith, formerly of Vermont hair-metal greats 8084, on a pair of dates: Thursday, June 27, at Tupelo Music Hall and Friday, June 28, at the Higher Ground Showcase Lounge in South Burlington. By the way, Thursday is Nolan's 21st birthday. I'd say inking your first record deal is a pretty solid way to celebrate.
Speaking of new records, local songwriter Derek Burkins is set to release his looooong-awaited debut, Ten Years and 29 Days — care to guess why he named it that? He's celebrating with a show this Saturday, June 29, at On the Rise Bakery in Richmond, where he hosts a monthly songwriters-in-the-round series. I have yet to hear the record, but given that local folk guru Jim Gilmour engineered it, and that it features a guest turn from fiddle ace Katie Trautz — who has a knack for showing up on great records — I'm expecting good things.
I'm expecting equally good things from the new record by Caroline Rose, America Religious, which comes out on Tuesday, July 2 — I can only assume because that is also my birthday. Rose recorded the album with underrated local songwriter Jer Coons and, from what I've heard, it's a dandy — an energetic blend of country, rock and gospel that sorta sounds like what might happen if Loretta Lynn and Feist made a record with the Cardinals — or Jer Coons, I guess. Catch Rose on Wednesday, June 26, at Signal Kitchen in Burlington before she takes off — literally and figuratively — to tour the U.S. this summer.
On an unrelated note, can we stop with the recent trend of "album benefit" shows? Maybe this is a semantic gripe, but the term "benefit" implies charity, that the funds raised are going to some greater cause. I get that times are tough and artists need to do what they can to stay solvent, but your record is not a charity and being a musician is not a terminal disease. And by the way, times are equally tough for the folks in your audience. In a post-Kickstarter world, I suppose I have slightly less of an issue with album "fundraising" shows, though even that feels gauche — if somewhat more honest. At the risk of donning my old-man hat, back when I was a working-ish musician, my bands played lots of fundraising shows to make our records, but we just called them "gigs." Now get off my lawn.
While we're (sort of) on the subject of benefits, did you know that DMX is coming to town? And that he's playing the Sheraton Hotel Conference Center on Williston Road in South Burlington this Saturday, June 29? Yes, that DMX. And yes, that Sheraton, where you probably had your junior prom — and probably danced to DMX's "Party Up (Up in Here)." The show is a benefit for DJ A-Dog and his continuing fight against leukemia. For those who didn't know, A-Dog recently underwent bone-marrow-transplant surgery and is currently undergoing post-op treatment at the Dana Farber Institute in Boston. The transplant was a big step in his recovery and came against some seriously long odds, which is of course good news. But he isn't out of the woods and still needs as much support as we can give him. But please, tell me more about your album benefit show…
I've been on a pretty serious Dick Dale kick of late, which often happens at this time of year, 'cause I do love me some surf guitar. And it occurs to me that for a state without an ocean, we have quite a wealth of surf bands, ahem, making waves locally. With Barbacoa back for the time being, I count at least four, including Torpedo Rodeo, Montpelier's Concrete Rivals and the newest addition to the fold, Lendway offshoot the High Breaks. I'm just spitballing here, but if I were the booking manager at a cool local club, I might take advantage of that fact and book an all surf-rock night this summer, if only to appease, well, me. If you want a taste of what that might look like, catch surf-punks Torpedo Rodeo at the Monkey House this Friday, June 28, with surf-ish garage rockers Persian Claws and another punky local garage band, Black Rabbit.
Last but not least, the buzz on the street is that Sweet Melissa's, the hotly anticipated new joint in Montpelier going in to the old Langdon Street Café space, is set to open this Saturday, June 29. Inquiries to co-owner Tom Moog have, as of press time, gone unreturned. So I'm really just reporting on rumor at this point. But given how much Montpelier has been starved for another music venue, even speculation seems worth mentioning. Stay tuned.
Listening In
A peek at what was on my iPod, turntable, eight-track player, etc., this week.
Kanye West, Yeezus
Secret Colours, Peach
Royal Forest, Spillway
Luray, The Wilder
Dick Dale, King of the Surf Guitar