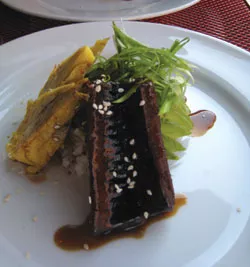 Himitsu "Secret Sushi" night at Montpelier's Kismet is so new that it's impossible to know what to expect. That is, until you go try it, and the server lays down a raw, curvaceous Chatham oyster topped with a quivering quail egg yolk, minced scallions and bright, gelatinous flying-fish roe. Tossed back, it swims through the mouth like briny silk. Another offering appears within moments: a stack of zucchini and sweet-potato slivers and shiitake mushroom caps, all coated in tempura batter and flash-fried to a nut brown. They're meltingly tender, and retain their crisp even when dipped in soy dashi sauce. A bracing saketini is on hand to wash it all down.
Himitsu is the Japanese word for "secret," and at Kismet it's the moniker of the latest weekly community-kitchen night. Owner Crystal Maderia conceived of the visiting-chef idea when Kismet was still in its tiny space on Barre Street. (It moved to State Street last winter.) She began inviting colleagues to take over her kitchen for a night, where they could play and create without the pressure of running a full-time eatery. At one early event, Indian-Malaysian chef Lalitha Griffin served lamb curry and shrimp sambal; at another, diners noshed on tacos made by employee Alexis Hurley. The guest chefs get to keep most of the profits; Maderia can glimpse her colleagues' approaches to menus, pacing and service; and diners seize the opportunity to try something new.
The series of Himitsu meals, which runs through September, is particularly novel, because Vermont's capital city is a sushi desert. Raw tuna is hard to find in this locavore-crazy place. So are raw oysters, except for at Three Penny Taproom's Saturday oyster events. Rare, too, is a chef who likes to adorn the bivalves with egg yolks and roe. That these plates issue from a café known more for gluten-free gougères than tuna tataki is doubly disorienting. It is also kind of thrilling, considering the recent vicissitudes Montpelier restaurants, and Kismet in particular, have suffered.
Six months after Kismet moved to its larger, airier digs, it was devastated by the spring floods: Ten feet of filthy water sloshed through the basement, destroying thousands of dollars' worth of food and equipment. Maderia considered closing the restaurant for good, but she rallied. A fundraiser brought in more than $40,000, supplemented by heavy borrowing. Looking at the bustling Kismet now, you wouldn't know what it has been through — but Maderia admits she's still "digging out" of enormous debt.
So how did a secret sushi night come to pass? Last fall, months before the flood, Nate Kulchak and his partner, Megan Dolan, were dining at Kismet, seated at the bar. Maderia overheard Kulchak saying that he owned a restaurant called Happy Fish, a sushi joint on the Caribbean island of St. John.
She also overheard that the couple was moving to Vermont to be closer to Dolan's family in Waterbury, and that they planned eventually to open a sushi restaurant nearby. Maderia suggested they host a sushi night at Kismet after they settled in this summer.
"I felt like Montpelier desperately needs sushi, so I gave them the first stab," Maderia says. In fact, she put Kulchak in front of a line of other chefs waiting to host a night at the restaurant.
In landlocked Vermont, trucked-in sushi may seem pretty indulgent, but even the most fervent locavore can harbor a passion for raw saltwater fish. Kulchak grew up in another landlocked place — Boise, Idaho — but his entire culinary career has been built on sushi and Japanese cooking. When he was 16, he began working in the kitchen of a Japanese restaurant in Boise, where the chef, Atsushi Nakano, took the young Kulchak under his wing. His five-year apprenticeship had a very Asian trajectory. "For the first year, I just cooked rice and washed dishes. Then one or two years in the kitchen" before he was allowed near the sushi, Kulchak explains. Though he hadn't consciously sought out Japanese cuisine, it suited him. "I just kind of fell in love with it," he says. "It was interesting and exotic at the same time."
Eventually, Kulchak became the executive chef at the first incarnation of Happy Fish in Boise; a few years later, he moved to St. John to open a second one there. His menu was based on the traditional fare he learned from his mentor, using the super-fresh fish readily available in the Caribbean. Dolan, who had migrated to the Virgin Islands in her early twenties, met Kulchak when she got a job at his restaurant.
When the couple came back to Vermont, they took Maderia up on her offer and began to plan a weekly supper club. They anointed the event with the beguiling "secret sushi" name and planned four-course tasting menus that Dolan, her sister and brother-in-law now help prepare and serve.
Kulchak eschews à la carte items in favor of serving dishes omakase-style. After starting with an amuse bouche, he follows up with a rapid-fire round of cooked and raw fish and vegetables. It is, he says, a "fast-paced, Americanized sushi" with a traditional foundation. "I wanted to do as much farm-to-table as I can, though obviously fish is not local. It's incorporating ingredients where I'm at that makes it regional," Kulchak observes. Those ingredients include organic local eggs and maple syrup; his seafood comes from Boston's fish markets.
The first Himitsu on August 3 went so well that the crew planned a second, and then a third. Local inflections appeared in such items as the maple-teriyaki sauce Kulchak uses to braise a rich hunk of eel; he pairs the fish with sweet, sticky sushi rice, slivers of soft avocado and tamago, or local eggs marinated in mirin and miso. The gorgeously composed dish is laced with punchy, umami flavor.
More delicate is the ribbed tuna tataki in a sesame-oil sauce flecked with tiny specks of chili that gently prick the tongue. Despite Kulchak's seeming commitment to tradition, fusion animates the food, as well — a thin spine of racy sriracha sauce tops a roll filled with barely spiced tuna, green onions fried tempura style and more tamago.
Maderia says some customers have hesitated to commit to a $40 four-course menu, wishing they could order separate pieces instead. But if they did, they wouldn't experience the full measure of Kulchak's culinary proclivities, from the broad strokes, such as his fondness for eggs and twists on traditional sauces, to the tiny details, such as dusting each dish with untoasted sesame seeds.
Kulchak and crew will commandeer Kismet's kitchen for several more Wednesday nights, offering a different menu each week. He says they'll pay attention to diners' reactions, since his eventual intention is to open a permanent spot in Montpelier.
In the meantime, Maderia is lining up other chefs for community-kitchen engagements. The airier restaurant presents more challenges than did the intimate Barre Street venue, she concedes. "It has the potential to be really busy and crazy for the chef, but it can also feel empty if not enough people come," Maderia says.
On a recent Wednesday, though, the place is buzzing with energy. "It's not a restaurant; it's not a private party, but it's somewhere in between," Maderia observes. "I like to have the community think of it as an event."