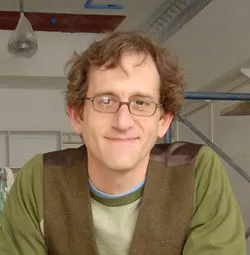 As chef and co-owner of Claire's Restaurant & Bar in Hardwick, Steven Obranovich got plenty of national attention for his "new Vermont cooking," including an appearance on "Emeril Green." Now his association with Claire's has reached an abrupt end.
That came as a surprise to Obranovich, he says. On November 27, co-owner Linda Ramsdell asked him and his husband and co-owner, Michael Bosia, not to return to work. A buyout followed. "It's still a mystery to me how it all came down," Obranovich says.
Ramsdell, who also owns Hardwick's Galaxy Bookshop and the building housing Claire's, explains her decision: "Michael and Steven and I ended up at a place where we had fundamentally different approaches to the financial management of [Claire's]. It didn't work anymore as a partnership between the three of us, so I bought them out."
Bosia says Claire's consistently broke even under his tenure but did not make a profit, even though Obranovich worked there for less than he'd made earlier in his career as a sous-chef, and Bosia and Ramsdell contributed free labor as the business' marketing and financial managers, respectively. "For us, that was sufficient," Bosia says.
With an eye toward increasing Claire's local appeal, Ramsdell says, she has promoted sous-chef Tom Cote to the top role. The two of them envision a menu with less of the eclectic international fare that Obranovich made famous and more of what Cote describes as elevated comfort food and "contemporary American regional cuisine." The young chef looks forward to maintaining relationships with farmers, he says.
As for Obranovich, he's not sure what's next. "I'm looking forward to having time to go to the president's inauguration," he jokes. "And I'm looking forward to cooking again."