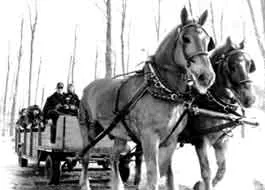 You've got to love a culture that celebrates by eating. Quebec definitely qualifies, and Vermonters are lucky to be next door. Celebratory case in point: the arrival of spring. Or should I say the expectation of the arrival of spring? While Vermonters drill into maple trees and indulge in a little sugar on snow, the Quebecois enjoy an entire culinary-agro-tourism industry. Come March and April, families from all over the province head to a favorite cabane à sucre, or sugar shack, for a feast and some fresh air.
"Feast" is not an exaggeration. And sugar barn would be a more accurate description of the enormous eating halls. Most of the cabanes we saw in a trip to the St-Jean-sur-Richelieu region last week seat more than 300 chow-hounds at a time. Overflow crowds gobbled up the all-you-can-eat offerings for prices ranging from $10 to $15 per adult — half-price for children.
While the ambiance and size of the cabanes varies greatly, there are some established traditions. The fixed menu is sort of a harvest-breakfast, loaded with carbs and cholesterol and served family-style. This is classic farm food, starting with yellow pea soup and moving through heaping platters of ham in maple syrup, country sausages, piles of scrambled eggs and steaming bowls of maple-baked beans.
You may find glazed carrots along with the home fries, but the pièce de résistance has to be the curly strips of deep-fried salt pork. And not just because they're crisp, tasty and totally obscene, but because they're also sacrilegious: universally called les oreilles du crisse — "the ears of Christ." No one can explain why.
Moving on to dessert, the wait staff brings plates of maple-sugar tarts, apple crisp and raisin puddings. Also plump balls of fried dough, like overgrown doughnut holes. We jokingly asked our friend and cultural guide, Pierre, "So, are these the Balls of Christ?" No, they are called les pets de soeurs. Don't bother looking that up in your French dictionary. This Quebecois phrase means "Nun's Farts." "The many mysteries of our French language," Pierre noted slyly.
We enjoyed our sugar shack meal at A la Feuille d'Érable, a pleasantly small, quaint dining hall at the foot of Mont-St-Grégoire, near Iberville. When I asked the owner Jacques Meunier how he found employees for the brief three-month season the hall is open, he said it was easy. "Cousine, cousin, cousine, cousin," he said, pointing around the dining room.
As with most sugar shacks, the enterprise is an outgrowth of the Meunier's farm. "The family kept getting bigger, and we had to add new businesses," he explained with a laugh. Capitalizing on the crowds of city folks who started visiting the sugaring operations in the '50s and early '60s, the family began feeding breakfast to visitors along with the family members helping with the sugar season. Pretty soon the outdoor tables were put in a dining hall, the kitchen expanded, and the rest, as they say, is entrepreneurial history. Now A la Feuille d'Érable serves hundreds every day during sugar season, from 11 a.m. to 8 p.m.
Nearby, along the highway that circles Mont-St-Gregoire, a dozen more cabanes offer their food to tourists, along with sleigh rides through the woods and pens of goats, ducks, geese and other "farm animals." But we saw only a tiny piece of the action on our visit. An Internet search for cabane à sucre turned up more than 4000 hits, astonishingly. Many are in French, but plenty are in English.
A good consolidated list of sugar shacks, by region, is on the trade association's site at www.pleinair-quebec.com/cabanes.html. Click on "Montérégie" for the sugar shacks near Iberville and St-Jean. The region just north of Vermont, "Estrie," has fewer listings, most of them near Derby.
If you go, make a reservation, because many of the cabanes serve by "seatings," like a church supper. The crowds can be daunting. I walked up to a multi-generational group in front of one cabane and asked what brought them out into the snow in early March. Turns out that for three years, the sugar shack has provided an opportunity for a family reunion. A group of 40 was arriving from all parts of the province.
An enthusiastic table full of twenty-ish gourmands explained they were carrying on a tradition from childhood. "I grew up in St-Jean," one told me, "and I always looked forward to this. Any excuse to get out of the house."
"Any excuse to eat this much!" his friend added.
"This food puts you into a coma for four hours," said Pierre, as we rolled out of the dining room into the crisp air and sunshine. We couldn't pass up the sleigh ride, and licked on sticks of maple taffy as we passed the hundreds of plunking sap pails in the woods, thanks to beautiful draft horses pulling us through the muddy snow. Ah — burp! — spring.
To get to Mont-St-Gregoire's sugar shacks, take Route 133 from the border to Iberville, then take Route 104 East. You'll see the pile of rocks that is called Mont-St-Gregoire on your left. In the middle of the village at the foot of the mountain, take a left onto Chemin du Sous-Bois, the road that circles the mountain. For reservations at A la Feuille d'Érable, call 450-460-7778.