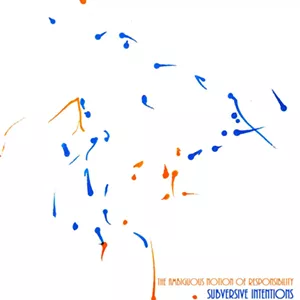 Subversive Intentions, The Ambiguous Notion of Responsibility
(Cavern Brew Records, digital download)
In 1913, the composer Luigi Russolo wrote a futurist manifesto titled The Art of Noises in a letter to fellow composer Francesco Balilla Pratella. The manifesto presented the concept that industrialization would alter the sonic palette of musical instrumentation and composition. Russolo proposed that electronics and evolving technology would allow futurist musicians to "break out of this limited circle of sound and conquer the infinite variety of noise-sounds" and thus be able to express a wider range of emotion.
One hundred and four years later, one only has to peruse Bandcamp's vastly growing library of noise albums to know that Russolo's predictions have absolutely manifested.
Subversive Intentions — aka ND Dentico — is, knowingly or not, a part of this futurist movement of sound. The experimental composer's latest album, The Ambiguous Notion of Responsibility, is a collection of noise-sounds, capturing the sonic explorations of a day spent recording in a tiny room in Middlesex.
Titled by time, the tracks are drones created by an electric bass, bow, delay and loop pedal. At "2:15 PM," the artist delves gradually into a sinking experience of deep tones, drawn by the bow, modulating with the use of darkened delay. By "2:25 PM," the tones have brightened slightly: A chorus of what sounds like churning electronic voices converse in a space that resembles an inner argument of the anxious mind. Timbres stretch and buzz with distortion, challenging both listener and artist.
Dentico shares a part of himself that is honest and dark and difficult to love. In turn, the listener agrees to share in this moment of discomfort to gain further understanding of his or her honesty and humanity. The nonverbal communication of depressive and anxious emotion through these sounds is overwhelming and transformative.
The artist has offered an explanation for this unusual choice of expression. On the day he recorded The Ambiguous Notion of Responsibility, Dentico's infant daughter crawled around the room. The recordings were made during moments when she was distracted in play, before interrupting the session with frequent attempts to crawl away. These recordings were some of the first he was able to make after becoming a parent, done as a means to therapeutically process his recent fatherhood. He writes on the album's Bandcamp page, "These pieces contain a lot [of] tension and haunting sounds, reflective of the depression and anxiety I felt and continue to struggle with as a father. These pieces represent multiple attempts of a concept that are neither something I was entirely happy with nor completely disappointed by." Then, he concludes: "They, to me, get at the core of parenting, a work in progress, a struggle, but at its core a joyful experience."
The Ambiguous Notion of Responsibility by Subversive Intentions is available via Cavern Brew Records at cbrcbr.bandcamp.com.