Courtesy Of Vermont Sportscar And Subaru Rally Team USA
Chris Atkinson jumping his Subaru at the 2018 Oregon Trail Rally
It's not unusual to find a Vermont parking lot full of Subarus. Less usual is to find a Subaru parked in an office lobby, especially a Subaru sporting racing stripes, a roll cage, a 340-horsepower engine and a suspension beefy enough to withstand 90-foot jumps at 80 miles per hour.
That particular race car, on display in the lobby of Vermont SportsCar in Milton, is probably the most famous Subaru in history. In 2006, motorsports legend Travis Pastrana drove it to victory in the Rally America National Championship, his first of four straight wins in that race. The souped-up Impreza WRX STI, which has since been featured in video games, was designed, engineered, built and driven by professionals from Vermont SportsCar and Subaru Rally Team USA.
Ken Picard
Travis Pastrana's champion car
For nearly two decades, the world-class Subaru race team, which dominates the motorsport of rally, was headquartered in Colchester. Two months ago, Vermont SportsCar founder and president Lance Smith moved the company into its new $12 million, 74,000-square-foot facility in Milton.
Vermont seems like an apt home for the Japanese auto manufacturer's largest and most successful motorsports program, given the brand's popularity among local consumers. The Vermont Department of Motor Vehicles reports more than 60,000 Subarus registered in the state — or one in every 10 vehicles.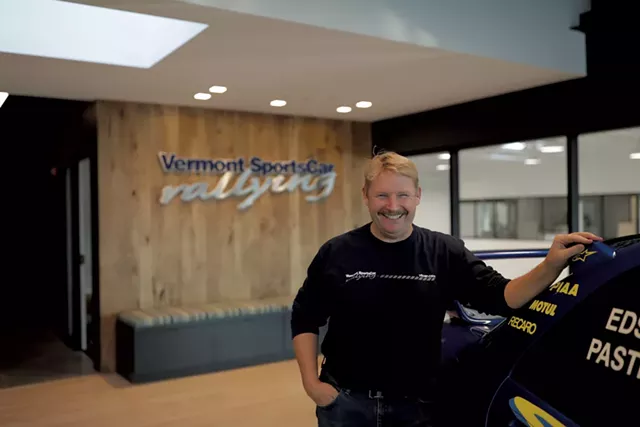 Courtesy Of Vermont Sportscar And Subaru Rally Team USA
Founder and president Lance Smith
Yet most Vermonters probably have no idea that Subaru's champion race team was born and bred in the Green Mountain State. Even race-car-driving Gov. Phil Scott has never visited the team's shop, Smith said. To rally enthusiasts, that's akin to the mayor and citizens of Daytona Beach, Fla., not knowing about the international motor speedway in their backyard.
In Vermont, the word "rally" is more likely to evoke images of pink pussy hats and protest signs on the Statehouse lawn than a turbocharged speed race on mountainous dirt roads. In much of the world, though, the rally motorsport is more popular than NASCAR stock-car racing on oval tracks.
"Nobody in Vermont does what we do," said Chris Yandell, the 39-year-old vice president of marketing for Vermont SportsCar and Subaru Rally Team USA, as we toured the new state-of-the-art facility. A half dozen automotive bays, visible from our spot on the second-floor bridge that spans a warehouse-size room, were as glistening and spotless as a Food Network prep kitchen. "Basically, we're a mini-factory," Yandell said. "We engineer, design, produce and race rally and rallycross cars."
Rally racing, aka rallying, is a point-to-point stage race against the clock on a variety of surfaces — dirt, snow, gravel, mud, asphalt — featuring obstacles such as water crossings, hills, curves, jumps and dips. Each section, or stage, is individually timed, and drivers travel from one stage to the next on open public roads.
Rally is unique among motorsports in that it features a driver and codriver in the car simultaneously. Racers don't get to practice on the course beforehand, Yandell noted, but they're permitted a couple of reconnaissance runs, or "recces," at slower-than-race speeds. During a recce, the driver calls out descriptions of the course, which the codriver writes down.
For example, the driver may say, "300-meter straightaway into a two left," meaning a left turn with a severity rating of two on a scale of one (sharpest curve) to six (nearly straight). Driver and codriver also note the location of hazards such as rocks, trees and cliffs that may affect their maneuverability. During the race, the codriver calls out the description to the driver as they progress.
Courtesy Of Vermont Sportscar And Subaru Rally Team USA
Travis Pastrana on his record-setting run at the Mount Washington Hillclimb Auto Race
Rally cars don't reach the top speeds of NASCAR or Grand Prix cars. But, as Yandell pointed out, drivers on an oval track see the same turn 10,000 times. Rally drivers see 10,000 turns just once.
"The dynamic of a codriver in the car speaking to the driver through a headset constantly, while you're going 100 miles per hour on a single-lane dirt road, at night and in the rain, is one of the coolest things about this sport," he said.
Rallies are held in virtually all conditions, including rain, snow, ice, fog and darkness. About the only reason a race gets canceled is when an ambulance and safety crew can't get there.
Safety crews are essential to a sport in which, as the saying goes, it's not a question of if your car rolls but when. According to Yandell, if 60 cars enter a rally, five to 10 could crash — though that typically doesn't happen to Subarus, he emphasized.
Nonetheless, Subaru's metal fabrication shop, where roll cages are welded into the frame, features a "wall of shame" displaying the crumbled hoods of wrecked cars. A blue hood bearing the Red Bull energy drink logo commemorates a 2005 race in Colorado where Pastrana rolled his car nine times at more than 100 miles per hour.
Pastrana walked away from that crash, Yandell said, because of the time and attention Subaru's team put into making its cars strong, rigid and safe. Though the Vermont designers, engineers and welders start with the basic DNA of a Subaru, each car is built from the frame up. It typically takes the team 2,000 hours to complete a car, at a cost of $300,000 to $600,000. At any given time, Subaru Rally Team USA has as many as five cars in production for an upcoming race season.
The twin sport of rallycross, in which Subaru also competes, is "rally on steroids and condensed into a location," Yandell said. "You take the cars out of the woods, double their horsepower and make them bump into each other on a track."
When Subaru goes to a race, the team is self-sufficient, traveling with 25 to 50 people and a convoy of semis, trailers and RVs that carry its cars, tools, equipment and parts. Once there, the team handles everything from race logistics to meals and repairs. Yandell said the team's mechanics can drop a new engine into a car in 45 minutes or less, and change a gearbox in less than 15.
That's assuming the car returns from its last stage. Rally drivers and codrivers don't have pit crews during each stage, so if they blow a tire while racing through the woods, they have to change it themselves.
"Stuff gets trashed. Stuff gets bent. Stuff gets wrapped around trees," Yandell said. "So you need to counter that with crazy attention to detail and building things really strong and overengineered. The prep time has to be there so the car can make it to the finish. That's the most important thing."
In North America, Subaru Rally Team USA dominates the sport with its star power. The team is managed by racing legend John Buffum, the most successful American rally driver in history. Buffum, a Middlebury College grad who moved to Vermont in the 1960s, is in the Vermont and New England sports halls of fame, having won 11 national titles and 117 national championship events.
Smith, the team's owner, is a 57-year-old Williston native who got his start driving Vermont dirt roads in his brother's '78 Subaru Yama Yagi wagon. In 1979, at age 18, he attended a rally course Buffum taught in Williston and fell in love with the sport. Smith took up auto repair, welding and, eventually, exotic car restoration, then founded Vermont SportsCar in 1988. He's been building rally cars for Subaru of America, his primary sponsor, since 2001.
Despite years of international acclaim, the Subaru team has largely escaped public attention in its home state. Why?
Yandell offered several reasons. The Colchester shop, which the team outgrew years ago, had no space for fans to visit, so Subaru didn't advertise its presence there. Also, because rallies aren't held in Vermont, there's nowhere nearby for Vermonters to watch the team race.
The nearest high-profile rally is the Mount Washington Hillclimb Auto Race, aka "the Climb to the Clouds," held once every three years near Gorham, N.H. First held in 1904, it's one of the country's oldest auto races and predates the Indianapolis 500. Subaru Rally Team USA has won the race and broken world records the last three times it competed.
The 2017 record is held by Pastrana, who only took up auto racing in 2004. He was already an X Games superstar at the time, Yandell noted, having performed the first-ever double backflip on a motocross bike.
As a publicity stunt, Subaru invited Pastrana to a test track in New Hampshire, where one of Subaru's drivers showed him the ropes. Afterward, the driver got out and said, "That kid can drive." Smith signed Pastrana immediately; he went on to win the following year's national championship.
Courtesy Of Vermont Sportscar And Subaru Rally Team USA
Pastrana's presence did more than boost Subaru's fan base; it turbocharged the sport of rally in the United States.
"We were the ones who invited the ESPN execs out to a rally and gave them a ride in our car and blew their minds about how cool it is," Yandell said. "Rally was in the X Games the next year [2006]."
Tim O'Neil is a five-time U.S. and North American rally champion who's trained many of the most successful competition drivers in North America. Now co-owner of Team O'Neil Rally School in Dalton, N.H., O'Neil has known Smith for years. He attributes the Vermonter's success in building Subaru's dominance to his background as a mechanic and tradesman.
"I've watched Lance go from nothing to where he is today," O'Neil said. "They're doing stuff that no one else in the world has done ... And no one gave it to Lance. He went out and grabbed it."
For all his team's national success, Smith clings to his roots on those Vermont dirt roads. When he got into rally, he recalled, he drove an old Ford Fiesta he bought for $3,400. Today, a single transmission can run him $40,000.
Rally still welcomes entry-level racers; a $5,000 beater can compete against a million-dollar Audi. "It's like any motorsport. It only goes as far as your wallet does," Smith joked.
Now he's gearing up for the sport's future. Though today's electric car batteries still lack the endurance needed for rally racing, Smith predicts that the shorter, faster rallycross races will "go electric" in three to five years. When they do, his facility will be ready to accommodate that transition. In fact, he's confident his team can compete on the global stage.
"If Subaru came to us tomorrow and said, 'Could you do a world championship?' this place has been made to do that," Smith said. "We have the engineering and the talent now."