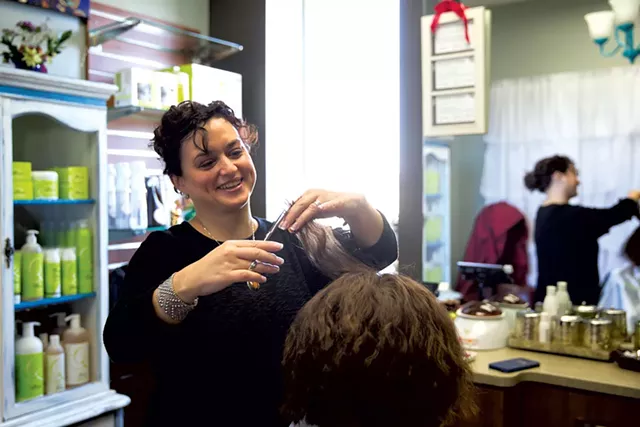 James Buck
Amanda Moshovetis
Name: Amanda Moshovetis
Town: Williston
Job: Owner, Curly Girl Salon
Sitting in her cozy salon, Amanda Moshovetis sounds as much like a psychologist as a hair expert. She has to coax curly clients out of their fear and skepticism. She has to convince them that she knows how to handle mane waves, is well versed in extreme spring and has felt the frustration of frizz. She cares that her clients look good, but even more that they feel good about their coifs.
Most curly-haired women — and some men — come to Moshovetis traumatized by past experiences. "Every traditional stylist makes it this battle, that you're fighting against curly hair instead of embracing what you naturally have," she says.
She cites the "triangle" haircut — the human-head version of a Christmas tree — as evidence of defeat. And she knows the "surprise dry": when a stylist has cut way too much and persuades a client to leave with wet hair, thus delaying the unpleasant revelation.
A 41-year-old Dover native, Moshovetis lived in Arizona for a decade before returning east. She attended and taught at a beauty school in Keene, N.H., but subsequent salon jobs never satisfied her. So she left the styling world and worked in wine sales, occasionally doing hair on the side.
When a former beauty-school classmate used Moshovetis' curly head to try out the DevaCurl product line in 2009, she got inspired. "My hair came out the best that it ever had," Moshovetis recalls.
She soon found a DevaCurl-certified stylist in Williston. "It was a life changer for me," she says. She shadowed that stylist, who has since moved away, then got her own certification at the Devachan Salon in New York. She's now the only stylist working in Vermont who has completed the program, according to the DevaCurl website.
In October 2015, she opened Curly Girl Salon, a one-woman shop inside a larger studio, and she's since carved out her niche.
Moshevetis sat down in her own chair to explain what it means to, as she puts it, "geek out on curls."
SEVEN DAYS: What happens when your clients get in the chair?
AMANDA MOSHOVETIS: The first thing I do is, I sit down and say, "Tell me about you," because it's always going to lead back to your hair. You ask a curly girl about her life, and she's going to tell you about her hair. It's like this unsaid bond that all of us curlies have.
Before I pick up any scissors or put a cape on you, I say, "Do you have any questions? Does that make sense? Are you comfortable? And is it OK if I start cutting?" That is my one rule: We have to have that conversation, and you have to feel comfortable with me.
SD: What is different about cutting curly hair?
AM: It's gaining that trust and trying to reassure the [client] that this is a safe place, and this isn't like any experience you've had. I'm going to cut it dry. I cut it dry because that's how we wear our hair. We don't wear it wet. It takes into account the spring factor, of course.
When you go to hair school, they teach you the foundations of cutting. They don't teach you different techniques for different hair types. It's all about pulling out the hair — wet — with tension. And you're pulling it out at angles in which it doesn't live.
I'm really about cutting the hair in its natural state, embracing what you have and bringing out that curl.
I do a preliminary cut all over. Then I do your cleanse, condition, style. Then I do finishing work, and I go through and I see that we've brought out your best curl pattern. We've hydrated your hair. Now we can do a little bit more framing around your face. I am always conservatively cutting. That is the biggest thing with curly-haired girls: "Don't take off too much. I don't want to lose any length."
SD: How do you keep curls sane?
AM: Products are huge. A big part of what I do is product education. I take you through an entire boot camp here. Your head is in the bowl, I give you this mirror, and you're watching everything I do. I'm showing you step by step.
Curly hair is thirsty. Curly hair needs moisture. I cannot stress that enough.
When you leave, I print you a custom "curl-scription," which outlines all of the products I used, how much to use, how to use them. Because it's a lot of information, so then you can reference that.
SD: Why is this such an important thing for you?
AM: I've had all the same struggles, and I can relate to it. Because [this method] was so helpful for me, I just wanted to help others. It's so wonderful to embrace what you naturally have instead of fighting it all the time. I have high school girls come to me who have been bullied for their curly hair, who have spent tons of money on keratin straightening. Really, your hair is such a huge part of who you are. We wear our hair every day. It's our biggest fashion accessory.
I book out two hours for every appointment. I want it to be an experience, not a hair appointment.
And your appointment with me doesn't end when you leave. I'm open to texts, emails. People send me photos. It's more about relationships for me than just clients filling my books.
SD: What are your favorite things to hear from clients?
AM: I really love when they embrace what I say. Or they give me good reviews on my Facebook and post pictures and tag me in them. They're so proud of themselves. I've had some criers — in a good way — who are like, "I didn't know my hair could do this." Just for them to feel like somebody listened to them and got it, I think, is huge.