Imagine a life in which your only tasks were to eat and have sex, all day, every day. In barns and on hillsides across Vermont reside plenty of such lucky creatures — bulls and toms and goats and boars — whose superior genetics keep their home turfs teeming with offspring.
It ain't easy being a stud, though. From intimidating your competition with a well-timed stomp to fathering 300 piglets in less than three years, full-time siring can be hard work. And forget insemination; most of these alpha guys still like to do it the old-fashioned way and enjoy a gentle nuzzle with their ladyloves.
Here are four fathers whose progeny … you might have eaten.
-----------------------------------------------------------------
Goat
Name: Hjalmar
Home: Vermont Chevon, Danville
Breed: Black Cashmere
Age: 7
Weight: 170 pounds
Stat: Hjalmar has "a long, straight back and a solid, big body, and a beautiful set of horns. He's just a beautiful animal," says owner Shirley Richardson.Offspring: More than 30, with a high preponderance of twins
Favorite food: Second-cut organic hay, with a soft spot for cracked corn
Favorite position: "The old-fashioned way," says Richardson.
Courtship ritual: Hjalmar will follow a doe around and sniff them to make sure they're cycling; if so, he'll begin sticking out and flapping his tongue, as well as nuzzling her. Then he'll pee on himself to seal the deal. It works like a charm.
-----------------------------------------------------------------
Bull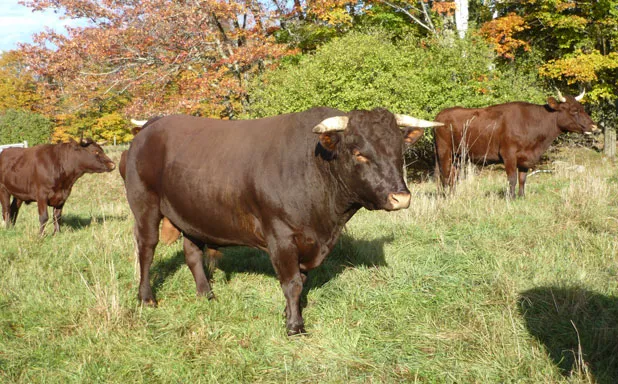 Name: Harvey
Home: Head Waters Farm, Newbury
Breed: Red Devon bull
Age: 4
Weight: 1600 pounds or, as farmer Sam Calley puts it, "A bull of huge dimensions and middle disposition."
Offspring: "Five fine calves," notes Calley.
Favorite food: Hay, grass or anything that grows in a pasture.
Courtship ritual: Unknown, as Harvey is "quite discreet."
Other stats: In the fields, Harvey is quite a gentleman, sharing his pasture freely with others. His owners like to believe Harvey enjoys his hillside existence. "We don't know if he appreciates the views over the mountains, but we think and hope he has one lucky life," Calley writes.
-----------------------------------------------------------------
Boar
Name: Bigfoot
Home: Jericho Settlers' Farm, Richmond
Breed: Purebred Berkshire boar
Age: 3 1/2
Weight: 990 pounds
Offspring: More than 300 piglets
Favorite food: Grubs, worms, eggs, grain, vegetables and hay
Disposition: "He's a gentle giant," says farmer Mark Fasching. "It's why we have him as a boar. It's important for the big breeders to be easygoing."
Favorite position: Doggy style
Courtship ritual: Bigfoot maintains a steady harem of four sows. To make sure one is ready for mating, he'll nudge the side of her belly with his snout; if she doesn't move, "he walks up her back and gets to work," says Fasching.
-----------------------------------------------------------------
Turkey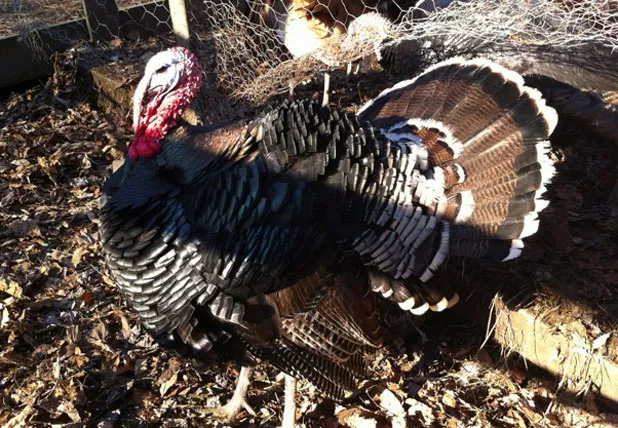 Name: Mr. Tom, aka "My Spanish Black"
Home: Earthwise Farm and Forest, Randolph
Breed: Spanish Black turkey
Age: 1 1/2
Weight: 25 pounds
Offspring: "Quite a few," says farmer Lisa McCrory.
Favorite food: Grain and grass, bugs (when he can find them), and berries. "Turkeys love blueberries," says McCrory. "I have to fence mine in, because they'll be gone in a heartbeat."
Courtship ritual: When he's in the mood for love, Mr. Tom will put on a display — he fans his tail feathers and his head turns blue. He'll also stomp his feet to discourage younger, less-alpha males from encroaching on his target.