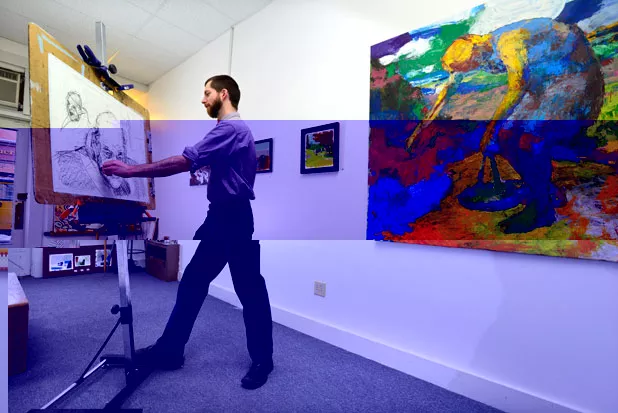 Stefan Hard
Glen Coburn Hutcheson
Imagine watching van Gogh as he attacks the canvas. Or Matisse, his scissors careening through bright paper. Or shirtless Picasso, splashing Prussian blue on canvas. Their time is long gone, but there are still opportunities to observe artists in the act of creation. Glen Coburn Hutcheson is offering just that in his brand-new Storefront Studio Gallery in downtown Montpelier.
Hutcheson doesn't just want to make art, he says; he wants to instigate conversations. And one of his best conversation starters could be a life-size drawing of you. With your permission, of course. Fat chunk of graphite in hand, Hutcheson will rigorously sketch as you wander the studio looking at his paintings. He may tell you how he makes gouache out of cornstarch and pigment, or how he builds sculptures using cardboard, metal, pigment and wood. Whether or not he's drawing, Hutcheson warmly invites visitors to look at and have an exchange about art.
That's what his newly opened studio on Barre Street is all about. "The gallery is a space where I can share my practice with the community in a direct, daily way," Hutcheson says. "I hope it will be good for the neighborhood and town as well as for me."
The 500-square-foot gallery, just a block from the Drawing Board art store and the Savoy Theater, is a brick building with two red exterior lights and a striped awning. The glass entry, with tall front windows displaying Hutcheson's work on easels, is inviting. Inside, the L-shaped, white-walled space is a fitting backdrop for a broad selection of Hutcheson's paintings and drawings.
On one wall hangs a large print of his peace banner, titled "We Demand Peace." Fashioned after a 1950 Soviet political poster by Victor Koretsky, Hutcheson's version boldly displays a muscular, large-boned woman in an apron holding a broom and slamming her fist on a table. Sitting around the table are tiny businessmen in suits discussing war. It is a striking, colorful statement. A copy of the 6-by-3.5-foot poster is printed on tough vinyl and sells for $70. Hutcheson makes use of his poster every Friday at noon, when he and other peace activists rally in front of the Montpelier post office.
The studio also displays several lush pastels. One, titled "Fidgeting Head," depicts a bishop in a tall mitre hat looking over his shoulder in apparent surprise. He looks like a figure in a Rembrandt painting, which is exactly where Hutcheson found the inspiration for the image. Another small pastel, "Who Wants War," shows a sweet, forlorn-looking fellow with a big pink thought bubble emerging from his head — his thought being the title of the piece.
In two currently hanging oil paintings, Hutcheson explores his adolescence in Massachusetts. In the 20-by-32-inch "Pond Student," a naked young boy squats at the edge of a pond playing with a stick. With his dark-brown skin and long black hair, surrounded by a dense green forest, the child could be part of an indigenous population living in the wild. "Big Pine," an oil of the same size, recalls the era when the U.S. Northeast was forested with huge white pines and nut trees. In this painting, three naked children sit high up in one of those pines, looking out over hundreds of miles of thick forest and distant blue mountains.
With his favorite medium, the graphite stick, Hutcheson dashes off his portraits of people — family, friends and strangers. One is of his sister — the 24-by-18-inch "mlh" — and is reminiscent of Mary Cassatt's depiction of women: strong, beautiful and calm. The serene sketch suggests this subject is someone the artist cares about. But every one of Hutcheson's portraits manages to convey his joy in creating them.
Hutcheson, 34, left New York City three years ago after obtaining his MFA from the New York Studio School of Drawing, Painting & Sculpture. He moved to Montpelier and used up his savings to pay six months' advance rent on the studio. Before his lease expires in July, Hutcheson says, he'll decide if this artist-in-residence experiment should continue.
To support his dream, he's been working 35 hours a week at the Skinny Pancake. After work, he walks the few blocks to his studio/gallery and gets back to making art and interacting with whoever comes through the door. The gallery is open to the public on weekdays from 3 to 6 p.m. Evenings and weekends are saved for creating. Most of the works in the gallery are for sale.
In addition to showing his work, Hutcheson says, he'd like to give occasional slide presentations on art theory and history. "I've amassed so many images from museums and galleries that I'd love to share," he explains. "I might even host others who'd like to give a lunchtime talk in my gallery space."
Another possibility, he says, is to teach art classes, particularly life drawing. He has just one overarching goal: "to interact with people, centered on the visual arts.
"People walking in off the street while I'm working will change what I'm doing," Hutcheson adds. "I look forward to seeing how it will go. I like random acts, and I'm prepared to go with them."
Storefront Studio Gallery, 6 Barre Street, Montpelier. Open Monday through Friday, 3 to 6 p.m., and for First Friday Art Walks. Hutcheson keeps a blog at drawpaintsculpt.blogspot.com. Info, glen@gchfineart.com.
The print version of this article was headlined "Work-in-Progress".