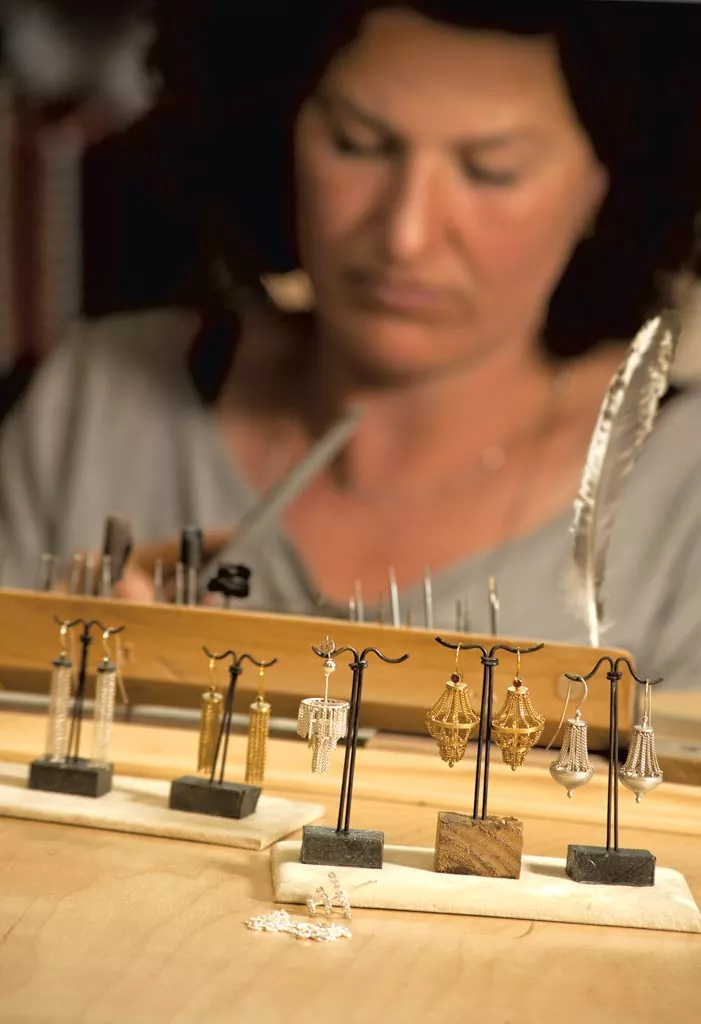 Matthew Thorsen
Jane Frank
Jane Frank, a member of Burlington's Alchemy Jewelry Arts collective, trained for nearly a decade for her title of master goldsmith. In her native Germany, a state-run Chamber of Crafts approves apprenticeships, sets curricula and doles out certifications as students rise through the ranks of their chosen craft. Frank (her name is pronounced yaw-na frahnk) trained for years with a master, Jan Bierschenk, in Hamburg.
"A goldsmith master has to have at least a 10-year apprenticeship," she explains. "It's not like here, where you can just work with someone."
Since moving to Vermont in 2007 — nine years after she began her first apprenticeship — Frank has taken on students of her own. She's taught popular metalwork and stone-setting classes in Alchemy's Howard Street studio, which tends to attract repeat students. Frank also recently began a more European-style apprenticeship program in collaboration with the Vermont Commons School in South Burlington. One VCS senior, Ellis Govoni, is currently exchanging community service — working for Frank — for his five-week "apprenticeship" with her for his senior project.
For Frank, now 40, crafting jewelry is "a very intimate thing that people do together." So it's fitting that, as her Vermont student base expands and demand for her custom pieces increases, she's created a unique workspace outside Alchemy to accommodate both: in the single-car garage at her home in the Old North End. She named it Werkstatt, the German word for "workshop."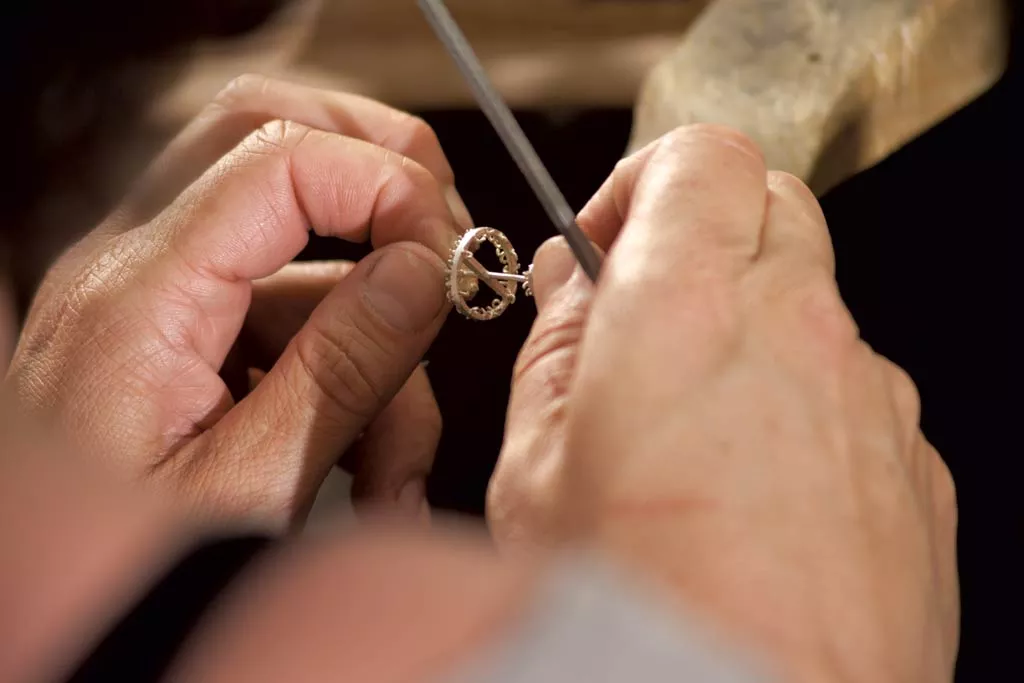 Matthew Thorsen
Frank assembling a chandelier earring
"I always want to have atmosphere when I work," says Frank. "When I had my studio in Hamburg, I had this nice space in a courtyard with sunflowers and herbs and trees and flowers. So it was kind of my standard of a second home."
Her new "second home" is a formerly dilapidated garage, which was customized to accommodate her and her students. Frank and her father, who makes an annual visit from Hamburg, did all the renovations, including insulation and drywalling. The project took them a year and a half to complete.
Frank says the new studio is ideal for her advanced students. It's also a more relaxing setting for creating her custom work, such as wedding rings, and for working with clients. Earlier this month, she held an open house at Werkstatt for students and clients to introduce them to the new space and the programming, which includes open-studio hours and more class offerings.
Frank's 3-year-old daughter, Ella, is often nearby; Werkstatt encourages an easy, familial atmosphere. "My students are young and funny and nice, and they get along so well," Frank observes. "You always have chit-chat, and everyone can come in any mood. They get this emotional support. Some of them would say it's like therapy."
On a recent afternoon, Govoni is at the bench in Werkstatt finishing off a ring as Frank shows a reporter around. Ella occasionally darts in to check on the apprentice's progress.
"So far I've made two rings, three necklaces and a pair of shoelaces," says the 18-year-old, who's headed to the Milwaukee Institute of Art & Design in the fall to study industrial design. His mother, Lisa Lillibridge, is also an artist.
Though true apprentice-and-master goldsmithing doesn't exist in the United States, Frank likes to delve into the craft with her longtime students in a manner that resembles her formal training, rather than, say, an afternoon-long jewelry-making class typical in the States. Having an "apprentice" like Govoni around for several weeks gives both student and teacher an opportunity to explore the foundations of the craft.
Frank's journey to goldsmithing began when she was 26. She'd tried a number of vocations, including photography and antique furniture restoration. Though she was always "craftsy," Frank says, she had difficulty settling on just one.
As fate would have it, she found her calling in Greece while backpacking with a friend. Frank encountered an expatriate German couple who made their own jewelry and sold it at markets. They befriended Frank and invited her and her friend to stay with them. "I just disappeared into the [jewelry] workshop," she recalls. "They had all of these little drawers, and there was a bunch of little objects. I was fascinated by it."
Upon her return to Germany, Frank saved up for her first tool kit and began applying for apprenticeships. After Bierschenk took her on, she spent weeks laboring over clasps — which many modern jewelers order from a factory — and other details. "I hardly got paid," Frank says, "but I also didn't have to think about the business side."
Even with this background, Frank says it took a while to find her style. "At the beginning, I thought I had to invent the wheel new," she says. "Then I made peace [with the idea that that] was not what I had to do. It's all been made in some form, at some point."
Nonetheless, a style emerged. Frank tends toward the romantic and whimsical. She's currently making delicate chandelier earrings with drop hooks and tiny chains; her stackable rings also have been popular with customers. But past series have included strongly hued, sculptural pieces and thick, gemstone-embedded rings that resemble crowns.
A breakthrough in process came from an unusual place: While working as a dental aide on the side, Frank discovered a type of resin that she could use to cast found objects to make molds. She made another key discovery after moving to Vermont with her then-husband in 2007, when she encountered a material called Precious Metal Clay in a class with Bethel jewelry designer Celie Fago. The material is moldable and can pick up imprints from two-dimensional designs, including drawings and printed books.
"Now all I have to do is keep my eyes open for the things that I think are beautiful," Frank says.
Her new studio seems a fitting place for that. Both cozy and airy, Werkstatt has a hand-cut wooden workbench that seats eight. On sunny afternoons, the garage door can be rolled up to let in a fresh breeze. A neat, fully equipped kitchen is tucked into a back corner, and a fireplace rests atop a brick hearth. Outside in the yard, a hammock, patio chairs, strawberry plants, blueberry bushes and a chicken coop complete the scene.
"I wanted to share all this with my students," Frank reflects. "A very nice community space, in the middle of Burlington. People can really take their time and enjoy."
The original print version of this article was headlined "Master of the House "