Jon Olender
Middlebury College sophomores Aska Matsuda (left) and Sam deWolf moving out of their dorm
Sam deWolf hauled a cardboard box full of belongings through his dormitory at Middlebury College and loaded it into his mother's silver van last Friday. The 19-year-old sophomore from Saratoga Springs, N.Y., wasn't ready to say goodbye to the austere gray stone architecture of Forest Hall or to the handsome campus that dominates the Addison County town of 8,500.
But like schools all over Vermont and across the country, Middlebury announced last week that its campus would essentially shut down in response to the coronavirus threat. Most of the school's 2,500 students were given just three days to pack up, leave and prepare to take their courses online.
"It's definitely unfortunate. I think we would all rather be staying here," deWolf said as he stuffed sporting gear and clothing into the car, two months before school would normally end. And although Middlebury has not ruled out reopening in April, many students, including deWolf, emptied their dorm rooms. "I see very little chance that we come back," he said.
Middlebury's March 10 announcement that it would close down and go to virtual learning was the first from a Vermont college. Like dominoes, others followed suit, including the University of Vermont, Champlain College, Saint Michael's College and the Vermont State Colleges system.
The decisions were a sobering glimpse of the new normal amid the unfolding response to the COVID-19 pandemic that has since led to closures of public primary and secondary schools, shutdowns of many businesses, and a state of emergency.
It shocked students at Middlebury, a selective private college known for its language schools, intense debates about campus free speech and top-notch facilities, including gyms, tracks and sculls that are now empty.
Off campus, the mood was grim, as well. The college is one of the major employers in town, and local restaurants and stores depend on student traffic.
Middlebury Town Manager Kathleen Ramsay said business owners have contacted her office to ask about the potential for state and federal government support. "Many of them are simply reeling, as are people across the country," she said.
Students, meanwhile, were saying goodbye.
Heavy rain fell on campus last Friday as undergrads in rubber boots and jeans tromped through the mud-season muck to hug and load suitcases, pillows, skis, snowboards and laptops into cars outside of dorms. Full white trash bags dotted curbs, indicating that rooms had been cleaned out. Cast-off chairs, coat hangers, desktop organizers and other unwanted items formed mounds at "drop zones" marked with a sign, waiting for pickup by the school. Parents and students launched an online "mutual aid" society to help coordinate rides and other assistance.
While college president Laurie Patton and other leaders posted voluminous updates and FAQs on the school website, they did not return calls from Seven Days. A college spokesperson said Patton and other leaders were not doing interviews.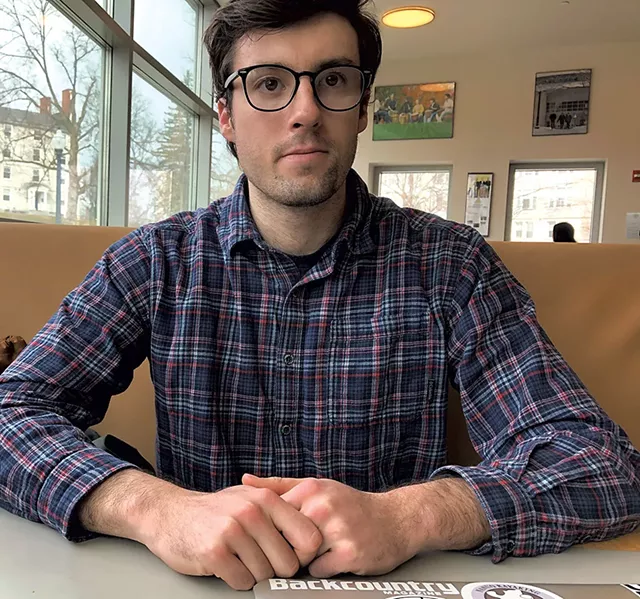 Molly Walsh
Daniel Krugman
Students were talking, mostly about disappointment. All spring athletics games and practices have been canceled indefinitely. Crew team member Daniel Krugman, a 21-year-old junior from Baltimore, had looked forward to training with his fellow rowers in North Carolina on a team trip over spring break. "We're not allowed to go anymore," Krugman said glumly last Wednesday in a student café at the college library. Even if the school were to reopen in April, most of the season would be shot for a team that had been set to train three times a day. "Now we have nothing to train for," Krugman said.
After news of the closure broke on March 10, students were distraught, he said.
"It was crazy," especially for students in their final year, Krugman said. "Seniors were sobbing. People were just getting up in their classes and leaving."
Krugman said he would probably wind up at his parents' house in Baltimore for spring break and stay there, ready to go online for his classes. "I think it's a safe move by the college," he said about the closure, but "I'm heartbroken ... It pains me to leave this place because it's so special."
Charles Lawrence, a 22-year-old junior from Wellesley, Mass., also bemoaned the closure. "I'm on the lacrosse team. Our season just got canceled," he said last Wednesday in the backyard of a student rental just off campus. Especially for seniors, "it's brutal," he said, then found a bit of humor in it, explaining: "They have to go into the real world now."
As he spoke, loud music thumped in the background and a row of students sat on the porch roof, clutching beer bottles and watching as Lawrence and others played a variation of beer pong in the muddy backyard.
The midafternoon party was justified, said senior Grant Schultz, a 24-year-old from Palm Beach, Fla., to make up for all the celebrations he and other almost-graduates wouldn't have during their final lap at Middlebury. "We thought we had six weeks left ... Now this is kind of like the last hurrah," Schultz said.
For him, news of the closure generated shock and disbelief, as did the emerging impact of the virus. "It's almost, like, apocalyptic," Schultz said.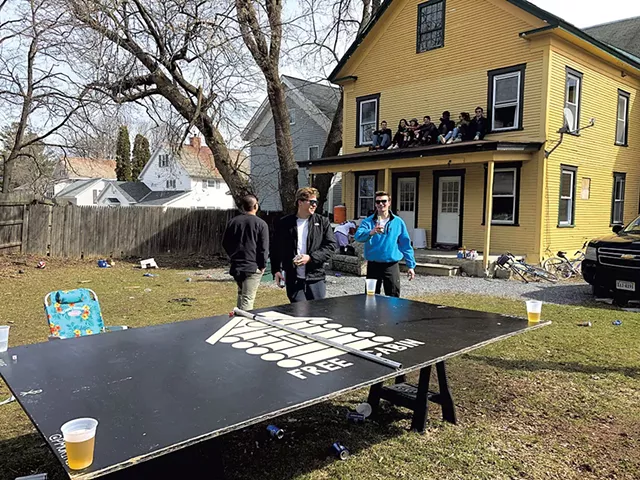 Molly Walsh
Middlebury students partying in their yard
Not everyone is leaving the campus. Administrators made exceptions for approximately 175 students, according to a message Patton posted on the college website Saturday. They include international students such as Bunmi Adeloye, a 19-year-old sophomore from Lagos, Nigeria. With many travel restrictions in place, she wasn't sure she could even get home. And if she did, Adeloye feared she would be stranded and unable to return if campus reopened and classes resumed. Her family urged her to stay, and she applied to do so. The college approved her request, Adeloye said.
She will likely be one of just a handful of people remaining in her dorm, which had been home to 40 or 50 students, she said. Meals will be served, but many college buildings will be shut down, and Adeloye expects campus to be very quiet — especially for the next two weeks, when even Middlebury's online classes will be on an extended spring break. But she won't be idle. "I've got homework," she said.
Just north of campus in Middlebury's small downtown, business owners say they will immediately feel the absence of Adeloye's fellow students. They also rely on income from parents, alumni and sports fans who come to games that are now canceled.
"My head is kind of spinning," said Becky Dayton, co-owner of the Vermont Book Shop on Main Street. The campus closure will certainly have an impact on business, especially if the threat of the virus keeps growing, she said last Wednesday, when sales already seemed to be off. "From the looks of my till yesterday and today, it's not going to be pretty," Dayton said as she stood behind the counter.
It doesn't help, she and other business owners said, that the Vermont Agency of Transportation's current railroad and bridge renovation project is expected to disrupt downtown streets even more this summer. "It does not bode well," Dayton said.
By Tuesday, Dayton had closed the store to browsing and was instead conducting transactions via telephone and email, with delivery or curbside pickup. Large crowds of locals had actually come in Sunday to show solidarity, but Dayton decided the semi-closure was necessary to encourage self-distancing. She said she's trying very hard to keep her half dozen employees on the payroll. "I've prepared them for the possibility of layoffs, but I have no immediate plans," Dayton said.
Down the block, David Disque immediately launched a 20-percent-off sale at Forth 'N Goal Sports after the college announced it would close campus. Last Wednesday, a few shoppers eyed Middlebury College logo wear, athletic socks and T-shirts at the store Disque co-owns. "We have to wait and see, but there's no doubt that it's going to be significant," he said.
The longer virus precautions and fears shut down the college and other institutions, the bigger the effect will be, Disque said. As of Monday, he was still planning to stay open but was evaluating the situation "day to day" and trying to "hope for the best."
Restaurants were also bracing for empty booths and barstools — but not before students enjoyed a few last rounds. Holmes Jacobs held one more "College Night" dance party last Thursday at the restaurant he co-owns on Main Street, Two Brothers Tavern.
The "dance the night away" DJ events take place periodically, and last week's was a finale due to the "ramped-up departure of the kids," Jacobs said. But sometime after midnight, someone tore down the restaurant's American flag and ripped letters off the restaurant's sign.
"It was just a really disappointing way to end the year with the students — if it was the students," Jacobs told Seven Days. He posted about the episode on Facebook not so much because of financial inconvenience, he said, but to express frustration with a lack of "public decency."
He didn't report the vandalism to police, nor does he have exterior video cameras. But it was not an isolated incident. Similar vandalism occurred elsewhere in town and on campus, according to an article in the Middlebury Campus student newspaper. It reported that students ripped down signs, broke dorm windows and threw furniture before they left.
The mess is cleaned up now, but worries linger.
"We all try to model our business not solely on college sales so as to be able to live without it, but it will still be a hardship for some," Jacobs said.
By Monday, though, he'd decided to temporarily shut down the restaurant, like so many others in the state, effective Wednesday, March 18.
Before the announcement, Holmes emphasized that the jitters he and others feel go beyond what's happening in town. The coronavirus threat, and societal reaction to it, is so unlike anything in recent history. "You never know what tomorrow brings," Jacobs said.