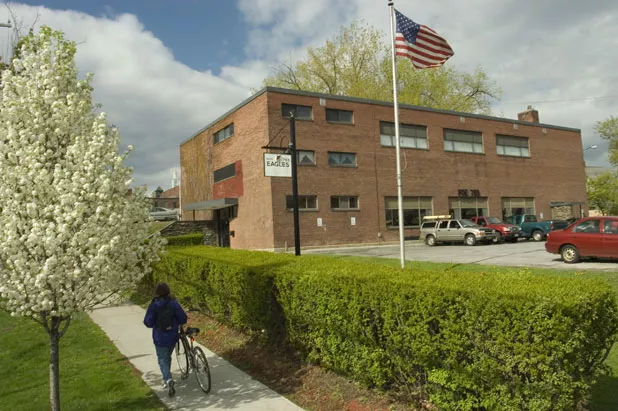 Matthew Thorsen
Eagles Club
Champlain College has spent a lot of time lately trying to sell its neighbors and the Burlington City Council on a plan to buy property near the heart of downtown, tear down a building, and construct new apartments for 200 students.
The building, at 194 St. Paul Street, belongs to the Eagles Club, a national nonprofit with 20 Vermont branches. Its demolition, which is pending city approval, would be the first step in the college's plan to eventually build new housing in Burlington for 600 students. Champlain College president David Finney believes the Eagles Club deal would result in a "win-win" for both the school and the city.
But public meetings on the project have exposed longstanding tensions between the college, its neighbors and the City of Burlington.
One issue is a lawsuit, pending in the Vermont Supreme Court, over Champlain College's 94-bed dorm on Maple Street, which opened in January. The neighbors argue that the project went forward without a parking plan and violated the city's zoning ordinance. Another is the college's 2006 Master Plan, which, according to Finney, the city has been reluctant to incorporate into its zoning bylaws.
Moreover, David Provost, vice president of finance and administration for Champlain College, said he's concerned that Norm Williams, an attorney who also serves as a volunteer member of the city planning commission, is among the neighbors who sued the school over the Maple Street project.
Provost argues it isn't "transparent" for someone involved in litigation against the college to rule on issues that could impact its future. Williams, who lives on South Union Street, said that because the planning commission doesn't rule on individual projects, "It's difficult for me to see any conflict of interest."
City Attorney Ken Schatz agreed. "We believe there is nothing wrong with Norm Williams - or any planning commissioner - having a personal point of view regarding what they view as appropriate development," Shatz said.
The Eagles Club project is being considered in relation to a 1994 "Memorandum of Understanding" between Champlain College and the city. The memo allows for "reasonable growth" inside Champlain's "core campus," a nearby "transitional area" and Burlington's central business district.
The Eagles Club lies beyond those areas, so the college has had to take its case for expansion to the city and its neighbors, some of whom met April 30 to express their fears about noise and parking.
Finney points out that the college is employing "stop-gap measures" to meet the current housing needs of students. For instance, 200 Champlain students are living at the Spinner Place complex in downtown Winooski. New student apartments, the president says, would ease pressure on the local affordable-housing market, without pushing the college's more than 1800 enrollment past 2000. Finney added, "To be viable and compete effectively, Champlain needs to house virtually all of its students."
Jane Knodell (P-Ward 2), who was among those meeting with residents in April, said the Eagles Club acquisition wouldn't be a "huge stretch" from the 1994 memo, which obliges the city and college to work together to house Champlain's students. "We have to work with them to figure out how they're going to do that," she said.
Michael Rooney, a Ward 6 steering committee member, complained that the college "trots out" the 1994 memorandum of understanding whenever it needs something from the city. Rooney and his wife, Susan Dorn, whose $625,000 property abuts college, support the Eagles Club project. But Rooney said they also worry about the future growth of the school.
Jerry Manock, a Kingsland Terrace resident, opposes the deal. A party to the lawsuit over the Maple Street dorm, Manock said the college is running a smart campaign.
"On the other hand," he added, "they're expanding in this unsustainable way, and any neighbors that try to voice their opinions are considered obstructionist."
On Monday, the city council agreed unanimously to grant conditional approval for the project. Champlain College has until May 12 to address the council's concerns and report back.
After Monday's council meeting at City Hall, Mayor Kiss noted, "From a city perspective, if Champlain College doesn't build there, it's likely that someone's going to build there."