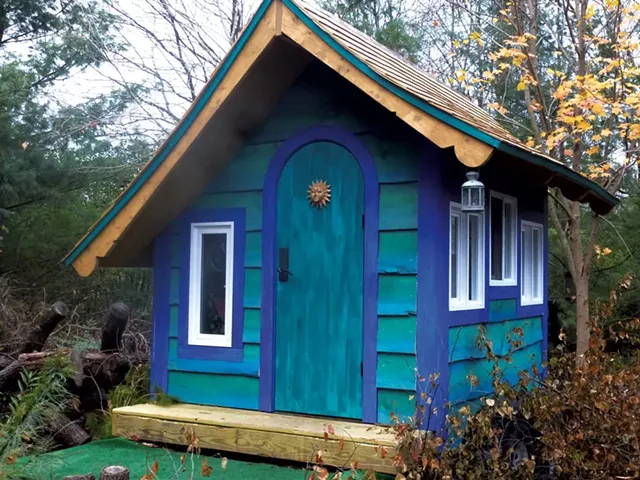 For a $10 raffle ticket, a brand-new house in Shelburne could be yours. The catch? It's a 6-by-7-foot room that lacks plumbing. However, the charming, peacock-colored domicile is architect-designed, fully insulated and has bamboo floors.
And it was built by 19 teenagers.
What started as a weeklong summer camp project turned into a three-month odyssey in construction and cooperation under the guidance of Alison and Joplin James, who run camps for kids and teens from their Shelburne home.
The 14- through 18-year-old builders participate in the James' year-round program, the Way of the Bard, which combines traditional storytelling, music, drama and dance. In June, the teens will travel to Ireland, where they'll meet real bards, do community service, and walk the countryside sharing stories and music with people they meet — an adventure this group has been planning for four years.
While searching for service projects to do in Ireland, Alison James found plans for tiny houses online. She envisioned the teens building one as a test run, to see if it could be done in a week. It ended up taking three months — a miscalculation that was worth the positive payoff. "Building a house themselves was transformative and empowering for these kids," James said.
The teens learned to follow blueprints, operate power tools and use math to solve problems. The project also toppled gender assumptions and demonstrated the importance of teamwork. And, in the end, the project will raise money for their journey.
Proceeds from the raffle will cover some of the travel expenses in Ireland and help recoup the $5,000 construction costs. And though you probably can't live in it, the teeny-tiny house is perfect for tea parties, meditating or backyard sleepovers. The Jameses will even deliver it to the winner, anywhere in the contiguous U.S.
"We all had the same goal in mind, and we each had to do different things to get it all done," said 17-year-old Addison White of South Burlington. "It's a great sense of achievement to have something physical that we built together."
Tiny-House Features
Live-edged cedar siding
Cedar-shingled roof with a copper ridge cap
Handcrafted arched doorway
Bamboo floors
Beaded wallboards
Five screened windows to let in natural light
LED ceiling lights
Electrical hookup
Ceramic space heater
Insulated walls
Fold-down twin bed
Learn more about the Teeny-Tiny House, and purchase raffle tickets, at treewild.org/tiny-house.