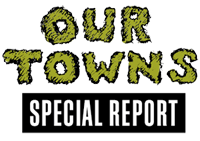 This week Seven Days is examining the health of small Vermont towns in the age of Amazon and Act 46. Rural villages are facing declining and aging populations, school mergers and struggling local economies.
Eva returned to her hometown of Johnson to check in with residents and see how life is treating them. Once a booming mill town where two rivers meet, Johnson has transitioned with the times. Back in the '80's, this town with no stop light had one restaurant, a maple shop and a grocery store. Now there is also a bookstore, an art store, a cafe, yoga studios, hair salons and massage studios. Johnson Woolen Mills dates back to 1842 and still holds pride of place on Main Street selling its classic plaid coats to hunters and hipsters alike.
For small towns to stay viable, they have to be flexible and it helps to develop a niche. Johnson's local economy has shifted from saw mills and talc mills to the arts, outdoor recreation and education. Vermont Studio Center brings creative professionals from all over the world to the tiny hamlet and has purchased, renovated and built more than 30 buildings in town. Since 1984, VSC has become the largest international artists' and writers' residency program in the country and the town has grown alongside it. The Town of Johnson Selectboard recently passed a Statement of Inclusivity, rejecting racism and discrimination and committing to a welcoming community.
Across the state, declining undergraduate enrollment has affected higher education demographics. Up the hill, Northern Vermont University - Johnson, formerly known as Johnson State College, recently merged with Lyndon State College to strengthen both campuses by sharing resources. This year NVU had an overall 3% decrease in admission, new students have increased by 12% and they have a budget surplus of $985,000. And like many small towns across Vermont reacting to Act 46, Johnson Elementary School recently combined its school board with four nearby towns - soon to be five - to create the Lamoille North Modified Unified Union District.
Kyle Ellen Nuse grew up in Johnson and left for college, traveling the world and settling in New York City. In 2014 she returned to her hometown with her family and became an active member of the community, serving on the town's selectboard, chairing Johnson Works and running the local art store. We spent an afternoon with Kyle meeting the locals and taking the temperature of this picturesque village.
Johnson's Holiday Jubilee will be held on December 7th from 4:30-7pm. There will be visits from Santa, NVU carolers and lots of activities for kids.
Shooting dates: 11/18/18 & 12/1/18
Video courtesy: Green Mountain Access Television
Music: Asher Fulero, "Nostalgic Pull"
Geographer, "After All" & "Bright Idea"
This episode of Stuck in Vermont was made possible by