9/7/07: This year's 15th Annual Art Hop brought hundreds of people to the South End to view the works of over 500 artists spread between 60 sites.
Strut II kicked off the Art Hop 2007 festivities with a procession of goodies such as a flouncy red wedding gown, silk-screened tees and clothes made out of playing cards.
Strut took place in a cavernous garage and even without the aid of the stifling heat, the models sizzled.
Strut was coordinated by Xmas Maxon-Alley, Reconstruction Designer + owner of the Green Closet Eco Chic Boutique and hosted by WCAX's own Jack Thurston + Syndi Zook of the Lyric Theatre Company along with music by DJ Precious.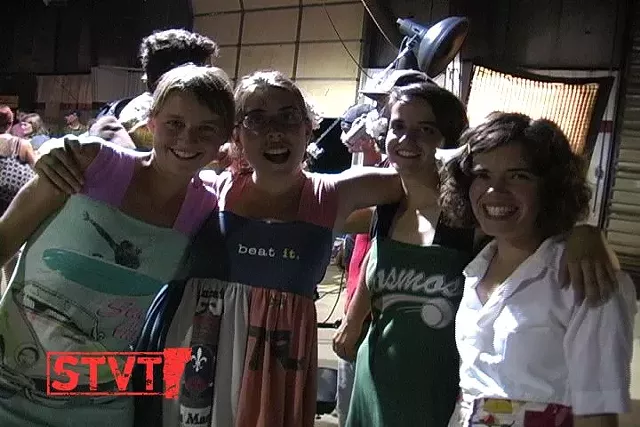 Strut II designers were: Ava Bishop, Catalyst/Brand New, Laura Fuchs, Loraleh Harris, Joanne Kalisz, Carolyn Little, Tara Lynn, Janii Peterson, Autumn Polidor and Almir Salkic.
Check out that pink codpiece and the dresses made from t-shirts some dude threw out (left).
These designers make both casual and high end clothing using recycled materials and each dedicates much precious time to the art of sewing.
And my favorite quote from the vlog and possible title for the codpieceoutfit, "I would grope you if we weren't in such public place."
Peppy tunes by Pretty & Nice off their album Pink & Blue, "Busy Bees." They have a new record coming out really soon so stay tuned!