Kevin Mccallum
Otter Creek in Vergennes
Mark Breznick didn't expect to get much sleep when he headed to bed one night last week. A fierce nor'easter was forecast to lash the region with heavy rain, and Breznick, director of the Rutland wastewater treatment plant laboratory, suspected he might be in for a long night.
"I could hear it coming down pretty good on my roof, so I pretty much knew," Breznick said.
Sure enough, shortly after 2 a.m. last Thursday, a custodian at the plant paged him. They had a problem. Breznick got up, logged on to his computer, and spotted the sharp spike in the stormwater and raw sewage mix pouring into the plant.
Rutland is one of 16 municipalities in Vermont that still combines its stormwater and sewage into a single stream of wastewater, and heavy rain had swollen that nasty brew dramatically.
It wasn't the foul river flowing into the treatment plant that worried Breznick, however, but the water that wasn't making it there.
Because the city's treatment plant can effectively clean only 22.5 million gallons of water a day, anything beyond that amount gets diverted — untreated — into Otter Creek and a nearby tributary, East Creek.
Last week's storm again highlighted the challenges Vermont faces in its decades-long effort to reduce pollution flowing into key waterways. While the state has made progress in reducing the number of locations where untreated sewage can enter rivers and lakes, more intense rains have increased both the frequency and volume of spills.
The state toughened regulations four years ago. But bureaucratic wrangling and lack of funds have held up some of the pricey infrastructure projects needed to address the problem.
Otter Creek alone endured multiple sewage overflows during the Thursday storm from three communities along its banks: Rutland, Brandon and Vergennes.
The river flows 112 miles from the Green Mountain National Forest through much of Rutland and Addison counties before entering Lake Champlain at Ferrisburgh. It is listed as one of 102 polluted, or "impaired," waterways in the state.
Breznick couldn't stop some of Rutland's sewage from flowing untreated into the creek last week. The waste is automatically diverted at four city locations into something called a combined sewer overflow. Whenever the water level in the sewer pipes gets above a certain level, the excess spills over a barrier, out a pipe and into the creek — bypassing the treatment plant.
Breznick's job wasn't to prevent the overflow, merely to report it.
At 4:42 a.m., after he had confirmed that all four overflow locations in Rutland were releasing untreated stormwater and sewage into the swollen creek, he sent an alert informing the state of the problem.
The information was posted on a Vermont Department of Environmental Conservation website, along with overflow reports from other towns and cities. Breznick's report also triggered a blast of emails and text messages to anyone who had signed up to be notified of overflows.
Vermont has mandated these public disclosures since 2016 when, in the face of pressure from the U.S. Environmental Protection Agency and public outrage at the persistent pollution in the Lake Champlain basin, new rules went into effect to improve transparency.
James Ehlers, executive director of the clean water advocacy group Lake Champlain International, has tried to draw attention to wastewater spills for years. According to his analysis, the basin this year is likely to see the largest number and volume of spills since tracking began in 2016.
Before last week's storm, Ehlers noted that the 164 overflows matched the previous full-year total. However, the volume released, 31 million gallons, was shy of the 43 million gallons in 2018.
Those figures changed dramatically during last week's storm, which Ehlers said will likely help make 2019 a record year for spills by any measure. The storm triggered the release of an estimated 11.5 million gallons in overflows or partially treated sewage into Otter Creek, according to the reports. Rutland alone was responsible for 10 million of those gallons, according to Jeff Wennberg, the city's commissioner of public works.
"I think we can expect more overflows. It's still October," Ehlers said. "My biggest concern is that the pattern should be trending down, but it's getting worse."
Average temperatures in Vermont have increased two degrees Farenheit since the beginning of the 20th century, according to the National Oceanic and Atmospheric Administration. Warmer weather has generated, on average, six additional inches of precipitation annually in Vermont since the 1960s, as well as more extreme rain and snowfall — a trend that is expected to continue, NOAA reports.
While Rutland is by no means alone in such overflows from major storms, the city of 15,400 residents remains the worst offender. As of October 6, Rutland had reported 76 spills totaling nearly 22 million gallons, Ehlers' group reported. St. Albans was next, with nine spills of 4.4 million gallons into Lake Champlain.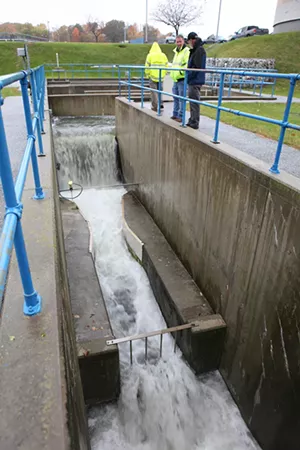 Kevin Mccallum
Heavy rains pushed the Rutland stormwater system beyond its capacity last week.
As the rain pounded the window in his Rutland City Hall office last Thursday morning, Wennberg pulled up charts showing real-time treatment system data. He marveled at one chart showing how quickly Otter Creek rose during the storm.
"That thing came up like a rocket," Wennberg, a former Rutland mayor and commissioner of the Department of Environmental Conservation under then-governor Jim Douglas.
On a later visit to the plant, Wennberg checked on chief operator Bob Protivansky as he monitored the treatment process from a control room. Flashing red lights indicated ongoing overflow conditions, but Protivansky said it was nothing like in the old days.
"That used to happen for weeks," Protivansky said. "Now it happens for hours."
Even so, such high flows challenge the crews. Assistant operator Tyson Barlow spent much of the morning frantically repairing a pump that had clogged with debris flushed into the plant on the torrent of effluent, he said.
Keeping the various screens, filters and pumps free of debris under such conditions is hard work. Barlow sometimes runs back and forth between two buildings that house the plant's main screening equipment, his shirt soaked with sweat.
Wennberg stressed that the water racing though the plant during storms gets fully treated. While the overflows are not, he downplayed the dangers associated with the heavily diluted releases.
The amount of actual sewage from people's homes that makes it into the creek from these incidents is small compared to the stormwater running off roofs, parking lots and streets, he said. About a tenth of the estimated 10 million gallons released during the storm was sewage, he said, and the rest was stormwater.
He also takes issue with rules that require him to report the overflows from a single storm four times — once for each location where the releases occur. The requirement tends to make Rutland's performance look worse than that of communities with a single overflow site, he said.
Despite the releases, Wennberg thinks the system is better than one that treats only sewage and lets stormwater go untreated, he said. Most of the time, the plant treats stormwater before releasing it into the creek, which, on balance, improves water quality, he argued.
Ehlers scoffed at that claim.
"It's like throwing your garbage over the fence into your neighbor's yard," he said. "Rutland is just sending their problem downstream to every other community that relies on Otter Creek for its recreation, tourist economy or drinking water supply."
Ehlers said the state should institute a moratorium on new sewage connections in Rutland until the city resolves its overflows. The state shouldn't allow a community that is polluting the watershed to add development that will only exacerbate that problem, he said.
Wennberg called talk of a moratorium "insane."
The volume of sewage is not the problem; it's the volume of rain, which has become more intense and frequent, he said. He noted that the city received 3.1 inches of rain in 24 hours during last week's storm. Halting new connections would bring to a standstill the very economic growth needed to pay for upgrades, he said.
Since 2016, the state has required water from combined sewer overflows to be cleaned to the same standards as that which is released from treatment plants, according to Chip Gianfagna, manager of the wastewater program of the Department of Environmental Conservation.
That has led to a sharp reduction in the number of overflow locations statewide, from 73 to 46, according to the department.
Cities such as Rutland, however, say they can't afford the expense of separating their sewer and stormwater systems, which Wennberg estimates would cost at least $150 million.
The city is instead considering improving its existing system by installing two new multimillion gallon holding tanks to catch the storm overflow so that it can be treated once a storm has passed. Even that work is estimated to cost $30 million.
"We've got some work to do until we can come into compliance," Wennberg said.
Julie Moore, secretary of the Vermont Department of Natural Resources, said Wennberg has a point that combined systems, despite the "ick factor" related to overflows, do remove significant amounts of contaminants from stormwater when working properly. That has to be taken into consideration when judging whether communities are doing enough to meet water quality goals, she said.
Gianfagna said statewide data show an increase in the number of release events — combined sewer overflows, accidents and other releases — but he could not speak to Lake Champlain basin data that Ehlers' group had compiled.
The increase in incidents is clearly due, at least in part, to bigger storms, but could also be related to improved reporting, Gianfagna said.
There are ways in which cities and towns with combined system overflows can meet the new standards, Gianfagna said. They could, for instance, find ways to capture and treat the overflow, as Rutland is considering, or install green infrastructure such as rain gardens to keep rainwater from becoming runoff in the first place, he said. New state guidance on such projects is expected by the end of the year.
"We don't want people to go out there, unguided, and just throw money at things that aren't going to fix anything," he said.