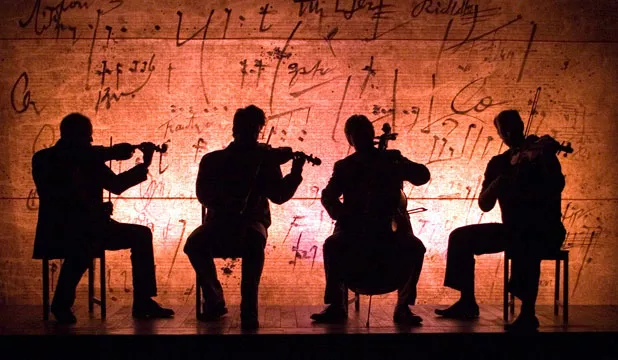 Many of us can say that music is one of the greatest joys in life, whether we prefer hip-hop or opera. But pursuing music professionally can be a grueling path. Classical musicians begin training as children. The few who have enough talent and grit to make it as pros face a lifetime of relentless rehearsal, travel and performance. These demands sometimes sap the passion that inspired the initial pursuit.
Playwright Michael Hollinger. knows this life intimately. Shortly after getting his BA in viola performance from the Oberlin Conservatory, he abruptly switched careers. He quit the viola and started writing for the theater. Opus (2006), his one-act play about a string quartet in crisis, resonates with an insider's affectionate yet unsparing perspective on the high-strung world of classical music. The show's New England premiere, with the Vermont Stage Company, features sophisticated production design and a stellar cast.
Opus means "work" in Latin, and also refers to how classical composers numbered pieces in their oeuvre. Hollinger's story focuses on the behind-the-scenes struggles of the fictional Lazara Quartet, made up of fortysomething men who have been playing together since college. They are prepping for their biggest performance ever: at the White House, for a national television audience. But they've just fired their emotionally unstable violist, Dorian, and have only six days to find a replacement.
Grace's audition blows them away. Her musicianship matches perfectly, and the group immediately invites her to join. But blending personal chemistry proves tougher. At just 25, the diffident, fresh-faced newbie finds herself among seasoned, somewhat-jaded vets who share a long history. As the show alternates between flashbacks and scenes of rehearsing for the upcoming gig, the tensions that tore at the original four members are revealed. And new frictions emerge when the quartet decides to tackle a tough piece for its command performance, Beethoven's intimidating Opus 131.
Cellist Carl, the calm family man, notes, "With four opinions in the room, four passionate individuals, sometimes tempers flare." It's an understatement, as is second violinist Alan's assessment that "Dorian felt things more deeply." Dorian's musical genius unquestionably exceeds theirs, but so does his volatility. Their unbalanced colleague has vanished, and irritable first violinist Elliot — Dorian's former lover — begins to come apart under the strain.
Opus handles a central challenge of the stagecraft with finesse: finding a believable way for actors to "play" the string instruments. Vermont Stage uses musical tracks by a pro quartet, recorded for the show's first production in 2006. The actors bow along in time with the music, without actually making contact with the strings, but leave their left hands motionless on the instruments' fingerboards. Music coach David Gusakov (of the Vermont Symphony Orchestra) has tutored them expertly; on opening night, only Jack Bradt, as Carl, was less than perfect at maintaining the seamless pantomime.
Hollinger writes musically. Pauses in the dialogue function like rests in a score; interruptions give syncopation to the rhythm of the speech. Director Jason Jacobs conducts the talented ensemble cast with taut precision, which makes Hollinger's smart script sing.
Jenny C. Fulton's sleek set design establishes an elegant canvas for the action. Dark hardwood floors provide ample room for quickly reconfiguring chairs and music stands as the characters switch rehearsal spaces. The rich cherry stain contrasts sharply with the stunning, translucent backdrop: an enlarged page from a Beethoven manuscript score, suspended from the ceiling. Scenic artist Jeffrey Modereger makes muslin look like parchment and beautifully reproduces the composer's early-19th-century, sepia-ink handwriting.
As Dorian, Ethan T. Bowen vividly embodies his character, who teeters between genius and madness. Alan notes that Dorian "hears things we don't hear." Bowen's ears cock as Dorian listens to whirring inner voices. Loosey-goosey body language and feverish, bugged-out eyes reflect Dorian's impulsivity, reinforcing the not-so-subtle hints that he may harm himself.
Wayne Tetrick adeptly captures Elliot's battle to assert dominance and retain control, even when he's losing it — metaphorically and literally. A raised chin, forceful diction and tightly drawn lips emphasize Elliot's sense of superiority. Tetrick demonstrates how the educated veneer melts when Elliot senses jeopardy, and gives way to raw rage.
Playing the quartet's more grounded members, Craig Maravich and Bradt provide excellent counterpoint. Maravich makes Alan witty and warm, stroking his beard and shaking his head as he tosses off self-deprecating remarks. Bradt gives Carl the down-to-earth appeal of a working man, expressing more emotion about baseball than Beethoven.
Taryn Noelle's performance as Grace glistens. A reserved demeanor establishes the newcomer's reticence, tinged slightly with fear. But Noelle also shows how confidence lurks beneath Grace's shy polish, able to assert itself when necessary.
Taking on the tricky Beethoven intensifies the pressure on the characters, which magnifies their weaknesses. George Bernard Shaw, who was a music critic as well as a playwright, wrote that Beethoven was "a temple of the most turbulent spirit that ever found expression in pure sound." By placing his characters' conflict in the lovely tumult of Beethoven, Hollinger composes a divine tempest indeed.