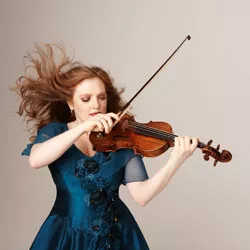 Classical-music fans may lament the demise of the Vermont Mozart Festival, but its absence for the first time in 38 years makes it easier to see how rich the state's summer music scene really is. The pickings are rich, often more musically adventurous than was the VMF, and concert promoters are no less inclined to take advantage of the state's natural beauty. That said, most groups have a preference for indoor venues — and for good reason.
Remember last summer when you strained to hear, for example, a guest violinist as you sat under a plastic tarp in the pouring rain? You were probably thinking, There must be a better way. Well, there is. The year-old chamber group Burlington Ensemble is giving two concerts at All Souls Interfaith Gathering in Shelburne — a decade-old structure with stunning views of Lake Champlain from both the picnicking field, which opens before performances, and the concert space inside. Whether indoors or out, audiences "will be looking at the sunset," promises BE cofounder Michael Dabroski.
If it rains, picnickers can eat at tables inside and still look at the lake. Tickets are pricier than the $5 suggested donation at the ensemble's 90/10 concerts — a series that benefits local charities, which in turn market BE to their supporters. But sales from the summer concerts will help pay musicians booked for the next 90/10 series.
Want the combined outdoor-picnic-and-concert experience? That's still possible. The Vermont Symphony Orchestra is bringing its light, celebratory Symphony Royale program to eight venues, most of them outdoors, including Shelburne Farms on the Fourth of July. At the Trapp Family Lodge Concert Meadow, Stowe Performing Arts and Stowe Mountain Resort will copresent the eight-member Fireworks Ensemble, a crossover chamber group from New York City. Among its recent projects: a "rock-inspired interpretation of Stravinsky's The Rite of Spring." Don't forget your plastic wine glasses.
Meanwhile, in a mini-resurrection of the Mozart Fest he founded, musicians' agent Melvin Kaplan is copresenting three concerts with area venues. Chicago-based violin prodigy Rachel Barton Pine, now 36, is returning, this time to the new Spruce Peak Performing Arts Center in Stowe. The Oriana Singers, a Burlington-based chorus of 30, performs Haydn at St. Paul's Cathedral in town; and an orchestral concert dubbed "Music Under the Stars" is, despite its title, taking place indoors at the Basin Harbor Club in Vergennes." At all three concerts, the orchestra will comprise members of the New York Chamber Soloists and local musicians, among them Kaplan himself, an oboist.
Vermont has long been a summer destination for city-based musicians. Starting a half-century ago, conservatory faculty came with colleagues and select students to practice and relax in a beautiful rural setting. In some cases these yearly visits turned into established chamber-music festivals, which now dot the Green Mountain landscape like barns. Some are held in barns: Yellow Barn in Putney, founded 42 years ago in an actual yellow barn, has since moved to a red one nicknamed "the big barn." Also a year-round music school, Yellow Barn mounts 40-odd summer concerts that feature the wide musical interests of its faculty. Among them this year is Merima Kljuco, an accordian player from Bosnia.
According to executive director Catherine Stephan, many of Yellow Barn's participants go on to play at the famed Marlboro Music Festival down the road. Now celebrating its 60th year, the country's most elite summer chamber festival is essentially a retreat for young professionals and seasoned masters, who rehearse together and learn from one another. The 80 or so musicians avoid the pressure of preprogrammed concerts by deciding during rehearsals which pieces are performance ready. Audiences at this year's dozen concerts won't learn what they'll hear until a week before, but "the performances are always really terrific," vouches operations manager Ben Davis.
For its anniversary, the Marlboro fest is issuing a commemorative book with essays contributed by the likes of pianist Jonathan Biss and violinist Arnold Steinhardt, who helped found the Guarneri Quartet half a century ago at Marlboro.
Other summer chamber festivals followed Marlboro to southern Vermont, including the 37-year-old Manchester and 29-year-old Killington music festivals. Each offers seven concerts this summer with renowned musicians and, in Manchester's case, up-and-coming opera singers. Predating all of these chamber-music fests is the piano-focused Adamant Music Festival, begun 70 years ago in the tiny northern town, then called Sodom, and still going strong.
Some veterans of these events started their own. One Marlboro regular, violinist Soovin Kim, founded the Lake Champlain Chamber Music Festival in Colchester three years ago. It offers similarly high-quality performances on a much smaller scale: Many of this year's musicians are Kim's fellow Marlboro veterans, including Lithuanian pianist Ieva Jokubaviciute and Taiwanese violist Hsin-Yun Huang. The LCCMF's programs are predetermined. Three of their concerts, at the Elley-Long Music Center in Winooski, sandwich contemporary pieces in between Mozart, Brahms and other familiar favorites; one concert, dubbed "East Meets West," features a work by Japanese composer Toru Takemitsu. The fourth concert, at the FlynnSpace in Burlington, will present exclusively contemporary works.
Former Killington Music Festival director Kevin Lawrence left to found the Green Mountain Chamber Music Festival in Burlington. Now six years old, the fest is housed at, but unaffiliated with, the University of Vermont and is a practice-intensive month for its young music students. Their teachers come from conservatories around the country and beyond. As Shelburne pianist Paul Orgel notes, "Up till now, I've been the only Vermont faculty member." This year John Dunlop, principal cellist of the VSO, joins in. Audiences can attend six faculty concerts at the UVM Recital Hall featuring "really interesting programming," promises Orgel; he looks forward to performing a Poulenc violin sonata, dedicated to the Spanish poet Federico García Lorca, with founder and violinist Lawrence.
The Central Vermont Chamber Music Festival has been running for the past 19 years, with performances by still more New York-based musicians — there seems to be an endless supply — in Randolph's Chandler Music Hall and the Unitarian Church of Montpelier. This summer's offerings include the 11 a.m. concerts called "Breakfast with Bach" and, for children, "Music from the Baroque to Bon Jovi," both at Chandler.
Northern Vermont-based children can get their classical fix from the Craftsbury Chamber Players, whose longstanding summer concert series is a festival in all but name. At the group's free, weekly "mini-concerts" in Burlington, Hardwick, Greensboro and Craftsbury, children of all ages (including pre-crawlers) get a fun lesson on the selections of the week, brief demonstrations and the chance to sit onstage among the musicians during a final piece. Chaos is more in check at the CCP's six evening concerts, each performed at both the Hardwick Town House and the UVM Recital Hall.
Other one-off concerts and mini-series abound this summer — including an encore by the hip young chamber group Scrag Mountain Music during the Vermont Festival of the Arts in Waitsfield, and another visit from the Music Festival of the Americas at Spruce Peak Performing Arts Center in Stowe. Weston will host its 'Sundays on the Hill' series at the historic town church. Summer Music from Greensboro, a Northeast Kingdom tradition, has a five-concert series on Tuesdays that includes an appearance by the Borromeo String Quartet — its only Vermont stop in a summer tour that stretches from California to Maine.
The good thing, as BE's Dabroski points out, is that, for the most part, these concerts don't overlap; you could conceivably attend a classical concert every night (or day) of the summer, if you're willing to travel.
And, while it would be nice to see another full-fledged orchestral festival à la Mozart Fest, chamber may be the way to go in Vermont. Says Bill Metcalfe, who founded Oriana Singers "somewhere between 35 and 40 years ago," classical orchestra concerts require a "big organizing effort," while chamber groups are versatile — and can make do with smaller budgets. "Follow the money," Metcalfe advises.
Wednesday, June 22, to Saturday, August 6, various times and locations in Putney. Free/$40. Info, 387-6637.
Green Mountain Chamber Music Festival
Wednesday, June 29, to Friday, July 22, 7:30 p.m., UVM Recital Hall, Burlington. $20; $17 seniors; $6 students. Info, 923-6108.
Vermont Symphony Orchestra Summer Fesival Tour: Symphony Royale
Friday through Sunday, July 1 to 10, 7:30 p.m., various locations statewide. $31/$34 at gate. Info and tickets, 863-5966.
Killington Music Festival: Music in the Mountains Classical Concert Series
Saturdays, July 2 through August 6, 7 p.m., Ramshead Lodge, Killington Resort. $20. Info, 773-4003.
Saturday, July 2, through Thursday, August 18, Adamant Music School. $8; $5 students & seniors. Info, 8223-3347.
Sundays on the Hill Concert Series
Mon., July 4 – Sun., Sept. 4, Church on the Hill, Weston. $5. Info, info@vtchurchonthehill.org.
Thursdays, July 7 – Aug. 18, 7 p.m., Arkell Pavilion, Southern Vermont Arts Center, Manchester. $35-45. Info, 802-362-1956.
Rachel Barton Pine with New York Chamber Soloists
Tuesday, July 12, 7:30 p.m., Spruce Peak Performing Arts Center, Mountain Rd., Stowe. $35. Info, 802-760-4634.
Wed., July 13 – Thurs., Aug. 18, various locations, Burlington, Hardwick, Greensboro, Craftsbury. $22; $20 seniors; $8 students; children's concerts free. Info, 1-800-639-3443.
Thursday, July 14, 7:30 p.m., St. Paul's Cathedral, 2 Cherry St., Burlington. $25. Info and tickets, 802-863-5966.
Sat., July 16 – Sun., Aug. 14, Persons Auditorium, Marlboro College. $15-35. Info, 802-254-2394.
New York Chamber Soloists: Music Under the Stars
Sunday, July 17, 8 p.m., Basin Harbor Club, Vergennes. Picnicking from 6 p.m. $27.50. Info and tickets, 802-863-5966.
Tuesdays, July 19 – Aug. 16, 8 p.m., Greensboro United Church of Christ. $18; $17 seniors; $10 students. Info, summermusicfromgreensboro@gmail.com.
Music in the Meadow Series: Fireworks Ensemble
Sat., July 24, 7 p.m. Trapp Family Lodge Concert Meadow, Stowe. Picnicking from 5 p.m. Rain location: Stowe Performing Arts Pavilion, Jackson Arena, Stowe. $28. Info, 802-253-7792.
Burlington Ensemble: Summer Serenade
Fri. & Sat., July 29 & 30, 7:30 p.m., All Souls Interfaith Gathering, Shelburne. Picknicking field opens at 5:30 p.m. $40. Info and tickets, 802-598-9520 or michael.dabroski@gmail.com.
Sat., Aug. 13, 4 p.m., Warren United Church, 339 Main St., Warren. Donations. Info, 734-904-5401.
Music Festival of the Americas
Thurs.-Sat., Aug. 18-20, Spruce Peak Performing Arts Center, Stowe. $30-45; $25 students. Info, 802-760-6797.
Central Vermont Chamber Music Festival
Thurs.-Sun., Aug. 18-28, various locations, Randolph & Montpelier. $5-38. Info, 802-728-6464.
Lake Champlain Chamber Music Festival
Sun., Aug. 21 – Sun., Aug. 28, various locations, Colchester and Burlington. $30; $15 students. Info, 802-846-2175.