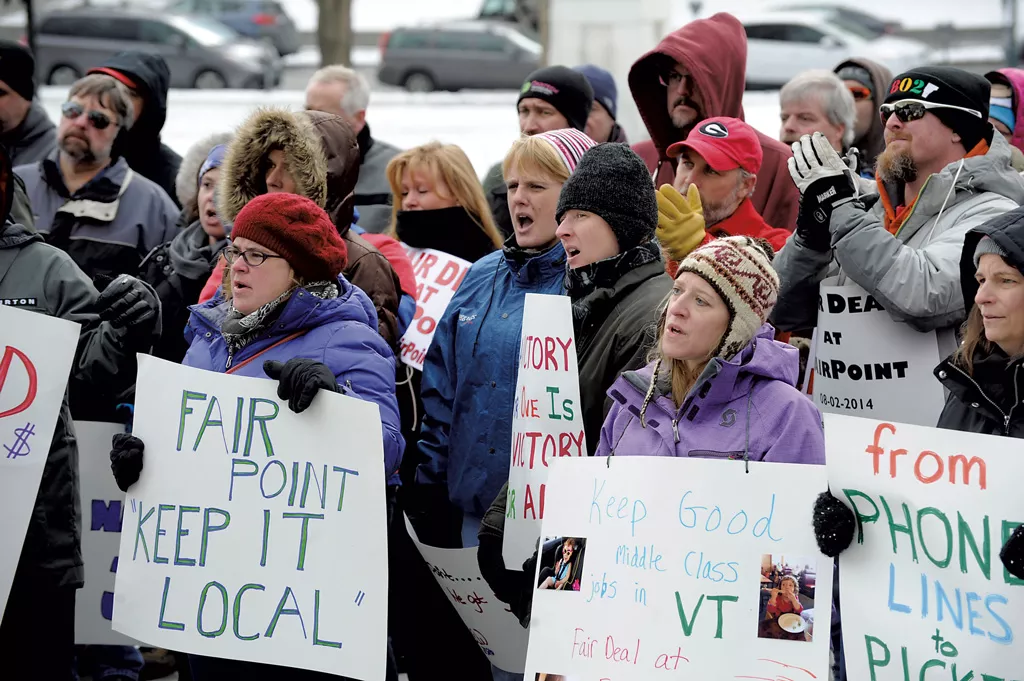 At a rally in Montpelier last week, gravel-voiced union leaders and labor bigwigs urged the striking workers of FairPoint Communications to hold strong, settle in and fight the good fight.
"You're the middle class," shouted Edwin Hill, the president of the International Brotherhood of Electrical Workers, to the crowd of assembled strikers and other union supporters. "You're what built this country, and they're tearing you apart."
"Are we going to give them $700 million?" roared Don Trementozzi, the president of Communications Workers of America Local 1400, referring to the estimated value of the cuts FairPoint is proposing.
The response came thundering back: "Hell, no!"
The FairPoint strike, now in its fifth week, is shaping up to be an old-school labor dispute of the kind not often seen in today's United States, where union membership has steadily declined since World War II. Today, just 11 percent of workers are union members, down from a peak of 35 percent in 1954.
All told, the strike includes roughly 1,700 workers in northern New England from two unions: the CWA and IBEW.
In Vermont, 370 workers — who include linemen, splicers and customer service reps — walked off the job on October 17, two months after their previous contract expired. They're objecting to FairPoint's interim proposal, which calls for freezing pensions, eliminating health insurance for retirees and requiring current workers to contribute to their health insurance premiums. It would also allow the company to hire subcontractors — a move FairPoint says would be useful during winter storms when repair work piles up, but which union leaders argue could mean outsourcing local jobs.
"I've invested 16 years of my life into a company that I've believed in," said Josh Allen, a Bradford splicer who was bundled up against the cold at the Montpelier rally. "The requests they are making are just absurd."
FairPoint spokesperson Angelynne Amores Beaudry counters: The old contracts in place for decades were relics of an era when telecoms had monopolies within their regions. "Our main goal in these negotiations is to bring those contracts into the norm of the 21st century and reflect the competitive reality of today's telecommunication marketplace," she said.
Union leaders say they recognize the need for some compromise, and initially countered with a contract that would have included more than $200 million in cuts.
FairPoint says the unions haven't brought a meaningful counterproposal to the table that fully addresses their "core issues."
The two sides met with a federal mediator in Boston last week, and neither offered additional concessions; the meeting lasted less than an hour.
"I don't have a problem with contributing to the cost of my benefits," said Kris White, a 15-year veteran of the telecom's customer service department. "But there has to be some kind of middle ground."
If the two sides agree on one thing, though, it's the future of their industry. Is a landline company still viable in the age of cellphones?
Absolutely, both groups — FairPoint officials and union leaders — agree. After all, FairPoint maintains much of the infrastructure that connects and supports cell towers. All cellphone signals are eventually transported over copper or fiber telephone wires, said Mike Spillane, the business manager at IBEW Local 2326. "That infrastructure is going to be in use for probably the rest of our lifetimes," he said.
Also, FairPoint serves a particular niche in rural areas. The telecom is considered a provider of last resort — meaning it is sometimes the only choice for geographically isolated Vermonters, and the company is obligated to provide that service.
FairPoint, which is headquartered in North Carolina, purchased Verizon's landline and internet service business in the region in 2007 for $2.3 billion. The northern New England acquisition added roughly 1.6 million phone customers and 230,000 high-speed internet users to FairPoint's customer base. Prior to the sale, FairPoint had about 330,000 customers.
Two years after the Verizon sale, FairPoint filed for bankruptcy. Spillane said as a result of the New England expansion, the company got in over its head.
"We put up a major fight when they tried to buy us," said Spillane. "We didn't believe they were right for the state, and we were right."
Workers' frustrations about FairPoint go beyond the current contract dispute. They complain about behind-the-scenes IT problems in customer service and dispatch and say that computer systems don't run as smoothly as they did under former owner Verizon.
Ned O'Brien, a supervisor in FairPoint's sales and service center, said even before the strike, in May, repairs were running a week behind schedule. In the past, he said, "If there was a storm, you had enough guys."
As of last week, the Vermont Public Sevice Department had received 331 consumer complaints about FairPoint since the strike began — six and a half times more than the number of complaints received over the same period of time preceding the strike's onset. According to Autumn Barnett, the PSD director of consumer affairs and public information, the reported problems range from no dial tone to poor line quality, but most have been about delays in phone-service repairs.
FairPoint spokesperson Beaudry was unable to provide Seven Days with the average wait time for service requests as of last week.
Barnett said that customers are also complaining about long wait times when calling customer service and delays in service installation. In an email to Seven Days, she wrote that PSD "encourages FairPoint to work with the union to reach a mutually satisfactory resolution, as quickly as possible."
As the strike wears on, tensions are running high between workers and the company. FairPoint spokesperson Beaudry said workers are harassing their temporary replacements with "mobile picketing" — pop-up protests on job sites. Union reps counter that they're within their rights to picket at those locations, as long as they don't disrupt operations.
FairPoint also alleges that union sympathizers may have vandalized company equipment, a charge the unions flat-out deny. Union leaders, meanwhile, claim they're documenting unsafe work practices among the temporary workers hired from outside the region to cover during the strike; the company maintains they've hired skilled, experienced temps.
Union leaders warned their members that a breakdown in negotiations might make a strike necessary, so many squirreled away savings in the months leading up to it. Workers don't receive any strike pay, though the Vermont Department of Labor decided last week the strikers should qualify for unemployment benefits.
Even so, the strike comes at a hard time. Cold weather necessitates fuel in one's heating tank. Property taxes are due in many towns. And many strikers are the breadwinners in their families — like White, of Grand Isle, who supports a family of four with her job in collections.
When White sat her two children down to talk about what a strike would mean, her then-8-year-old had this question: "She said to me, 'Are we going to be poor?'" recalls White. "I said, 'Poorer.'"
How long will that be the case? White isn't sure. Her hunch: "I think we're in it for a very long, tough, uphill battle."