Sally Pollack
Karen and Will Bohmann
Orders were lined up at Streetgreens, a food truck that was dishing out summer suppers on a perfect night at Veterans Memorial Park in South Burlington.
Inside the truck, members of the Bohmann family focused on their jobs: Will Bohmann hunched over his prep counter, folding veggie wraps. At the sliding window, his 14-year-old daughter, Ella, took orders and called people's names when their food was ready. Hannah, 16, handled the money.
Outside the truck, the girls' mother, Karen Bohmann, got her marching orders from Hannah, who left her post long enough to hand her mom $20 and ask her to get change. Again.
When your kids are part of the business plan, this family has discovered, they learn to delegate. They also learn how to plan a menu, deliver customer service, calculate change in their heads, juggle duties, and keep a workspace organized and tidy. The cooking remains in the hands of Will, a former chef-instructor at the New England Culinary Institute.
"It would be great if the girls [worked with] the food, but they're not there yet," he said. "And I'm a control freak."
Sally Pollak
Salad and wrap inside the Streetgreens food truck
The Bohmanns, who live in Williston, launched Streetgreens this summer at festivals and truck stops — a seasonal project that fits the family's schedules as teachers and students. Will teaches educational technology at the Center for Technology in Essex; Karen is an English teacher at South Burlington High School. The girls attend Champlain Valley Union High School, where Hannah will be a junior and Ella is soon to start her first year.
The inspiration for their food truck was the 2014 movie Chef, in which Jon Favreau plays a chef who quits his LA restaurant job and hits the road in a food truck with his son. Will thought a food truck would be a fun endeavor to undertake with his daughters — with the bonus of providing all family members a summer job and helping the girls learn how a business works, he said.
"Having worked in the food industry, we have a fascination for what people are doing out there," he added. "I had the skill set around the cooking, and I figured [that] if I had a good idea for a concept, we could do something."
Will taught and served as an administrator for 13 years at NECI, where his main class was a second-year course in banquet cooking. He and his students catered hundreds of weddings at the Inn at Essex (now the Essex Resort & Spa), he said.
As Will increased his use of technology in the classroom, his interest in the field grew, leading him to earn two degrees from Marlboro College — a master's of science in informational technology and a master's of arts in teaching technology. His NECI students were engaged by the use of technology in the classroom, he said. But, with enrollment shrinking at the culinary school, he thought it was time to move in a new direction.
Although Will is no longer pursuing a full-time culinary career, his cooking and catering experience gave him a leg up with the summer endeavor. He designed the concept for Streetgreens around the food the Bohmanns eat at home: a veggie-centric diet that focuses on fresh foods. Will sources locally when possible, including herbs and tomatoes from the family garden and organic produce from Old Road Farm in Bristol. He purchases from the latter at the Richmond Farmers Market, where Streetgreens is parked on some Fridays.
Sally Pollack
Power Bowl
The truck offers a variety of salads and wraps, with combinations such as the Power Bowl (spinach and other veggies with quinoa and roasted sweet potatoes) and Avocado Greens (avocado plus greens, roasted chicken, black beans and tomatoes). The salads stand out at food-truck gatherings where fried chicken, barbecue and burgers are common fare.
"This food is right on my list," said Joy Dubin Grossman of South Burlington, waiting in the Streetgreens line at the food-truck gathering, known as Bikes & Bites, at Veterans Memorial. "Along with beer," she added.
Streetgreens operates out of a 1982 Chevrolet P20, a vehicle that used to be an air-supply truck for the Burlington Fire Department. The Bohmanns bought it from the department almost two years ago for $5,000.
Hannah remembers the morning she learned of the purchase.
"I was eating breakfast on the front porch, and my father comes downstairs and says, 'I'm going to buy a food truck!'" she recalled. "And I'm like, 'What? Are we going to run out of money? Because I still want to go shopping with you guys.'"
Her concerns were soon allayed, she said. Still, it took longer than expected to get the truck road- and restaurant-ready. This learning process involved not just the Bohmann family but also students at the tech center where Will teaches.
Students in the automotive department removed the fire truck's lettering and seized the opportunity to look over its old V8 engine. Kids in the residential building program did a little welding on the rig and installed its service window. A graphic design student worked with Will on potential logos for Streetgreens, and a student in the computer animation and web design program came up with the leaf graphic on the truck's exterior.
"I tried to get a lot of students involved with it," Will said, "to climb in and out of the truck." When it turned out that the truck needed a new engine, however, he turned to a pro.
"That was five grand," Will said. "That's why I didn't open last summer."
The truck is spiffy-looking now, bright white with a light-green design that announces the fresh food within. Lines were long at Streetgreens that evening at Bikes & Bites. At one point, Will asked his daughters to stop taking orders so that he could catch up.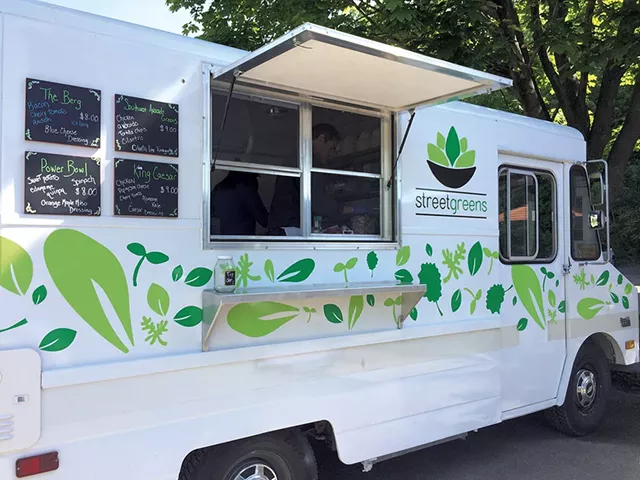 Courtesy Of Streetgreens
The Streetgreens food truck
Both girls said they enjoy working with their father and are fans of the food coming out of his mobile kitchen.
"I love doing this," Hannah said. "We get along really well. We both have really strong opinions." She defers to her father when it comes to cooking, noting, "He has to do that for himself, but I'll do everything else."
She learned from her father, she said, that it's better to sell out than to have leftovers. "And we usually always sell out," Hannah said.
As for Ella, the food truck has helped her learn about customer service and how to distinguish among different coins, she said. "My dad is super fun to work with. I find it relaxing working with people I'm comfortable with. It's a good job for me."
Besides fetching change from other vendors, Karen bakes chocolate chip cookies to contribute to the truck. It's the only semblance of junk food at Streetgreens.
"A salad and a cookie is always a nice option," she said.
She's delighted by the family business and hung out at the truck in the South Burlington park to greet friends and diners.
"Will is one to have dreams," Karen said. "And the girls were really like, 'Go for it.'"