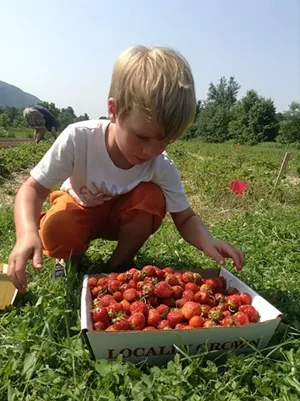 Picking berries at Last Resort Farm
Blink and you'll miss Vermont's short-but-sweet strawberry season. To get you and the little ones into the fields, we've complied a list of pick-your-own farms particularly suited for families. When heading out for your berry expedition, here are a few pointers to bear in mind:
Always call or visit the farm's website ahead of time to check time. Often, farms close for a few days if ripe berries are picked out, or for weather reasons. Most list relevant info on their answering machines or online.
Go early to beat the heat.
Bring cash or check. Not all farms accept plastic.
While many places offer boxes for

collecting berries

, bringing your own baskets or buckets is a smart idea.
Bring a hat, apply sunscreen generously and don't forget your water bottle!
Most importantly, enjoy the unique beauty of each farm and don't be afraid to ask questions. Farmers love what they do and usually relish an opportunity to share their knowledge.
[jump]

Cedar Circle Farm & Education Center
encourages families to take their time and enjoy the sandbox, kid-friendly chickens and a self-guided farm tour. Enjoy lunch at the café or bring your own picnic fixings. 225 Pavillion Road, East Thetford. Info, 785-4737
River Berry Farm
has offered organic vegetables and small fruit (including strawberries) for 23 years. 191 Goose Pond Road, Fairfax. Info, 849-6853
Last Resort Farm
raises certified organic berries, with "toddler rows" perfect for small hands. 2246 Tyler Bridge Road, Monkton. Info, 453-2847
Sam Mazza's You-Pick Berries
is part of their 350-acre farm, which includes a retail market, bakery and greenhouses. 277 Lavigne Road, Colchester. Info, 655-3440
Hartshorn Farm
features a maple sugarhouse in addition to berries. This vegetable and flower farm also offers educational summer camps. 54 Quarry Road, Waitsfield. Info, 496-3081
Charlotte Berry Farm
has limited picking but welcomes families with wee ones in tow. 4702 Route 7, Charlotte. Info, 425-3652