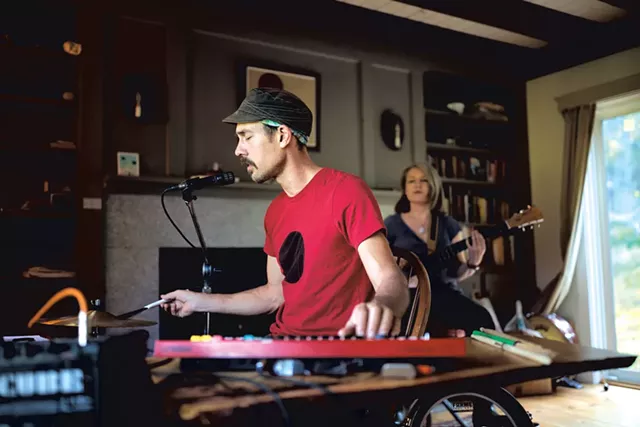 Ben Deflorio
Jess Anderly and George Veech
Touring is an essential part of a professional musician's life. It's not only imperative for making connections within the industry and with fans, but it can also be the most profitable part of the job. Most working musicians have to balance time on the road with time back home, either for careers or family obligations.
But quirky, indie-folk duo Strangled Darlings aren't like most musicians. Jess Anderly and George Veech spent three years living in a 20-foot recreational vehicle as they toured around the continental United States. Formerly based in Portland, Ore., the couple looped the U.S. continuously from 2014 through 2017, finally landing in Bethel in 2018.
"We really were kind of lost in America for three years — on purpose," says Anderly.
"I think I would have gone nuts a long time ago if I hadn't had a chance to back away from the sort of standard, expected life," says Veech.
Touring the country was eye-opening, to say the least. The two channeled much of the experience into their latest album, American Pageant. Lyrically twisted and sonically adventurous, the record frames Anderly and Veech as wise, clever, occasionally snarky artists on a mission to reevaluate and process the world around them. They celebrate its release on Saturday, June 29, at the Light Club Lamp Shop in Burlington.
A folk album at its core, American Pageant is perhaps better described as an acoustic pop album — although that's a simplification. Dense, biting lyrics with a literary bent, oddball arrangements and spick-and-span, contemporary production from Rough Francis' Dan Davine distance the album from conventional, homespun folk. Though Anderly and Veech play a variety of traditional folk instruments, such as tenor bass and mandolin, respectively, their tunes buck tradition with modern flair and an idiosyncratic essence.
"Honestly, none of our friends knew if we were gonna make it," says Anderly, 40, of her and Veech's decision to upend their lives to embark on a seemingly endless journey.
"I don't think we knew [if it would work]," adds Veech, 47. "I had a lot of shit I was just trying to sort through. You can't think in a normal office life. Someone's always in your grill."
Anderly and Veech met in the late 2000s in Portland, Anderly's hometown. Both had steady careers; Veech worked in health care outreach, Anderly in software. Shortly after meeting, a full-band incarnation of Strangled Darlings was born.
After a few years, the two decided they wanted to commit full time to the project, shrinking the group to a duo.
"We had to sort of deconstruct our lives over a period of a couple of years," says Anderly. This meant carefully and strategically extricating themselves from everything in Portland, including their jobs. During the two-year period of unraveling ties and commitments, Anderly also became a respiratory therapist.
"Music people loved the idea" of the extended road trip, says Veech, though he notes other friends and associates didn't have as much faith in their plan.
The back cover of the physical American Pageant album shows a map of approximately where Strangled Darlings were at any given month during their years on the road. Since they were boondocking — camping without electricity or heat — they spent the cold winter months in Florida and other parts of the deep South. They typically rolled through Vermont during the peak of summer.
Adapting to camper life — and their new budget — required a bit of a learning curve. Recalibrating their brains and acclimating their bodies to the tight quarters understandably took some adjustment. To cut down on expenses, Anderly learned how to change the oil and do other minor tune-ups. But perhaps the most important life hack they employed was staying overnight in Walmart parking lots.
Unlike the average campground, many of the superstore chain's outposts allow RVs to stay for a night free of charge. The company's website even includes a bulleted list of RV etiquette.
Aside from having a free place to crash, Walmart's trademark low prices and selection of produce and other fresh foods made shopping and cooking their own meals in the camper convenient and cheap.
Ben Deflorio
Jess Anderly and George Veech
Veech refers to the process of cold-calling — or, more frequently, cold-emailing — bars, clubs and other music venues as "tunneling through stone." At first, they had a response rate of about 1 percent.
"That's why the route was so important," says Veech. "We had to get back every six to 12 months so they'd remember us and rehire us."
Three years of zigzagging across America showed them a new world within a country they thought they already knew.
"Portland's very much a liberal bubble," says Anderly. "Being out in America — out of these liberal bubbles — there's more suffering out there than these wealthy liberal cities are willing to acknowledge or can even understand."
"America has been on fire," says Veech. "I've never seen it this bad."
"A lot of the album is about what's going on," says Anderly. "Why did we end up with Trump? Trump's not the reason — [he's] a symptom of what America's going through right now. He's the expression of these humans that are our fellow Americans."
American Pageant places many of society's ills and controversial figures center stage: televangelist Joel Osteen, pharmaceutical companies like Pfizer and Eli Lilly and Company, producer Harvey Weinstein, police brutality, social media, and the opiate crisis, to name a few. "Homeless," a self-reflective tune about living the Walmart lifestyle, cleverly references "Little Boxes," a 1960s folk tune made popular by Pete Seeger. Throughout, Anderly and Veech weave American strife into sharply appointed, genre-straddling songs.
Eventually, they grew weary of the long and winding road.
"We'd been touring and playing bar gigs and stuff for years, and Jess was like, 'Maybe it's time we stopped living in a motor home,'" says Veech.
Because Veech, originally from the Washington, D.C., area, had grown up visiting Vermont frequently, they decided to settle down in the Green Mountains. Though the couple originally intended to land in South Londonderry, where Veech had family connections, they instead picked Bethel. They say they prefer the town's sense of community spirit to South Londonderry's mix of locals and second-home owners.
Since arriving in Bethel, Veech and Anderly have become well known to townspeople who frequent Babes Bar, and they've struck up a musical friendship with Gaysville-based singer-songwriter Bow Thayer. The three have played several shows together at Babes.
"[Playing with Strangled Darlings] appealed to me because I got to be quiet [and] I didn't have to be a front guy," says Thayer. He says he admires the duo's ability to draw people in not by cranking it up to 11 but by dialing it down to a hush.
"If you're good enough at it, the chatter will start to diminish and realize they're talking too loud," Thayer continues. "They'll suck the chatter right out of the room."
Strangled Darlings have no plans to return to the RV lifestyle — although they do still have the camper. But they plan to keep their ties in Portland, as well as some of the regions they got to know during their three-year road trip, such as Florida.
"People [in Portland] are like, 'What were you doing in Florida? Why would you even go there?'" says Veech. "I'm like, 'It's my country. There's so much to be gained from otherness.'"