Courtesy Of Varises
A film crew shooting Dr. Bryan Huber in surgery
I'm a lousy surgeon. For starters, I accidentally shaved a few extra millimeters off Sue Gerry's femur during a recent distal femoral resection. That's a small step in a larger knee-replacement procedure and a relatively basic step at that — at least when sawbones other than myself are performing it. Also, I dropped some rather important, and sterile, knee hardware on the floor of the operating room, like, three times. Whoops.
Fortunately for Gerry and her troublesome right knee, my recent foray into orthopedic surgery was a facsimile. Specifically, I was training in the virtual reality surgery simulator being developed by the new Vermont startup Varises. Conceived by world-renowned surgeon Dr. Bryan Huber and accelerated into production by entrepreneur Steven Berlin, both of Stowe, the program is billed as a "flight simulator for surgeons."
They made an exception for me. To borrow one of Berlin's favorite Varises-related jokes: I'm not a doctor, but I've played one on TV.
If Huber and Berlin have their way, real surgeons, as well as those in training, will soon be playing doctor on TV, too — or perhaps more accurately, given the VR program's immersive quality, playing doctor in TV. When Varises unveils its simulator at a Las Vegas trade show in December, it could revolutionize the way doctors are trained.
"We've been teaching surgery the same way practically since the dawn of modern surgery," says Huber, 53. "We think it's well past time to change that."
Since the late 1800s, surgeons have learned their trade by practicing on cadavers and observing and assisting in operations. It's a painstaking process that Huber believes is increasingly out of step with the modern medical world. He's not alone.
"If you think a couple of decades out from now, hospitals in their current form aren't going to exist in the same manner," says Kip Steele, an IT program manager for the University of Vermont Health Network. "Think about how long patients used to have to stay in the hospital and now how quickly we can turn them around ... Things are going to get even faster."
What hasn't changed, he says, is how long it takes to complete formal medical training within a surgical specialty.
"That has to do with time and availability," Steele explains. "There just isn't enough time in the day, or there aren't enough cadavers or laboratory access. Varises is a force multiplier in that regard."
Varises stands for Virtual and Augmented Reality Immersive Surgical Education Systems. As the full name suggests, its creators envision the simulator as a tool to expedite the learning process among medical students and practicing surgeons.
"Imagine if we could get a surgeon up to speed more quickly than that old process that I was in," says Huber, a surgeon at Mansfield Orthopedics at Copley Hospital in Morrisville. "If you could observe a surgery and then go to the lab and do them, but then practice using this service, as much as you want, imagine how much quicker the adoption would be.
"You'd be practicing the art of surgery," he continues. "You'd become more accurate, and you'd deliver better results."
Huber notes that a surgeon doesn't stop learning once he or she graduates from med school. He points to the thousands of orthopedic companies around the country developing new technologies and techniques all the time.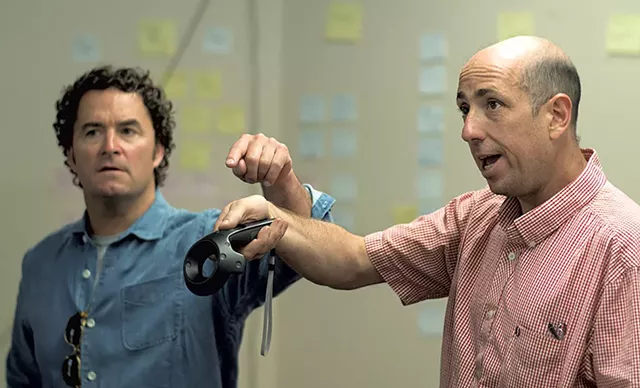 Courtesy Adam Walker
Dr. Bryan Huber (left) and Steven Berlin
"But how do you learn them?" he asks rhetorically. An instruction manual is no replacement for hands-on experience.
Though it will eventually imitate a variety of orthopedic surgeries, the Varises simulator currently replicates the procedure for the iTotal PS knee-replacement system developed by Billerica, Mass., medical tech company Conformis. Huber was among the earliest adopters of the iTotal technology, which uses 3D printing to create a customized joint-replacement system. He travels the globe teaching other surgeons how to do it.
With Varises, he says, doctors could learn and practice iTotal on their own. They could practice on future patients without even touching a scalpel.
"Sue Gerry," my poor, likely forever-limping virtual patient, is a pseudonym for a real person. The knee I mangled is a virtual reproduction of hers, created from CT scans prior to her surgery.
"With our system, you could practice her specific surgery, navigating all of the specific details of her actual knee, as many times as you need to," says Huber. He then recites the Varises tagline: "We're perfecting the practice of surgery."
Huber and Berlin also appear to be perfecting the practice of business. They met a little more than a year ago atop Stowe Mountain Resort, where they are both members of the ski patrol. After some small talk, they realized they might make good partners. Berlin has been involved with more than a dozen startups through the Roslyn Group and the Acceleratory, both of which he founded. Prior to that, he worked for former New York governor George Pataki. He was the chief information officer at the 2004 Republican National Convention.
Since their mountaintop meeting, 41-year-old Berlin has worked to get Varises off the ground. He's lined up investors — including Magic Hat Brewing founder Allan Newman, whose knee Huber replaced in 2015 — watched countless surgeries and spent dozens of hours in the simulator to familiarize himself with the program. Huber jokes that his partner, who is also an EMT and member of the Stowe Fire Department, could likely perform a knee replacement in a pinch.
He couldn't, of course — Varises is no substitute for med school. But Berlin breezed through the distal femoral resection procedure on the same day I tried — and failed — to fix Gerry's knee. In "training mode," he finished with 94 percent accuracy, as judged by the simulator; by comparison, I managed a meager 64 percent.
He did even better in the "surgery mode," an expert level that eliminates the helpful guidance features available in the training mode. Afterward, he removed the bulky VR headset and smiled, as if he'd just won a competition. In a sense, he had.
Oliver Parini
Steven Berlin using the Varises simulator
The Varises simulator plays like a video game. And with the action projected on a TV screen, it looks like one, too. Donning the VR headset, you're transported to a 3D surgical theater. In front of you on an operating table is a bent leg with an opened knee. Floating panels on either side of your peripheral vision offer tips and instructions. To the right of the disembodied knee is a table with surgical tools and jigs — the latter are stabilizing hardware used for guiding tools during surgery. Hover either of your handheld controllers over a jig or tool and it glows orange, indicating it can be picked up with the press of a button. When you place a jig on the knee, it glows red (bad), yellow (OK) or green (good), depending on how well it's aligned on the knee. Miss the mark too much and the controller angrily buzzes, like an ultra-high-tech version of the board game Operation.
The Varises platform is, in fact, built on gaming technology. A Varises-sponsored team from Champlain College's Emergent Media Center created the original prototype in July. The team's work helped make the company a finalist in the LaunchVT 2018 Pitch Competition, an early-stage startup acceleration program run by the Lake Champlain Regional Chamber of Commerce.
Game designer Ben Throop of Frame Interactive took it from there. Huber and Berlin hired his Burlington-based game-design studio to take Champlain's work and build it out into a more sophisticated and detailed version for commercial use.
"Video games teach people how to do things all the time," says Throop. "To put people in virtual reality and have them learn how to do surgery is actually a pretty natural extension of what we do in games, except that this could have real-world outcomes."
To that end, Huber insists on accuracy and reality in the simulations: He and Berlin recently flew in a Sony 3D film crew from Hollywood to film Huber performing surgeries, footage that will be used in the next iteration of the simulator.
"All we're doing is trying to change the world," Berlin deadpans. "That's all."