Jeb Wallace-brodeur
Brisket nachos
Walk into Stowe's Tres Amigos, and you'll come face-to-face with a grinning skull — that is, an ornately decorated calavera, part of a Día de los Muertos mural. Tequilas, tamales and tacos are on the menu here, but the big draw is the Mexican restaurant's combo platter of food, drink, games and live music.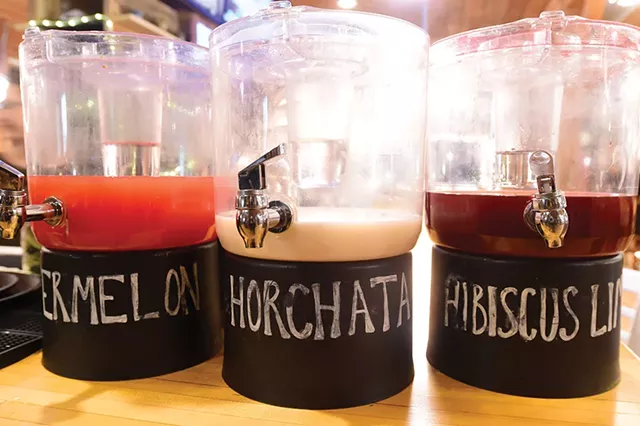 Jeb Wallace-brodeur
Tres Amigos
Tres Amigos opened in September 2017 on hallowed ground: the home of the Rusty Nail, a rock-and-roll club with a Stowe history dating back to 1969. The venue that has hosted music legends such as Lynyrd Skynyrd and Muddy Waters still lights up several times a week — but now the good vibes flow nightly in the adjacent cantina and upstairs game room.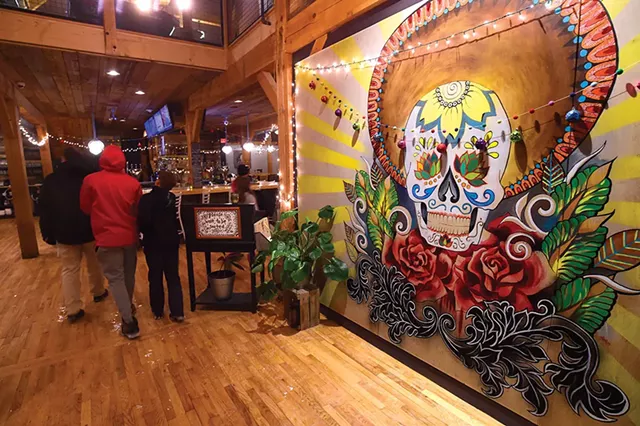 Jeb Wallace-brodeur
Tres Amigos
The hybrid biz is the brainchild of owners Mark Frier and Chad Fry, who also run the Bench, a popular gastropub just down the Mountain Road; and the Reservoir Restaurant & Taproom in the heart of Waterbury. Their latest venture is a fun and welcoming hangout where bar goers strike up conversations with their neighbors over apps of loaded nachos, avocado salad and tuna tostada.
For dinner, popular entrées include pork enchiladas verde and the Carne Asada Plato: hanger steak with chimichurri, cotija cheese, grilled scallions, and rice and beans. Paprika-garlic shrimp is served over smoked-cheddar polenta, roasted jalapeños and braised kale. Diners can also choose from a variety of tacos to make a plate of two for $12 or three for $15, including sides.
Jeb Wallace-brodeur
Business partners Mark Frier and Chad Fry
Don't miss Tres Amigos' vast selection of tequila and mezcal. Two-ounce pours are available in almost 80 varieties, ranging in price from $5 to $70, with descriptors like "soft smoke, oak, roasted fruit" and "creamy, citrus, earth, clay."
A $6 house margarita hits the spot. The more elaborate, spicy Motorcycle Diaries marg — with Solerno, blood orange, Fresno pepper, cilantro and lime — references the South American travels of Cuban revolutionary Che Guevara. Sipping either will transport you south of the border.