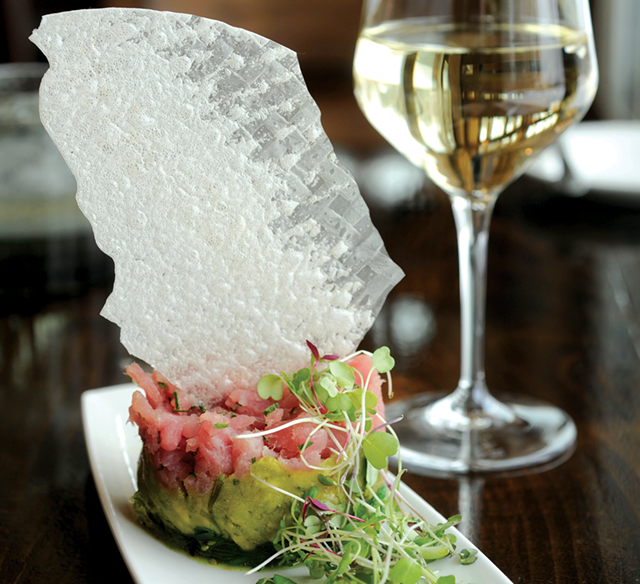 jeb wallace-brodeur
Flannel at Topnotch Resort in Stowe
Some resorts haven't changed their après-ski dining since Betty Grable sipped hot chocolate with her catch in 1953's How to Marry a Millionaire. But with last year's major renovation, Topnotch Resort has pulled mountainside dining into the 21st century.

Flannel, the resort's more upscale restaurant, trades in sophisticated platings of seasonal Vermont ingredients. In summer, deceptively simple gnocchi are topped with tiny, multicolored tomatoes and a blob of soft-centered mini-burrata. Come winter, the pasta is made with sweet potatoes dressed in shaved chestnuts and beech mushrooms.
The restaurant's location adjacent to the resort's spa is no accident. A before-dinner massage next door isn't mandatory, but it's one way to unwind after a long day on the slopes.
jeb wallace-brodeur
Drinks at Roost at Topnotch Resort in Stowe
Alternatively, guests can find a comfy couch in the Roost, just past the front desk in the hotel's modern new lobby, or play shuffleboard on the restaurant's table — which was crafted in Shelburne. At Roost's bar, they can sit and warm up with seasonal cocktails such as the anjou-thyme martini: sweet Grey Goose La Poire blends with homemade thyme simple syrup and a hint of lemon for a tipple with flavors akin to a perfectly poached pear.
Though the menu includes suppers such as pork shanks and steak, the small plates, labeled Nibbles, Bits and Binge, are where Chef de Cuisine Cortney Quinn shines. The choices span the globe, from Polish pierogi to Japanese udon to Texas-inspired Frito pie.
Each dish offers more than its name suggests. The simply titled Cheddar n Mac is actually a play on risotto, with tiny pearl pasta standing in for rice, flavored with beer and Vermont cheese. The playful Baby Bucco is a plate of two mini-braised veal shanks over beans and rice. The gingery sauce on the chopped kale salad gives it an Asian kick that cuts through the heavy winter flavors featured in other dishes.
Sixty years after Grable played that snow bunny, you don't have to be a millionaire to eat like one.