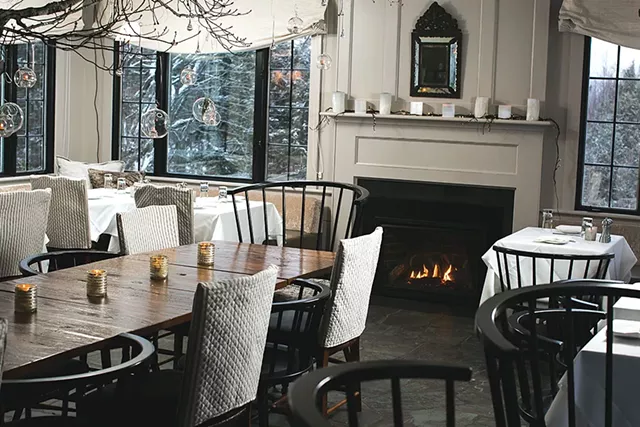 Brent Harrewyn
The Restaurant at Edson Hill in Stowe
When arriving after dark at Stowe's historic Edson Hill inn, it's easy to let your imagination run wild. As you follow curving, well-lit paths to the inviting Manor House, you're suddenly a member of British royalty returning to your estate. Even the front door, — tall and imposing solid wood — says "Welcome home" rather than "Thank you for joining us."
Inside, guests sit in the lounge, enjoying the crackling fire and playing games of Scrabble. The host will take your coat and lead the way to your table in the dining room, or downstairs to the tavern for a creative predinner drink such as the Autumn Sling. Pairing cherry cordial with lime, pineapple and vodka, it's juicy but not too sweet.
All beige and cream tones, the dining room is perfectly appointed. Plush pillows dot a comfortable banquette. A twisty tree branch, dripping with delicate crystal orbs and teardrops, hangs over the long, central table.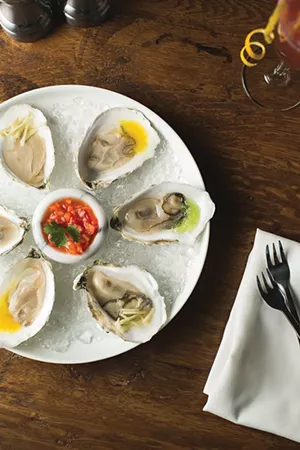 Brent Harrewyn
The Restaurant at Edson Hill in Stowe
The menu emphasizes seafood, so order accordingly. An oysters Rockefeller special arrives with five plump, smoking-hot, extra-cheesy mollusks, their half shells nestled into a bed of lemony frisée. Next come crème fraîche-drizzled smoked-jalapeño crab cakes, which a woman seated nearby proclaims are the best she's ever eaten. Seafood chowder, laced with bacon and loaded with lobster, clams, mussels and chunks of potato, is thick enough to count as a stew.
Despite the refined setting, the portions are surprisingly hearty, suited to diners who have spent the day skiing, snowshoeing or paddling. Shepherd's pie — the legit version made with lamb — fills a bowl with shredded meat, French-cut green beans, mirepoix and gravy. The requisite mashed potatoes are piled in the center, rather than spread on top casserole-style. Elk osso bucco, with its marrow-filled bone and rich, clingy demi-glace, is complemented by roasted sweet potatoes.
Brent Harrewyn
The Restaurant at Edson Hill in Stowe
You can choose to stay over — or, driving into the night, replete with leftovers, find comfort knowing that you're always welcome back to elegant Edson Hill.