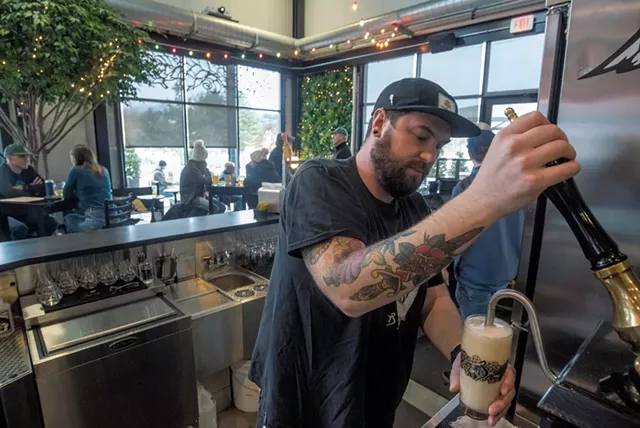 Jeb Wallace-Brodeur
Shane Rumrill pulling a Heady Topper from the caskerator
During a recent visit to the Alchemist's new beer café, my table of three was savoring the brewery's bracingly tart Wild Child Kriek cherry sour and a mind-blowing, foam-crowned, cask-pulled version of Heady Topper when we noticed that the guests beside us were seated in a recycled church pew. Thirty feet above us, an artist hand-painted a ceiling mural.
The vestibule of the Stowe brewery is not quite the Sistine Chapel, but to beer lovers from around the globe, it is a holy place. Like pilgrims, they flock to the source of Heady Topper, the iconic, hazy double IPA that consistently ranks among the top beers in the world.
From the 2016 opening of the Alchemist's second production brewery until March 2020, visitors could sample three beers on tap, including Heady. The pandemic shutdown allowed for a renovation. In late October, the café quietly launched with an extensive selection of Alchemist brews available nowhere else.
Jeb Wallace-Brodeur
A freshly poured Heady Topper
From Thursday through Sunday, 11 a.m. to 6 p.m., the café offers its headliner cask-pulled Heady Topper ($5 for 12 ounces). Everything else comes in cans or bottles. Sixteen-ounce cans range from the well-known Focal Banger American IPA ($6) to the rare port barrel-aged Knuckle Dragger imperial milk stout ($15). Aged sours nurtured personally by Alchemist cofounder and head brewer John Kimmich include Wild Child Golden (from $30 for 375 milliliters) and Petit Mutant, made exclusively with wild yeast and Vermont sour cherries (from $25).
Limited "nibbly bits" include beer-cheese dip with bagged pretzels ($5) and capicola-and-Parmesan-stuffed pretzel rolls from Jeffersonville's Two Sons Bakehouse ($8). Guests are encouraged to bring food from local restaurants and delis — and to make reservations. Those who don't book ahead for the roughly 40 seats might luck into a standing table. A planned expansion will double capacity by fall.
The word "café" was a fallback, explained Alchemist marketer Shane Rumrill. Without a tap system, "We couldn't call it a taproom," he said. "Tasting room" was out because tastings are only offered during prebooked tours. "Bar" didn't feel right for a spot dedicated to beer, though the menu includes a little wine, a couple batched cocktails (coming soon) and nonalcoholic beverages.
But who cares what it's called when you can drink Heady there in a completely new and delicious way?
Since late 2011, the Alchemist's flagship IPA has been sold almost exclusively in cans, which famously demand that you drink directly from them in order to retain aroma and flavor by reducing the beer's exposure to oxygen. So, what's with the glasses of Heady at the café?
Jeb Wallace-Brodeur
The Alchemist Beer Café
Rumrill explained that the Heady served this way is slightly younger and less carbonated than batches destined for cans — and the action of pulling each beer from a caskerator generates a very dense, fine head. The large foam cap "acts like that layer of CO2 in the can, preserving those essences and keeping the beer a little bit fresher for longer."
The result is "a beer that is widely known and loved, but in a completely unique format," Rumrill said.
Compared with canned Heady, the "standout difference is going to be the mouthfeel: It has a very creamy texture, very smooth," he said. "There's still all that classic, pithy citrus. It's still beautifully balanced with those nice British malts ... all the flavors you know and love in that extremely crushable body.
"Overall, it's beautifully dank," Rumrill concluded, using a descriptor from which Kimmich has never shied. Amen to that.