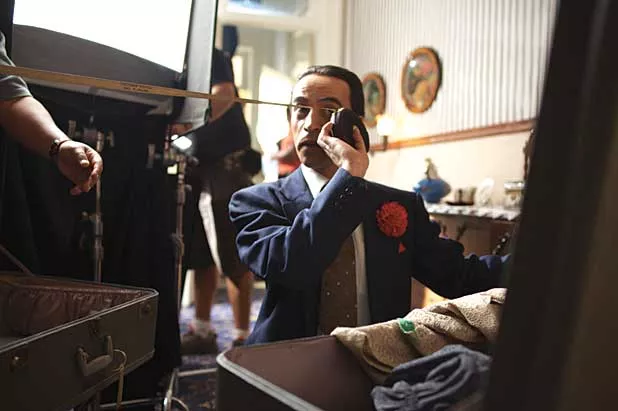 These days, it seems like everybody's got a screenplay on his or her laptop. But getting your movie produced is another matter. Stowe filmmaker David Rocchio hopes to make the process a little easier for up to 20 writers and producers with Stowe Story Labs, a three-day workshop happening in September.
A press release says the workshop was born "over Chinese food in Rotterdam" from a discussion between Rocchio and English filmmaker and educational consultant David Pope, who'll facilitate the Stowe event. Other instructors include Jay Van Hoy, producer of a slew of high-profile indies, including Old Joy, The Loneliest Planet and the forthcoming Ain't Them Bodies Saints; writer Chris Millis; and casting director Ellen Parks, who's done everything from Secretary to HBO's Grey Gardens.
The release says the workshop, held at two Stowe inns, will "focus on the script development process, outlining story and pitching and packaging projects," with opportunities for participants to discuss their own work. Applications to the workshop are free but due by August 16, so get on it!
Morrisville's River Arts, which is sponsoring the Stowe Story Labs, also raises its profile this month with the release of a poetry anthology: River Arts Review: Voices from Northern Vermont, Volume 1. Pick it up at the launch party on August 21.
*****
Vermont-made music documentary A Band Called Death has snagged acclaim all over the world. Yet locals have had limited opportunities to see the story of the Detroit punk band of brothers who gained fame decades after they recorded their seminal tunes. Central Vermonters can catch Death this Friday at the Savoy Theater in Montpelier, where Essex-based codirector Mark Covino will answer audience questions.
*****
Speaking of the Savoy, the venerable art-house has gone digital, but the conversion didn't come cheap, and owner Terrence Youk says attendance is currently at a record low. He's working on raising the funds that will enable him to keep showing flicks such as indie sensation Frances Ha and the latest from Pedro Almodóvar. Want to help? Bring friends to the theater, buy or renew a membership, or make a direct donation. More info at savoytheater.com.
*****
Is Winooski Vermont's melting pot? A feature-length documentary commissioned by the Vermont Refugee Resettlement Program "will depict the town's past and present as a multicultural destination of hope and opportunity," according to a description from Philip Fass of Legacy Video Portraits, who is making The World Within Winooski. The film isn't yet complete, but you can see a 15-minute preview this Thursday at a fundraiser at the Winooski Welcome Center & Gallery.
*****
The second anniversary of Tropical Storm Irene approaches. Have we learned the lessons we should from the havoc the storm wrought on Vermont's waterways? In his new documentary After the Floods: Vermont's Rivers and the Legacy of Irene, local filmmaker Joe DeFelice of Riverbank Media looks forward as well as backward. His footage of rivers and interviews with river-management experts aim to pinpoint the challenges of weathering the next storm. The doc will premiere on August 15 at the Vermont Folklife Center in conjunction with its exhibit "The Power of Water: Reflections on Rivers and Lessons from Irene."
*****
Was filmmaker Juan Orol (1897-1988) the Mexican equivalent of trash auteur Ed Wood? The eventful life of this "involuntary surrealist" is chronicled in director Sebastián del Amo's The Fantastic World of Juan Orol, the latest offering in the Global Roots Film Series presented by the Vermont International Film Festival.