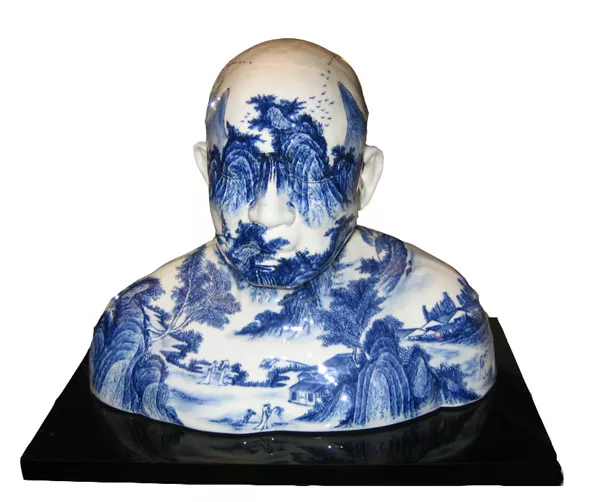 Porcelain bust by Ah Xian
The ubiquitous phrase "Made in China," usually stamped on the bottoms of things Americans buy, has a decidedly pejorative connotation. It calls to mind lead paint in toys, toxic pet food and efficient factories where millions of workers claw mechanically at endless assembly lines.
This fall, however, the Helen Day Art Center in Stowe will remind us that something more soulful and significant is also made in China: contemporary visual art. Coming on the heels of the Beijing 2008 Olympic Games, HDAC's exhibit, "Made in China: Contemporary Chinese Art," will present works that may inspire viewers to ponder the effects of the symbiotic Sino-American relationship on that vast Asian country.
Nathan Suter, executive director of Helen Day, says that "Made in China" meshes well with the gallery's mission to enhance the human experience through the visual arts, because it adds an important cultural dimension to our view of a place that has an inestimable effect on the Western world. "Part of our job as an organization," Suter explains, "is to make the case that art is relevant in all of our lives, no matter what you happen to be doing professionally." He adds that the spectacle of the Olympics in August makes the timing of the exhibit - mid-September through mid-November - especially apt.
The Freeman Foundation, a private, Stowe-based philanthropic organization committed to increasing understanding between the United States and the nations of East Asia, agrees. It will provide a $10,000 grant to HDAC for the exhibit, which other donors must match by April. Suter says the art center has already raised $2500 in matching funds, and is seeking sponsorships from local businesses. But even if the gallery can't raise 10 grand by April, the show will go on. "We'll make the exhibition no matter what," Suter says. "It's just a matter of how much work we can afford to bring here."
He hopes the exhibit will include a substantive educational component, and is already putting together a couple of academic panels: one featuring an art history professor who specializes in Chinese art and the other a China scholar who focuses on political science. Suter predicts the pair will enhance understanding both of the artwork and of "what's going on there."
Suter and Exhibitions Director Idoline Duke are still working out the contents of the exhibit. Contemporary Chinese visual art, it turns out, is harder to come by than most of that country's other products. "This is a really, really hot market right now," Suter adds.