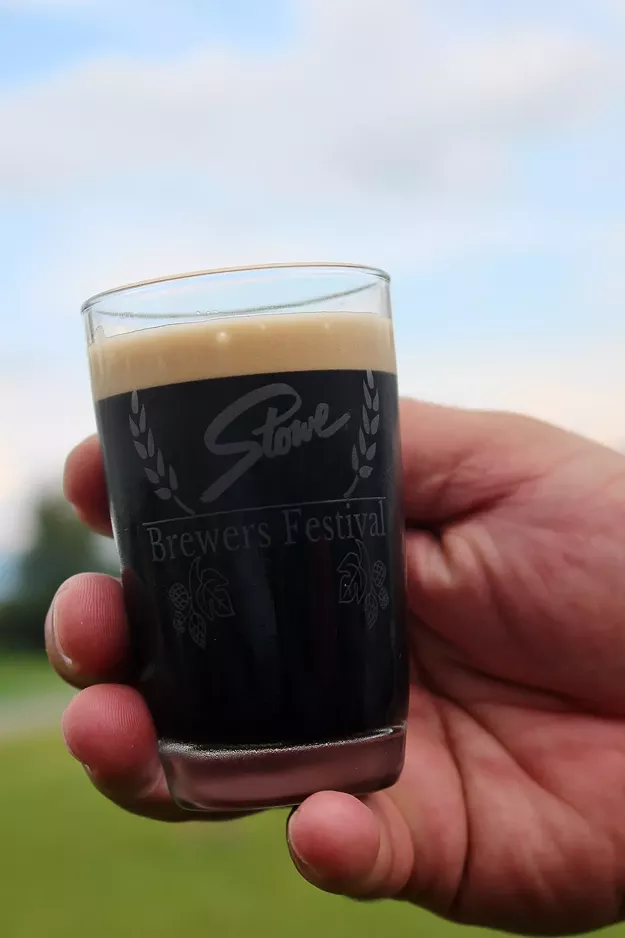 Stacey Brandt
Left Hand Brewing's award-winning milk stout nitro
Stacey Brandt
Patty Hannigan sporting a beer-themed skirt that she made herself. Hannigan says she has many other themed skirts from her days as a preschool teacher.
Stacey Brandt
Chris O'Brien of the Traveler Beer Co. Traveler touts the only pumpkin shandy on the market, the Jack-O Traveler. "It's like a pumpkin pie in a drink!" O'Brien says.
Stacey Brandt
DeAnna Mach of Mach's Mobile PIzza. Her copper-plated, movable pizza oven is lined with sheep's wool and organic clay.
Stacey Brandt
Five finger-lickin' ribs sided with fries and fresh slaw from the Sunset Grille and Tap Room stand
Stacey Brandt
Roger Tougas (left) and company. "I drive 1,000 miles a week for my job, so I get to see breweries all around," he says.
Stacey Brandt
Pretzel necklace made with biodegradable hemp cord, worn for palate-cleansing purposes
Stacey Brandt
Emily Wendel (left) and Dez Marcello. "We went to the Vermont Brewers Fest a few weeks ago, but there's a lot of different beers here," Marcello says.
Stacey Brandt
Dumplings with blueberry chili dipping sauce from the Good to Go! food cart
Stacey Brandt
Kevin Stafford (left) and Basil Lee, cofounders of Finback Brewery in Queens, N.Y. Most popular Finback brew? The "I Feel the Universe" gose.
Stacey Brandt
Clouds rolling in over Stowe Brewers Festival 2015
Stacey Brandt
David "Left Hand Dave" Aresty, the "beer hero" at Left Hand Brewing from Longmont, Colo. "My job is to fly around from place to place spreading Left Hand love," Aresty explains.
Stacey Brandt
Stowe Cider's "Free the Cider" movement
Stacey Brandt
Kevin Pecor, owner of Paine Mountain Brewing, holding a Mason jar of R.I.R.A (Russ' Irish Red Ale). Pecor says the brew "looks dark and scary, but it's smooth, almost sweet, on the palate."
Stacey Brandt
1966 Chevy pickup. Raffle prize for the Wounded Warrior Project to benefit injured veterans and service members.
Stacey Brandt
Michael Flannigan, owner of Good to Go! food cart slinging dumpling and curry orders from his traveling "gypsy kitchen"
Stacey Brandt
Bent Hill Brewery's beet-red ale made with local beets. Bent Hill masterbrewer Mike Czok says that the beets give the brew a vibrant color and smooth out the taste.