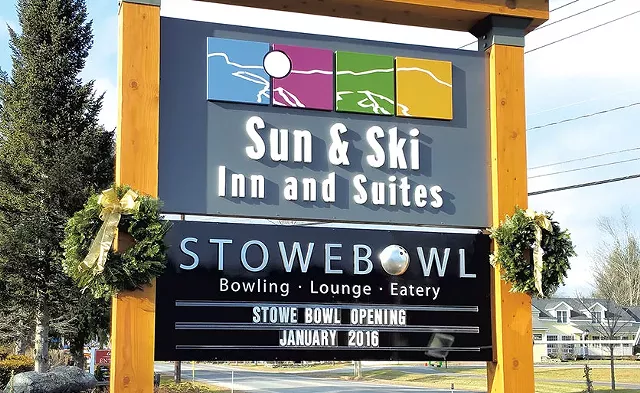 Many bowlers agree that nothing pairs better with goofy shoes and a game of strikes and gutter balls than a cold brewski (or 10). Those brewskis are typically mass-market pilsners poured from a pitcher. Hungry? Grab a basket of mushy fries or a wan slice of pizza and call it good.
But not at Stowe Bowl, the "boutique bowling lounge" scheduled to open at Sun & Ski Inn and Suites on Stowe's Mountain Road this January. There, the beers will be craft and local (as will the cocktails) and the food will be thoughtful and high quality, says Sun & Ski co-owner Rachel Vandenberg.
The concept reflects a growing nationwide market for a higher-end bowling experience than the one chronicled in The Big Lebowski and other pin-crashing flicks. "There's a new trend over the last five to 10 years to open venues with a classier feel than a traditional bowling alley," Vandenberg says.
Though the menu is still evolving, it will be grounded in shareable and easy-to-eat comfort foods — sandwiches, burgers, pizza and "bowl dishes" with rice or noodles — that won't interfere with bowlers' games. "Bowling is a very active thing — you're up and down, and we're not trying to be a four-diamond restaurant," Vandenberg says.
The space is outfitted with a bar-lounge-dining area that has cozy seating and a fireplace; a state-of-the-art audiovisual system allows patrons to take in sports games and music videos. "We want to be a place people want to hang out in," Vandenberg says. "It's a really fun atmosphere with an almost nightclubby feeling, and it's bringing a new activity to our area that hasn't been here in a long time." She notes that she expects much of the venue's business to come from non-hotel guests.
Situated where Sun & Ski's main hotel building once stood, the new facility also houses 15 additional rooms above the bowling alley. Though the lanes won't open until the new year, the hotel will put the new rooms into service later this month.