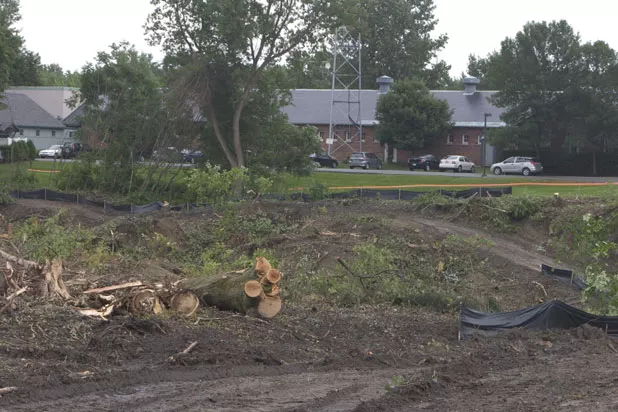 Behind Colchester's Fort Ethan Allen complex, excavators have been busy for weeks clearing what was once a heavily forested ravine. The destruction is certainly not pretty. But, come autumn, the large detention pond being carved out at the site is expected to significantly improve the water quality of Sunderland Brook, one of 17 impaired watersheds in Vermont.
Scheduled for completion in October, the 1.5-acre pond will catch and hold stormwater from the complex, releasing it gradually into the watershed. The project is expected to keep 8500 pounds of polluted sediment from washing off Fort Ethan Allen into the Sunderland every year.
Jim Pease, an environmental analyst with the Vermont Agency of Natural Resources, said Fort Ethan Allen is the "largest known discharge" in the watershed, contributing two to three times more sediment than any other source. He said the pond will bring the Sunderland into compliance with the agency's target stormwater flows for the watershed, which feeds into the Winooski River.
The pond is an element of the state's stormwater-offset program, an interim plan that aims to stave off further degradation of watersheds while allowing new development to continue. Vermont law prohibits development projects from increasing runoff into impaired waterways. However, developers who can't afford to incorporate the required stormwater-management measures into their projects can purchase access to existing offset projects. Pease said the pond at Fort Ethan Allen is "a huge step" toward improving the quality of Sunderland Brook. "We are on track to restore the stream," he said.
The state's offset program is supported by municipalities and developers, as well as by many environmental advocates. However, an increasing number of voices - from legislators to the environmental community to citizen activists - say that it's time to move beyond banking and selling stormwater improvements, and move toward a comprehensive cleanup of Vermont waterways.
"Offsets won't solve the problem, because you're just keeping the status quo," said Jon Groveman, water program director with the Vermont Natural Resources Council, an environmental watchdog group. "What it does is, it holds the line. Offsets are not the answer."
In Chittenden County, more than anyplace else in Vermont, paving, building and development have altered the natural flow of waterways. Today, even small amounts of rainwater carve out stream banks and ravines, and carry off phosphorous-laden soil. The increase in impervious surfaces also prevents groundwater from being replenished, meaning brooks run dry quickly. Both situations stress aquatic life and water quality, feeding algae and invasive plants.
The state has permitted nearly a dozen stormwater-offset projects, mostly in Chittenden County, with a combined price tag of $5.5 million. Approximately $3 million of that will come from Washington, D.C, $1.2 million from Montpelier, and the remainder from local matches.
The total cost of the Fort Ethan Allen project, $550,000, will be covered largely by the state and the feds. St. Michael's College, which owns the largest areas of impervious surface draining into the ravine, will also contribute a small amount.
With its 27 miles of Lake Champlain shoreline, Colchester is uniquely positioned to improve the quality of the county's waterways. Bryan Osborne, the town's director of public works, said improvements at Fort Ethan Allen have long been on the town's radar. Nearly 70 percent of the Fort's drainage area is impervious, and the existing drainage was designed long before runoff was fully understood, Osborne said.
"That was a project that Colchester had already identified on its own that needed to be done," Osborne said. "We kind of saw that train coming a long time ago."
The Sunderland watershed is better off than most of the 17 impaired waterways identified by the ANR. While some watersheds will require more than a 50 percent reduction in stormwater flow into the watershed, the ANR's 10-percent reduction goal for the Sunderland is more modest.
Still, like many of the state's waterways, the brook has been significantly altered from its natural state and will require time and money to be restored. "You've really changed the natural environment of the landscape," Pease said. "It's going to take many, many years to reverse that effect."
While stormwater offsets have helped hold the line, the program does have its limitations. First, there is a finite amount of available land for offset projects, and care needs to be taken in "matching" the location of an offset with the new development that wants to buy into it. Limited, too, is the number of offset credits per project. Once they're all purchased, there are no more, noted Matt DeWolfe, an environmental engineer with the ANR, adding, "You're no further along."
ANR's Pease acknowledged that offsets are not "the purest way to go." But, he said, "It's a reasonable way to go. We're trying to move ahead in a progressive way. Ultimately we will get ahead."
With the state's interim stormwater-management plan set to expire in 2010 - when the ANR is required to present a comprehensive plan to clean up the state's impaired waterways - there is increasing pressure to make the transition toward permanent solutions.
Sen. Ginny Lyons (Chittenden-6) chairs the Senate Natural Resources and Energy Committee and helped draft the 2004 law that set up the offsets program.
"The idea of getting beyond offsets is a good one," Lyons said. "Then we won't be paying to pollute. We'll be paying to fix the watershed."
Ultimately, the state's cleanup plans will include a wide range of fixes, from small residential efforts to large-scale projects in existing developments. Costs are expected to be high. Pease said that one estimate for implementing the plan for South Burlington's Potash Brook watershed is $50 million, and would include some 230 individual projects ranging from backyard water barrels to large holding ponds.
The ANR is required to complete a status report on the comprehensive plan by October, with full drafts due in January 2009.
Lyons praises the plans and research that ANR has already completed. However, she said, the high cost of cleanup has made the agency wary of beginning to work with local communities toward implementation. Ultimately, individual towns and landowners need to know what will be required of them, she said.
"There's been some real hesitancy on the part of the Agency to bring [the cleanup plan] into these neighborhoods," Lyons said. "You feel like you're stepping off a cliff.
"It's no mystery what needs to happen, though," she added. "It's not magic, and people should be getting down and talking about ways to do it."
The department will gather citizen input on the policy before drafting short, medium and long-range strategies for improving departmental protocol.