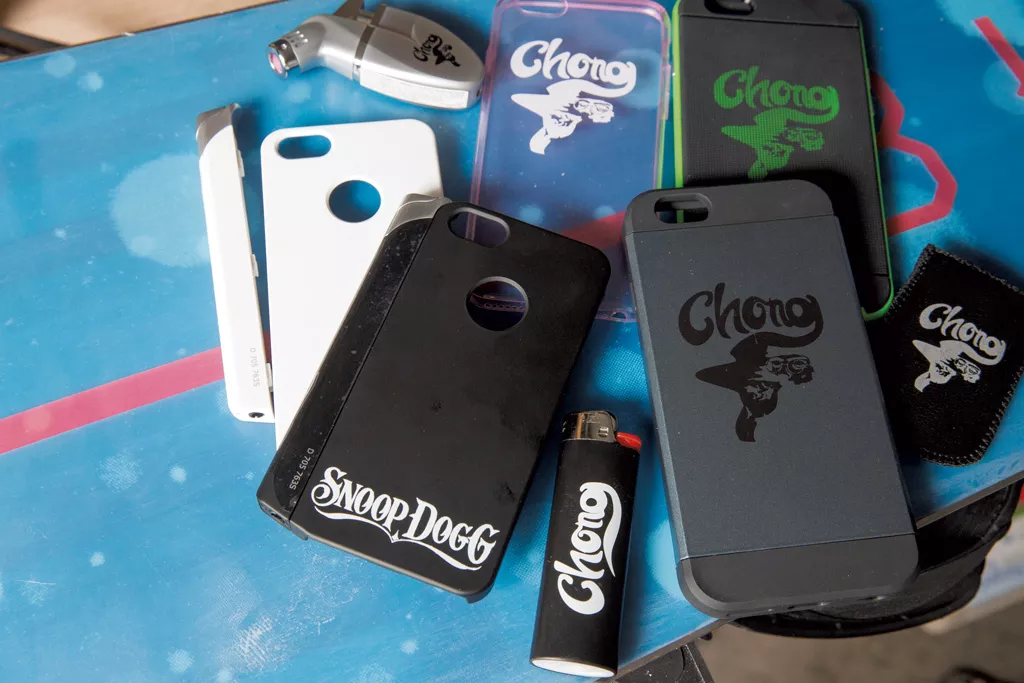 James Buck
Aaron Fastman
What do hip-hop artist/actor Snoop Dogg and actor/comedian Tommy Chong have in common — beyond their well-known adoration for smoking weed? Both have officially endorsed a new, stoner-friendly product invented by South Burlington entrepreneur Aaron Fastman: an iPhone case with a lighter attached.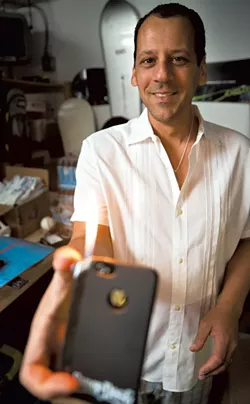 James Buck
Aaron Fastman
Earlier this year, Fastman inked endorsement deals with Chong and Snoop for his new Lotus Fire Case. The heat-resistant smartphone accessory comes with a thin, detachable and refillable butane lighter and retails for $29.99 to $39.99.
Since hitting the market last November, the iPhone 5-compatible case has been moving faster than joints at a Phish concert. Fastman is already working on an iPhone 6-compatible model, though he says he may hold off until Apple releases the iPhone 6S or 7, possibly as early as September.
Fastman, 41, got his start in a decidedly different business. Since December 2006, he's owned and operated the Vermont and northern New York franchises of 1-800-GOT-JUNK, a service that hauls away and recycles reusable items such as furniture, sporting goods and home appliances.
Fastman recounts how he conceived the idea for the Lotus Fire Case a few years ago while attending a black-tie affair at a friend's house. Single at the time, he arrived at the party "like James Bond," riding a vintage BMW motorcycle and wearing a tuxedo. Just as he arrived, a carload of attractive women pulled up alongside him, and they struck up a conversation.
Fastman spent much of the evening with the women. When a lady in whom he was particularly interested pulled out a joint and asked him for a light, he knew he didn't have one. Still, he went through the motions of searching his pockets to buy time.
Just then, Fastman had what he calls "a Larry David moment."
"In comes this guy who's everything I'm not — tall, blond, skinny and perfect," he recalls. "He holds out a lighter and lights [the joint] with one flick. No breeze, perfect flame."
Fastman watched with dismay as Lighter Guy and his hoped-for flame sparked up an instant rapport — and he got snubbed.
Though Fastman was burned, the story had a silver lining. "When I was looking for the lighter, I kept touching my phone, because that was the only thing I had in my pocket besides the motorcycle key," he recalls. Fastman remembers saying to himself as he walked away, Damn! This phone of mine does everything for me. Why is there not fire shooting out of this thing?
Vowing never to get caught sans fire again, Fastman struck on the idea of attaching a lighter to his cellphone case. He immediately called his attorney brother in New York City, who suggested he sketch the idea on the back of a napkin and date it. Why? Back-of-the-napkin evidence can actually hold up in court.
The next morning, Fastman called his lawyer and began the long, laborious process of bringing a consumer product to market. Tapping into his kid's college fund, Fastman conducted a federal patent search, which revealed that no one had previously registered the idea. He sold everything he could scrounge from his house to file the patent request, then worked on getting his lighter/cellphone case designed, licensed and approved for sale.
Working with Burlington product designer Paul Henninge, Fastman released the Lotus Fire Case — named for the high-end Lotus lighter it contains — in November 2014.
Shortly thereafter, Fastman got a phone call "out of the blue" from Nicholas Adler, with whom he'd grown up in Woodstock, N.Y. Adler, now vice president of business development at the Cashmere Agency in Los Angeles, handles endorsement and licensing deals for Hollywood celebs, including Snoop Dogg. He told Fastman that the Lotus Fire Case was exactly the kind of product Snoop Dogg endorses and asked the Vermonter to overnight him some samples. Adler then launched a crowdfunding campaign on Tilt.com to gauge whether Snoop's fans were interested. They were.
"We sold 500 in 10 minutes," Fastman says. The product was soon for sale online at the Snoopermarket, the rapper's official merchandise site. As Snoop wrote on his site (probably via text), "For all my ppl who can never find their lighter but always have their phones!!! Chop it up while u sparcc up!!"
Clearly, Fastman had hit on an idea near and dear to stoners, whose lighters are prone to being forgotten, lost or bogarted. After scoring the Snoop deal, Fastman met with some businesspeople associated with Chong, one half of the country's most famous stoner duo.
Today, Fastman sells not only cellphone cases adorned with Chong's official logo — with a design printed by Scotty Taylor of Catalyst Design in Morrisville — but also BIC lighters featuring the Chong name. He says that deal gives him access to more than 100,000 retailers nationwide, including convenience stores, head shops, smoke shops and wherever else Chong merchandise is sold.
Such business deals come with perks. A few months back, Fastman got an invitation to a private party in an undisclosed West Coast location; its organizers flew in 20 of the world's top marijuana growers for a three-day smoke-fest featuring Chong's own cannabis strain. Alas, Fastman's wife nixed his attendance, suggesting that he "send someone else."
Currently, Fastman has other licensing deals "in discussion"; his potential future quarries include NASCAR, the A&E reality TV show "Duck Dynasty" and other pro-cannabis people in the entertainment industry. Should be a nice long list.