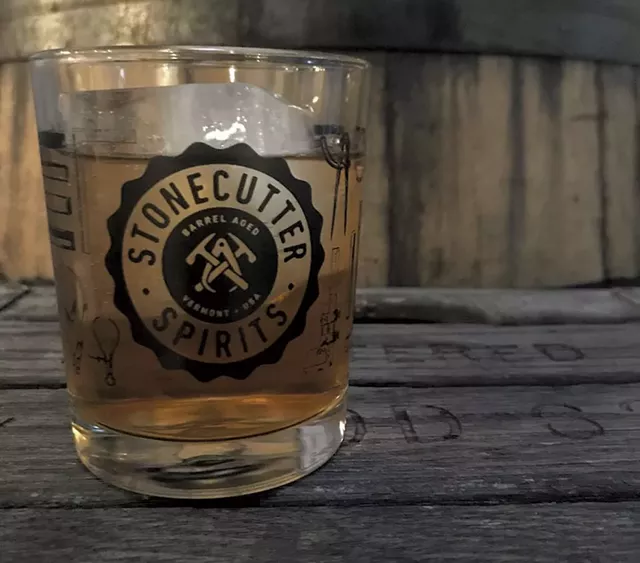 Courtesy Of Stonecutters Spirtis
Stonecutter's Heritage Cask Whiskey
In January, in a piece on Folino's new pizzeria at 71 South Union Street in Burlington, Seven Days reported that Stonecutter Spirits would be moving in next door. On Monday, Stonecutter co-owner Sas Stewart chatted specifics.
The new tasting room will double as a cocktail lounge, showcasing Stonecutter's Single Barrel Gin and Heritage Cask Whiskey, along with new spirits as they emerge from the barrels at the company's Middlebury aging room.
Beers and ciders — from Zero Gravity Craft Brewery and Shacksbury, among others — will flow through six draftlines. To eat? Pizzas and salads from Folino's. These, along with the beverages, will be offered at the bar or with full table service.
"The idea is that you'll be waited on," said Stewart. "We want you to have the most relaxed and enjoyable experience. You don't have to elbow your way through people at the bar."
In a reciprocal arrangement, Folino's patrons will be able to grab beers and ciders from Stonecutter's retail area and bring them next door to the pizzeria. Basically, Stewart said, "I'm a bar that doesn't want to be a restaurant, and [Folino's] is a restaurant that doesn't want to be a bar." This way, each business can do its thing without wading into the other's wheelhouse.
Stonecutter's Middlebury tasting room, which is now open for cocktails Thursday through Sunday, won't change. "We will continue rocking out [in Middlebury] in exactly the same way that we have been," Stewart said. "The [Burlington] cocktail bar is really to showcase all the work we've been doing in a way that's a little bigger, a little grander."
As for the opening, Stewart declined to get more specific than "late spring." "This is my fourth construction project," she said. "If I've learned anything, it's that you cannot predict time."
A third food-and-drink business will occupy the South Union building when Tyler Daniel Bean opens his bagel shop, Willow's, in about a month, he said. This will be the first restaurant owned and operated by Bean, a 27-year-old musician and writer who lives in Burlington's Old North End. His father, John, is a partner in the business; Laura Couture, who has worked at several area restaurants, will be the bakery manager.
Willow's will be open daily for breakfast and lunch, serving bagels, baked goods, sandwiches and soups. "We're going to have some other fun things as we go along," Bean said.