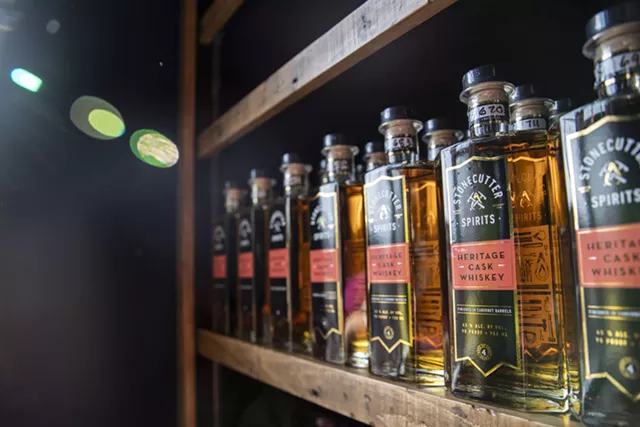 File: James Buck ©️ Seven Days
Stonecutter Spirits Heritage Cask Whiskey
Eleven months after closing both its Burlington bar and Middlebury tasting room,
Stonecutter Spirits
has been acquired by new ownership.
Brothers Keith and Matt Berg, who are New England residents, plan to keep the company in Vermont. Quechee-based
Vermont Spirits Distilling Company
will handle production while the new owners explore options for the craft distillery's future home.
"We've loved Stonecutter for so long," Keith Berg, the company's new CEO, said in a press release. "The opportunity to be stewards of Stonecutter's future is an honor, and one that's very exciting for us. We are Stonecutter fans, first and foremost, and we want to grow this tremendous brand so that it can be shared far and wide."
Stonecutter cofounders Sivan Cotel and Sas Stewart
announced the closure
of the brand's Burlington bar
Highball Social
and its Middlebury tasting room in early December 2019, citing difficulty breaking into the "increasingly crowded" craft spirits marketplace beyond local sales.

"It's wonderful that Stonecutter will remain available for our many dedicated fans," Cotel said in the release. "Having shepherded the company through a complete restructuring over the past year, and against the backdrop of the global pandemic, I'm thrilled to reach a successful acquisition."

That restructuring involved slimming down the company's assets and equipment, using the proceeds to reduce debt, Cotel explained to Seven Days in a call on Monday. "Now it's just the brand and the inventory," he said. "It's nimble, and that was attractive to the Berg brothers."

File: James Buck ©️ Seven Days
Sivan Cotel and Sas Stewart, cofounders of Stonecutter Spirits
Cotel and Stewart cofounded Stonecutter in 2013. Cotel will help the Bergs with the company's transition this winter. He intends to remain in Vermont and start exploring new opportunities in the spring.


Stewart owns and operates
Adventure Dinner
, which started as an offshoot of the Stonecutter brand in 2015 and
continues now
as a separate entity.
Stewart is also a founding member of
On the Fly
, a grassroots collective of business, finance and marketing experts currently partnered with the Vermont Chamber of Commerce and the Vermont Agency of Commerce and Community Development to
help food, beverage and hospitality businesses
navigate the COVID-19 crisis.