Suzanne Podhaizer
Ben Youngbaer doing a Japanese tea ceremony at Setting Sun Tea Hut
Outside Stone Leaf Teahouse at the Marble Works District in Middlebury, a lit brazier filled with homemade charcoal throws off heat and a bit of smoke. John Wetzel, the tearoom's owner — clad too lightly for the weather in a dark blue button-up shirt, slacks and a pair of sandals over unmatched wool socks — kneels nearby, his hand poised above the glowing wood. He's waiting for time to tame the smoke and heat so he can start roasting a batch of Tung Ting, an oolong tea from Taiwan.
A dusting of snow begins to fall, melting in the air above the burner. Wetzel, 37, places a rack over the coals and a bamboo roaster in its center. The tea leaves, dark green and twisted into rough pellets, rest on wire mesh. As the temperature in the roaster rises, a sweet and toasty scent fills the air. Nearly every minute, Wetzel stirs the tea with a cupped hand, encouraging the bits to heat evenly. It isn't long before he pulls the contraption off the heat and sets the leaves aside to "rest."
Even as coffee roasting has become wildly popular across the country, house-roasted teas remain rare. Wetzel is one shop owner using this age-old practice to introduce his customers to new tastes. Unlike coffee beans, for which roasting is an essential processing step, not all teas are roasted, he points out. But doing so is a traditional way of enhancing and accenting the flavor of the leaves. And his commitment to it has gained him admiration among local tea aficionados who see the ritual and ceremony surrounding tea as ways of slowing down, attending to sensuous details and staying mindful.
In 2011, when Wetzel started roasting some of the leaves he sold, he didn't know of anyone else in the United States who was doing so on a commercial scale. He still doesn't. In the intervening five years, he has immersed himself in the craft — which tea farmers introduced to him during a visit to Taiwan — and expanded the already ample offerings of Stone Leaf.
"It's not that we need more kinds of tea," Wetzel says with a chuckle. "We have over 150." The impulse to roast, rather, comes from a desire to deeply engage with the process of bringing tea from leaf to cup.
"It's a craft. It's a work of art," Wetzel says. "It's a way of working with the tea, stirring it, using my hands, observing it and learning about it. It's my way of participating." And that urge to participate stems in turn from "the pain of not being able to grow tea here," he explains. "I have a passion for that."
Growing up in New Paltz, N.Y., Wetzel says, he "always knew there was something different than tea bags." But until a man who worked on an international fishing boat gave him quality loose-leaf tea, he had no idea how vast the differences were. "That was my first time putting my face in a bag of loose-leaf tea and smelling it," he recalls. "It was a whole new world."
As an adult, Wetzel moved to Burlington, where he worked a variety of odd jobs. One day, he saw a mysterious ad in the classifieds: A Czech company was hiring for a soon-to-open tearoom in Burlington. That turned out to be Dobrá Tea, where Wetzel worked for a time before moving on to an organic farm in Starksboro.
Suzanne Podhaizer
John Wetzel, owner of Stone Leaf Teahouse, preparing to make lapsang souchong
Given the seasonality of agricultural work, Wetzel had time to travel to tea-growing countries. Through subsequent jobs at Lincoln Peak Vineyard and Winery in Middlebury and Daily Chocolate in Vergennes, he learned business skills and built bridges with community members in Addison County.
In every town he visited, Wetzel looked for spots that could house his dream tearoom. In 2009, he found one at the Marble Works, and that June he opened Stone Leaf. The public embraced it, he says, but few of his initial customers knew much about the beverage made from leaves of the Camellia sinensis plant. "Maybe 10 percent of the people who came in had a familiarity with the brewing of tea," Wetzel guesses. Nowadays, he says, approximately half of new customers arrive with some substantial tea knowledge.
Even as the number of tea aficionados has grown, Wetzel has made sure to maintain a populist vibe at Stone Leaf. "Exclusivity is not what we want. The best way to make tea is how you like it," he says firmly. "Some people like flavored teas or tea bags."
He divides tea into "everyday" and "special occasion" varieties, noting that even the cheapest and most quotidian teas he sells are still very high quality. The breadth and size variation of tea-growing operations around the world ensures the quality, Wetzel says. At Stone Leaf, the price of a pot can range from $4 to $12, and most leaves can be rebrewed at least twice; some can sustain their flavor through up to 20 infusions. Customers can purchase leaves that cost $3 for 25 grams, or $32 for 10 grams.
With the help of his three "nearly full-time" employees, Wetzel brews and serves tea, weighs leaves for sale, supplies area restaurants, ships tea around the country and sells a wide selection of teaware — from simple glass vessels to highly prized Yixing clay pots from the Jiangsu province of China.
Last week, Stone Leaf opened a new "pop-up" tasting room on Middlebury's Main Street, which will remain at least through the holidays, Wetzel says. In that more highly traveled location — a storefront on the corner of Merchants Row — the staff sells brewing materials, bulk tea and cups of tea to go. For shoppers with more time, they also offer a Chinese gongfu tea service, a ritual that includes washing the leaves and taking the time to inhale the tea's aromas.
Equally committed to the study of tea and its rituals is Ben Youngbaer, a friend of Wetzel's and another erstwhile Dobrá employee. An hour and a half from Stone Leaf, across the Green Mountains in Plainfield, he presides over Setting Sun Tea Hut, a rustic shelter built from beams hewn from the surrounding woods.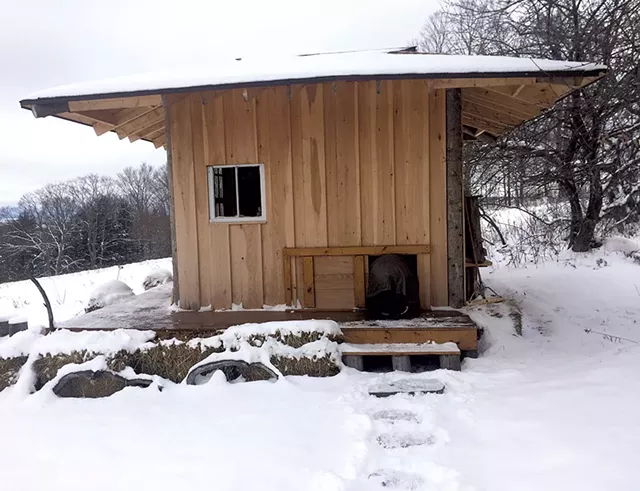 Suzanne Podhaizer
Setting Sun Tea Hut in Plainfield
There, Youngbaer offers a seasonal Japanese tea ceremony as well as monthly classes and occasional tea-pairing dinners orchestrated with Burlington chef Richard Witting. He sells tea and teaware year-round at the Plainfield Farmers Market and teaches classes at Grateful Yoga in Montpelier. Youngbaer's efforts to transform his passion for tea into a vocation recently yielded him a mention in Global Tea Hut magazine.
The central Vermont hut's only heat comes from the tea-brewing apparatus. On a day in early December, in full ceremonial garb, Youngbaer heats a cast-iron cauldron of water over a fire in the hut's center. Using a bamboo ladle, he pours the water over spring-green powdered matcha and whisks the resulting tea into a froth. After offering a mugwort-flavored candy to his guest, he hands over the astringent brew. Steam rises in the frigid air.
The way Youngbaer tells it, his connection to tea goes back to the moment of his birth. "I was born at home, and the midwife, who arrived after I did, handed my mom a cup of tea," he says.
Built during the fall of 2015, the tea hut is located just steps from the site of Youngbaer's arrival in the world. Its inaugural tea ceremony was held before the structure was finished; between sips, participants could look up into the boughs of an apple tree through a gap in the roof.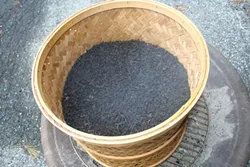 Suzanne Podhaizer
Smoking tea leaves
Like Wetzel, Youngbaer was introduced to loose-leaf tea by someone who had purchased it while traveling outside the U.S. For a time, on his own journeys, Youngbaer would seek out tearooms. Nowadays, he plans his travels specifically around them. Camellia Sinensis Tea House in Montréal is one of his favorites.
Youngbaer has his eye on Stone Leaf, and he's excited about Wetzel's innovations there. "I'm pretty connected to a lot of the tea shops throughout the country and have my ear to the ground about interesting things they're doing," he says. "I haven't seen anybody [roasting tea] at all."
Both Youngbaer and Wetzel are committed to educating the public about their beverage of choice, using what they learn on their travels — and sharing the teas they purchase from the growers whom they meet — to bring new enthusiasts into the fold.
At Stone Leaf, Wetzel continues to try new things. Over the past year, in addition to learning the traditional art of roasting tea over charcoal, he has pioneered a pair of specialty oolongs. One is coated with honey before roasting, the other with maple syrup; the latter, as far as he knows, is the only such tea in the world.
Wetzel is also experimenting with making a Vermont variation of lapsang souchong using pine branches to infuse the leaves with fragrant smoke. He's still working on the process, and that tea is not yet available for sale. But eager tea drinkers won't need to wait until he "perfects" it. "That's the wrong word," Wetzel says. The goal is "to be happy with what we're doing."
Watching Wetzel sift a handful of warm tea leaves through his fingers and back into the bamboo roaster; offer a tasting of house-roasted oolongs; or talk calmly to staff about filling wholesale orders and preparing to open the pop-up tasting room, one sees a man who's happy with what he is doing. And happy to introduce others to the same satisfaction.