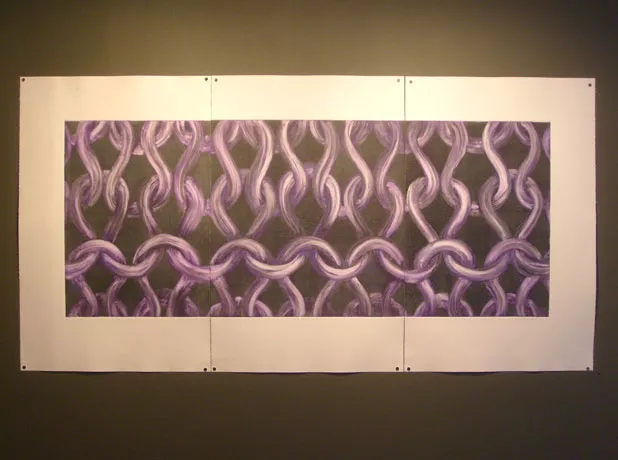 The origins of knitting are shrouded by the mists of time, but an old pair of red socks has shed some light on the subject. They were left in an Egyptian tomb — fortunately, not on someone's feet — about 1500 years ago, which makes them the oldest known example of knitting. The stitch looks surprisingly modern.
Or perhaps it's more apropos to say the stitches portrayed in Carol MacDonald's "Cast On, Bind Off" exhibition at the Firehouse Gallery pay homage to a craft that's as old as the hills. The Colchester artist has noted in promotional materials for the show that she sees knitting as "respectful of both space and time — rare commodities in today's world of instant gratification." Such could also be said of printmaking, a process at which she excels.
The dominant hue in MacDonald's "Red Skein I" recalls those lost Egyptian socks. A square in the print's lower right corner holds the image of the titular skein; the rest of the 12-by-12-inch etching with monoprint presents layers of knitted pieces drawn with painterly strokes. MacDonald's images are fairly minimal yet engaging, as she fills them with rhythmic matrices of lines organized into various knitting patterns.
"Knit Fragment VIII" is a 13-by-40-inch horizontal etching with monoprint composed of squares. Sepia-toned fields containing orderly knitted lines at the right contrast with seemingly random scratches in the center and far left of the image. A translucent gray rectangle bridging the central and right squares deepens the picture plane.
The numbered "Knit Veil" series of 27.5-by-17.5-inch prints becomes progressively simpler. In "II," lighter values of beige and olive appear underneath red and dense black layers of painterly knitted patterns. "IV" retains only the black sequence of knitted loops, as if an intricate curtain overlaid the paper.
MacDonald has skillfully overlapped her brushstrokes, like exit ramps in a highway cloverleaf, in the purple-on-black "Garter Stitch," a 26-by-66-inch monotype triptych of three abutted sheets of paper. The fat, vermicular strokes are about an inch wide and weighted with different values. This creates highlights that give the "stitching" subtle dimension.
The black-on-white "Knit Form III," a 29-by-19.5-inch monotype, was created by inking a piece of knitting and running it through the press. The loosely knit form is about the size of a shawl, and its top edge droops in a swag, like a trompe l'oeil garment painted on the wall. Observing the detail of the yarn in this simple piece enables a viewer to better understand many of the other images here; it becomes clear that, in fact, MacDonald made these prints by running numerous knit articles through her press with several colors of ink.
MacDonald is the 2008 recipient of the Burlington City Arts Barbara Smail Award, named in honor of a deceased local artist. This is given annually to "a mid-career, Vermont-based artist who has a desire to expand his or her creative experience and has displayed an enthusiastic support of his or her peers." That support is evidenced by MacDonald's history as a key founder and longtime president of Art's Alive, as well as her involvement in the Women's Caucus for Art over 20 years. The current exhibition is the culmination of her award year.
MacDonald clearly made good use of BCA's Print Studio: Most of her show's images are prints featuring knitting. An exception, "Skein Bound," is a 30-by-22-inch drawing-with-monoprint piece resembling an Andean mummy, seemingly a child. Though germane to her new subject matter, the image is enigmatic, revealing how productive MacDonald's current line of aesthetic inquiry can be as she views the ancient craft of knitting through 21st-century eyes.