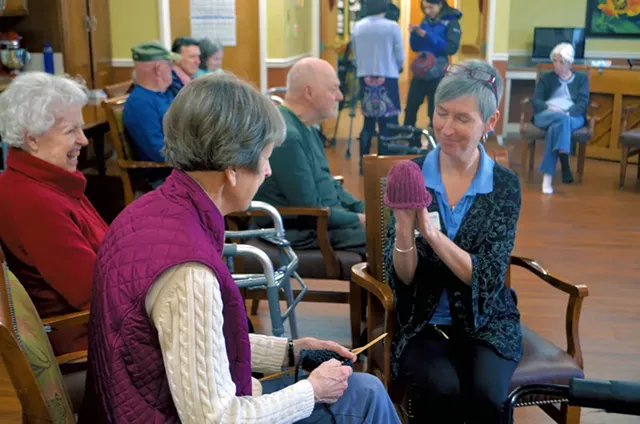 Katie Jickling
Jenn Ross (right) holding up a sample hat for Maggie Ross
Members of a weekly knitting and crocheting group gathered Monday at the Arbors at Shelburne, a memory care facility. Five elderly residents sat in a circle as program assistant Jenn Ross offered encouragement and helped save the occasional dropped stitch.
This gathering, though, had a higher purpose.
The women were participating in the Little Hats, Big Hearts program, which solicits knit hats for babies with congenital heart defects. One in 100 babies is born with the condition, according to a statement from the American Heart Association, which organized the nationwide initiative. The final products will be donated to hospitals around the country.
Most of the knitters arrived in wheelchairs or with walkers. For some, the work was old hat. Bettymae Bond said she had once knit 70 caps for cancer patients. "I've been knitting since I was 7, 8," she said, holding up several inches of a teal green pattern.
Others were relative newbies.
"I haven't knit in years," Maggie Ross, who is Jenn's mother-in-law, said as she counted stitches.
Marjorie Logan's final product? "Right now, I'm knitting a knot," she said with a chuckle.
Jenn Ross offered reassurance to her charges. "It's not about speed or perfection, it's about doing it," she said.
The volunteers, residents and staff members hoped to knit and donate 100 hats during February, which is American Heart Month, according to Caron Arnold, a spokesperson for the Arbors.
So how will they meet their deadline? Next week, Ross plans to bring a knitting loom, which can help churn out a hat in an hour.
"We encourage our friends here to dive right in and not be afraid of dropping a stitch," Ross said.