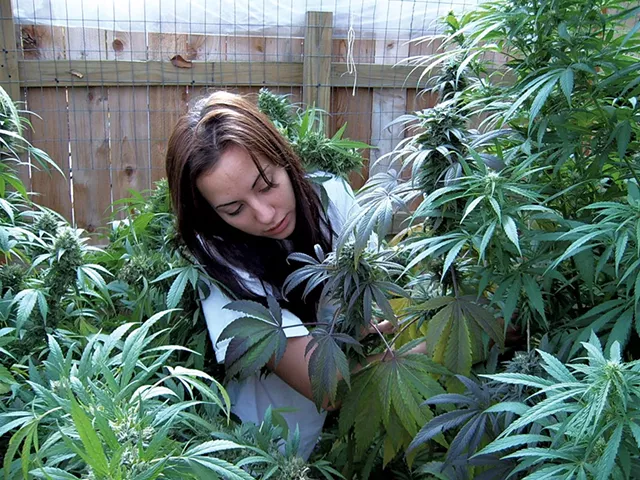 Courtesy of Larisa Bolivar
Larisa Bolivar
In 2001, Larisa Bolivar moved from a corporate job near Washington, D.C., to Colorado as a self-described "medical marijuana refugee." She was using weed to help her address a diagnosed case of posttraumatic stress disorder. Since then, Bolivar has been working, in business and in politics, to help others access the same benefits she's found.
"Cannabis saved my life, and I knew that when I first consumed it," she told Seven Days in a phone interview.
Bolivar started as a consumer, buying on the down-low in the D.C. area. Since moving to Colorado, she has opened (and later closed) a legal-but-unregulated dispensary, started multiple cannabis- and hemp-related businesses, and become an outspoken advocate for a legal, regulated cannabis economy that rights the wrongs of America's war on drugs.
As head of the Cannabis Consumers Coalition, Bolivar is traveling the country to push states toward policies that benefit cannabis users and, especially, groups that she says have been targeted by the drug policies of the past.
Bolivar will be in Vermont this weekend as keynote speaker at the second annual Vermont Cannabis & Hemp Convention, held at the Champlain Valley Exposition in Essex Junction.
With Vermont's marijuana policies still up in the air in Montpelier last week, Seven Days talked with Bolivar about her path from D.C. corporate recruiter to cannabis trailblazer.
SEVEN DAYS: You got your start in the very early years of medical cannabis in Colorado and the nation at large. What barriers were patients facing back then as they tried to interface with the medical marijuana system?
LARISA BOLIVAR: A lot of it was limited information — education — and then prohibitive costs: doctors charging a premium, and the registration card itself, which was a few hundred dollars back then. So ... safe access to affordable, quality marijuana was an issue. [Users] were still going to neighborhood dealers or cultivators, and a lot of them eventually became part of the caregiver network, and then some of them even became business owners ... They were paying $300 to $400 an ounce back then.
Of course, there were robberies of patient and caregiver [growers]. These things led to the call for regulation, especially when people like myself started opening up storefronts without regulations.
SD: In Vermont, many elected officials are concerned that we're going to do this [legalization] and there's going to be all these unintended consequences. What have you seen as the most common growing pains when retail comes online?
LB: I would say the No. 1 issue are barriers to entry that keep people who were most affected by the drug war out of the industry itself. Criminal records related to drug charges, high entry costs. My master's thesis was [on] enduring racial disparity after cannabis legalization, which is when I started working on the issue of social equity and realized it's not just people of color. It's also poor people, because these were targeted communities.
I think the best solution for this would be to use tax revenue to create grants or small business loans and create a program for people who were most impacted by the war on drugs, so they can get some capital injection to start businesses and the training they need to operate a successful business.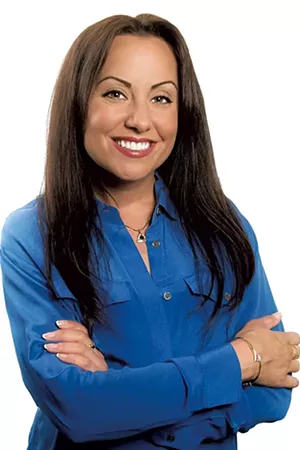 Courtesy of Larisa Bolivar
Larisa Bolivar
SD: What were the findings of your thesis, and how have they shaped your work since then?
LB: Well, I discovered that the main reason people of color aren't participating in the cannabis industry is, first, fear ... which is not unfounded, because of the targeted drug war. And data show that in states where they have already legalized cannabis, the arrest rates for people of color versus whites is still disproportionately high. The other reason would be access to capital, and that means not just money but social capital.
SD: What do you mean by "social capital"?
LB: Social capital is: Our parents aren't members of a country club and don't have all those connections. We don't have connections to high-powered attorneys to help beat marijuana charges, which is why we have more black and brown people in jail for nonviolent cannabis offenses than white people ... Social capital means social power, if you will. Connections to politics, connections to small businesses, having that network where you can go and raise money ... That's not very feasible for someone who grew up in a poor urban center and whose only worldview was that poverty.
SD: And in an industry that's already predominantly white...
LB: It's over 80 percent white male.
SD: What are the implications of those disparities in Vermont, where the general population is even whiter than that? As lawmakers here figure out exactly what a tax-and-regulate system looks like, what should they think about and put into the bill?
LB: Where you guys don't have a very diverse state, what you do have is one of the highest opioid-abuse rates and death rates in the country. And so, whether [cannabis is] addressed recreationally or medically, this is something that can save lives and maybe give back to the communities most damaged by the opioid crisis, and let that be part of the social equity.
If you look at Missouri, they're expunging marijuana records. So that's another way to address the issue that removes identity politics from it.
SD: There's some awareness of the problem of "bro culture" and how easily white dudes could dominate the cannabis industry. As a woman advocating in statehouses and also working on the business side, how have you been received? Has your message been received differently because of your identity?
LB: I come from both sides of this: I come from the advocacy, activism side, but I was a technical recruiter from the mid-to-late '90s in the D.C. area, and that's all military-industrial, if you want to talk about bro culture. [Laughs.]
My concern is basically the corporate takeover of everything in general ... I also studied the loss of individual influence on policy as a result of corporations basically hiring lobbyists to write laws. I mean, it's really as simple as that with [2010 Supreme Court ruling] Citizens United [v. Federal Election Commission].
Where cannabis comes into play ... it's a new industry, and veils have not really even been created yet. Whereas other industries like the oil and gas or pharmacy, et cetera, they are so large and so powerful and omnipotent and oligarchal, that it's almost impossible to pierce the veil.
That's the problem we're facing — my cosmic issue is that this behavior is impacting policy already all over the nation, and we just need to stop it at the cannabis level. That's actually a hope of mine: creating a model industry that shows we can have fair competition and fair practices, so it's not viewed as a winner-take-all scenario — even though that's what we [in the United States] promote. Sometimes that behavior and mind-set is pathological — people will throw their grandmother under the bus to win. I just don't think ... any of that is healthy.
SD: What should states do to prevent the kinds of corporate-industry takeover you're talking about?
LB: I think it's just making sure that there are laws that help small businesses start and flourish. We have, for example, a very robust microbrewery industry here in Colorado. So long as we keep it fair for smaller operators — and we have to be, as an industry, very vigilant that new regulations coming in don't impact that.
SD: How do we design a policy that's going to effectively bring the cannabis economy into this new regulated system? How do we prevent it from becoming a divided economy where there's still a robust black market?
LB: That is largely related to consumers and creating a fair and competitive marketplace, and providing consumers a multitude of options that meet their demand. I see some states trying to limit THC percentage in plants, and that's going to drive people back to the black market. You can't take something out of prohibition and then re-create prohibition through regulation.
Meeting consumer demand is essential: having properly tested cannabis, allowing advertising ... The lifeblood of your company outside of money is marketing. You've got your product or your service ... but then, it's not always "build it and they will come." You have to be able to promote what you're doing and [show] why it's better ... If you can't show consumers what you have, they're going to go to what's most familiar, and that could be their best friend or next-door neighbor.