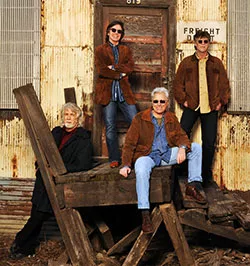 The Nitty Gritty Dirt Band
If not for the Nitty Gritty Dirt Band, country-rock as we know it — not to mention genre descendants such as alt-country — might not exist. NGDB were incalculably influential in the evolution of the genre during Southern California's folk-rock renaissance of the late 1960s. Some 40-plus years later, they are virtually the last band standing from a legendary era of American music that included The Byrds, The Flying Burrito Brothers and the Eagles.
NGDB are perhaps best known for their seminal 1972 recording Will the Circle Be Unbroken, widely regarded as the record that legitimized country-rock in the eyes (and ears) of country music's old guard in Nashville — in part because country icons such as Roy Acuff, Earl Scruggs and Mother Maybelle Carter appeared on it. Their prodigious and stylistically varied canon since — including two equally star-studded new volumes of Circle released in 1989 and 2002, respectively — has cemented the three-time-Grammy-winning band's legacy as a unifying force in American rock, country and roots music.
Seven Days recently spoke with NGDB cofounder Jeff Hanna by phone in advance of the band's upcoming appearance at the Barre Opera House.
SEVEN DAYS: NGDB actually predates many bands often cited as progenitors of country-rock. But groups such as The Flying Burrito Brothers and the Eagles typically figure more prominently in that discussion. Why do you think that is?
JEFF HANNA: Well, we started before The Flying Burrito Brothers. But they were playing country-rock around the same time. In fact, they might have even predated us a little bit. Poco, too. But I think the attention the Burritos get has partly to do with the legend of Gram [Parsons]. He was not only a contributor to the early pioneering form of country-rock, he was also a rock star. In every way. There was a mystique about the guy. He's in that pantheon of people like Janis Joplin and Hendrix and Jim Morrison. There's the legend and the music.
SD: Who influenced you?
JH: The biggest influence on us, of all those folks, was The Band. They were our heroes. We related to them the most, musically. They had a mountain-y aspect with the mandolin and accordion and the way they used the fiddle. It wasn't a steel-guitar thing.
SD: Take me back to SoCal in the mid-'60s.
JH: Well, when we first started in 1966, we were playing shows with The Doors, Buffalo Springfield. There was this brand-new band called Steppenwolf. And it was amazing. Of course, we were a jug band at the time. But we were right in mainstream rock 'n' roll. Why we were there, we have no idea. But there we were with Jefferson Airplane and all these crazy gigs.
SD: When did country-rock come into the equation?
JH: In the late 1960s we began this other journey, musically. We actually broke up for a while. And I went off and played in Linda Ronstadt's band for about six or eight months. And I learned a lot. A real education in country-rock. Then John McEuen and I talked about re-forming the band and maybe adding a guy or two. And we were off and running with this new lineup and a new knowledge of how to play this music. And that became what I call the Troubadour era.
SD: As in the LA nightclub?
JH: Yeah. It became kind of the watering hole for that kind of music. You could walk through the bar any night and hear people like Linda and Jackson [Browne] singing in a booth.
SD: Wow.
JH: It was great. But it didn't seem as remarkable at the time. It was just our pals.
SD: You mentioned "Jackson." That's a great "Jeopardy" question, isn't it, that Jackson Browne got his start in NGDB?
JH: When we first started playing we hung out at a club called The Paradox, us, Jackson, Steve Noonan and Tim Buckley, who is more famous now as Jeff Buckley's dad. But Tim was great, an astounding songwriter. It was a nice little scene. Anyway, Jackson started playing with us and we had a lot of fun. [Laughs] And he was a chick magnet. Then, about a month into it, he decided to move to New York and got a gig playing with this girl named Nico.
SD: [Chuckles] Oh, I think I may have heard of her…
JH: [Laughs] Anyhow, that's how that all happened. We're still friends.
SD: NGDB were one of the first country-rock bands that the country music establishment in Nashville really accepted. What do you attribute that to?
JH: I think because of the [Will the Circle Be Unbroken] record, our "bonafides" were considered to be OK. We weren't just trying to get airplay. I think what happened with a lot of folks was that there was a little bit of distrust, suspicion, that it wasn't a genuine move. But really what happened is that country radio started playing music in the early 1980s that was a lot more like what we played in the 1970s.
SD: Tell me about working with Roy Acuff.
JH: He was initially kind of standoffish. When I talk about that suspicion thing, Roy kind of embodied that. But he walked into a session we were doing with Merle Travis, unbeknownst to us, and went into the control booth and said something like, "Well, that ain't nothing but country. I'll be here tomorrow." So we passed the test. [Chuckles]
SD: What are your thoughts on the modern iterations of country-rock?
JH: Well, modern country-rock to me is stuff like Band of Heathens. Is that what you're talking about, or do you mean the stuff on country radio?
SD: Noooo. I mean more like alt-country, No Depression stuff.
JH: It seems to have evolved, but it's still true to its roots.
SD: You've played with, well, everybody. Does anyone stand out as a favorite?
JH: Johnny Cash. He was everything anybody ever thought he might be. Very cool.
SD: Is there anyone you haven't played with that you wish you could?
JH: Lots of people. I would love to cut an acoustic track with Bruce Springsteen. I love that Seeger Sessions record. Astoundingly cool. But I was so pissed off that the guy can be such a great rock star and fit right in with that, too! [Laughing] It's, like, "Dude, do you have to be able to do everything?"