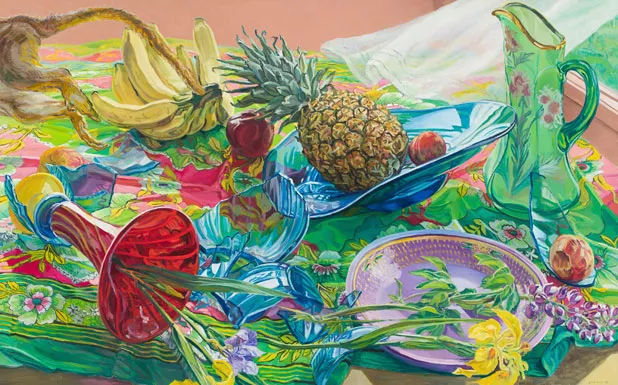 Janet Fish is known for her wildly colorful paintings of jars, decorative glassware, patterned textiles and floral bouquets, often all on the same canvas. "So," she is asked by a visitor to her Middletown Springs farm, "was it the 17th-century Dutch still-life painters who influenced your work?"
No, Fish replies. It was the 1950s abstract expressionists.
Fish's unexpected answer offers deep insight into her art. "I use objects as a way of organizing colors and shapes," she explains.
Her work can also be seen as a meditation on the properties of light, with vessels and their contents serving as vectors or filters for luminescence. Fish strives, she says, to imbue her still-life works with movement — an aim that her gestural brushwork helps her to achieve.
"You also fill the frame, Janet," Fish's husband, painter Charles Parness, calls from another room. "The big scale is like the abstract expressionists — that and the shallow space."
Although everything in Fish's paintings is readily recognizable, the odd juxtapositions and the pulsating colors create what critic and artist Robert Berlind has described as "a hallucinatory experience of the everyday." Crowded canvases filled with bright reds, deep blues, sunny yellows and watery greens give the work a cheerful quality, which is in keeping with the painter's personality.
Arthritis of the back and hips keeps Fish, 74, in a wheelchair much of the time. But physical limitations and their attendant frustrations haven't dimmed her broad smile or abraded her aristocratic good looks. With a freckled face topped by straight white hair, Fish presents a striking preview of what Meryl Streep could look like a decade hence.
Fish hasn't been painting much this summer, she says apologetically, adding that she still manages to work while seated on a high stool. In the spacious studio she shares with Parness, a half-completed composition rests on an easel in the area illuminated by morning light; pencil sketches are all that can be seen on a canvas in a corner that catches the afternoon light.
Still lifes have been the focus of Fish's career, which began on Manhattan's Lower East Side in the early '60s. The New York art world still revolved, in those years and for many to come, around the abstract eruptions of Jackson Pollock, Willem de Kooning, Robert Motherwell and other artists who became certified culture heroes. Working in an untrendy genre has presented some challenges, Fish acknowledges. "I can't get into the ultrafashionable galleries," she says. "But I've never had trouble getting into good galleries."
Fish had a show this past winter at Chelsea gallery DC Moore that included a couple of works featuring children and adults. And, in one amusing piece, a monkey who is exiting stage left after having knocked over a vase and other items in the tabletop scene. The figures are rendered as expertly as the objects. The show drew an admiring review from the online magazine Artcritical, which described Fish as "a meticulous, if organic, art director."
A New York Times critic has credited Fish with having "helped resuscitate realism in the 1970s." But the strongest appreciation of her work may come from her contemporaries, or younger artists she has inspired. "Her work is a touchstone and tremendously influential," said Eric Fischl, a painter of darkly realistic tableaux, in an interview published earlier this year. "Anyone who deals with domestic still life has to go through her. She's very important."
The scion of an artistic family that included the American impressionist Clark Greenwood Voorhees, Fish spent most of her childhood in Bermuda. Asked why her palette has such a summery aura, Fish responds, "It's always summery in Bermuda."
She earned an undergraduate degree from Smith College and an MFA from Yale. A remarkable collection of future art stars were attending Yale in those years. Monumentalist sculptor Richard Serra was studying there at the same time as Fish, as were photorealist portrait painter Chuck Close, calligraphy-inspired minimalist Brice Marden and painter-filmmaker-sculptor Nancy Graves.
After graduate school, Fish began showing large paintings of vegetables at an artists' cooperative gallery called Ours in lower Manhattan's SoHo district. But, as often occurs with ventures of that sort, conflicts among the participants led to the gallery's quick demise. Fish and Parness were also pioneers in the conversion of disused SoHo warehouses into living-space lofts. The couple still maintains a place there, but it goes unused much of the year.
SoHo is now a carnival of consumption, Parness complains. A specialist in weirdly funny self-portraits, he lives with Fish on their 120-acre hill farm about eight months of the year. It's a lovely, comfortable setting, complete with a stocked koi pond, a free-range herd of heifers soon to become beef and a rambunctious Labradoodle named Bella.
There's also that bespoke studio any artist would envy. It contains shelves of glassware that Fish has picked up at lawn sales and auctions for prices ranging from 50 cents to $500. She arranges these objects into groupings that she then renders as still lifes. "I like to have something tangible in front of me," Fish explains. She says she paints only what she sees and not "what a camera sees."
As her frequent local foraging suggests, Fish claims residency in Vermont, not New York; she has taught at the Vermont Studio Center in Johnson. Even so, she cautions, "I'm not trying to paint Vermont. I'm obviously here, though, and what I see out my window might get into my paintings — the landscape, the colors, the light."
Vermont's light, which she describes as blue and green, is very different from New York City's, which is more beige, Fish notes. "Light matters a lot to me," she says.