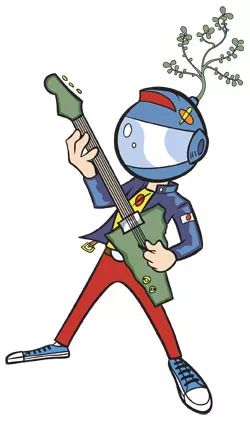 Mom-and-pop tech company? Sounds like an oxymoron. But in Vermont, independently owned tech-related enterprises dot the landscape from Windsor to Middlebury, White River to Milton. The state's bio-scientists, green engineers and software developers don't always call attention to themselves, but the companies they own and work for provide some of the most interesting, and best paid, jobs in the state.
Which is why we helped create the "Vermont 3.0 Creative/Tech Career Jam" back in January 2008. The event was meant to bring workers, employers and educators together with the shared goal of identifying and training a qualified in-state workforce. We helped produce a second Career Jam last October. Next Monday, October 26, we're sponsoring a third Vermont 3.0 event, the "Innovation Jam," at the Sheraton Burlington Hotel and Conference Center.
Many of the companies who attended our two prior job expos are still hiring, even in this economy. Many are thriving: Burlington's Dealer.com is the global leader in online marketing solutions for the automotive industry. Colchester's MyWebGrocer is in the same position with online grocery services and innovative grocery technologies: number one.
MyWebGrocer, Chroma Technology Corp., MicroStrain and Green Mountain Coffee Roasters have all either expanded — or announced plans to do so — since last year's jam. Logic Supply, Dealer.com and NRG Systems have won Vermont Business Magazine 5x5x5 Growth Awards.
What do these companies have in common, other than technological solutions? They were all started by entrepreneurial Vermonters. Maybe the founders went to college in the state, or grew up here, but for them, "moonlighting in Vermont" just kind of worked out. Many of the state's business successes — Ben & Jerry's, Vermont Teddy Bear, Jogbra, Simon Pearce, IDX — tell a similar story.
More often than not, these companies don't seek local publicity, and why would they? Their customers are all over the world. But they're an increasingly important part of Vermont's economy. This week, our writers visit a few of these companies, organizations and individuals to explain who they are, what they do and why we should care.
In the stories around the eight-page program for the Vermont 3.0 Innovation Jam: Ken Picard follows federal defense dollars to companies such as QuantaSpec, which is developing advanced explosive detectors and diagnostics for malaria. Alice Levitt interviews BFA-St. Albans grad Randy Smith, who's already made $250,000 designing games for the iPhone. Brothers Briar and Adam Alpert take Andy Bromage on a tour of family-owned BioTek. Lauren Ober talks about human resources with Logic Supply's Lisa Groeneveld, a Dutch-speaking Barre native. And videographer Eva Sollberger tours the Champlain College Emergent Media Center for this week's episode of "Stuck in Vermont."
Even the dairy industry is adopting new technologies. Kirk Kardashian visits one of two Vermont farms that have substituted robotic milkers for hard-laboring dairyworkers.
Ready to geek out yet? For a schedule and complete list of exhibitors coming to the Vermont 3.0 Innovation Jam, check out the center pull-out of this week's issue.
W00t!
***************************************************
Vermont 3.0 Innovation Issue stories
Defense Mechanisms: Here in Vermont, we're surrounded – by military contractors by Ken Picard
Ahead of the Game: When it comes to maverick gaming, Tiger Style Studios proves "there's an app for that" by Alice Levitt
Disease Detectives: BioTek makes scanners that can save your life by Andy Bromage
Process This: South Burlington's Logic Supply sells big computing power in small – and green – packages by Lauren Ober
Udderly Automatic: Work: Paul Godin, Robotic milker salesman, Enosburg by Kirk Kardashian
Cool Beans: Vermont's burgeoning coffee company is one high-tech outfit by Suzanne Podhaizer
Stuck in Vermont: The Emergent Media Center of Champlain College. Eva Sollberger tours the EMC, where Champlain College students create video games — for a paycheck.
Interest Heats Up Among Electrical Workers to Learn Solar Energy Installation by Ken Picard.
Tech Entrepreneurs Await State's New Seed-Money Fund by Andy Bromage.
A Taste for "Venture": Vermont's food-business incubator makes a controversial move, from Fairfax to Hardwick by Kevin J. Kelley.
Burlington's Seventh Generation Gets Aggressive in the Green Marketplace by Lauren Ober.
***************************************************
Click here for more information about the Vermont 3.0 Innovation Jam on Monday, October 26.